For about two hours Sunday, Ohio State defensive coordinator Greg Schiano looked to be the man to replace Butch Jones at Tennessee.
But then the Volunteer fans did what what they do best—rising in unison to shout a cacophony of slanderous nonsense to prevent the hiring of a coach they saw as below the station of a program that hasn't won a conference championship since 1998.
It worked, as the Volunteers backed away from the deal after reportedly signing a memorandum of understanding with Schiano, that could possibly open them up to compensating a man they never fully employed.
Monday, first-year athletic director John Currie, who may be pushed out by irate donors over this boondoggle, issued his first public comments on the matter: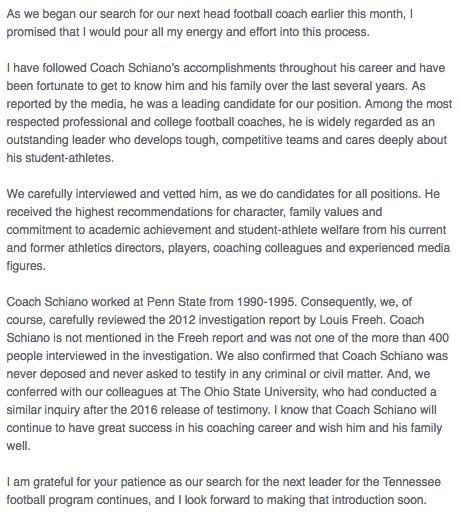 Beverly Davenport, the chancellor of the University of Tennessee at Knoxville, also made a brief statement on the situation:
Chancellor @ChancellorDav releases a statement on yesterdays events: pic.twitter.com/zPz6JLJPWR

— Austin Price (@AustinPriceless) November 27, 2017
Monday, speaking at his weekly press conference, Ohio State head coach Urban Meyer said he stands by his defensive coordinator.