There's no real metric for what makes a rival anymore. There is, of course, "the" rival, but Ohio State's blood feud with Michigan is rooted in a century of animus and real historical consequence. So it's really difficult for any other team to live up to that, even if they've got history with the Buckeyes (Illinois), a Big Ten scheduling imperative (Penn State), or have been pretty good for the past two decades or so.
Wisconsin doesn't have a great pedigree, which might hurt them in the eyes of some Ohio State fans, but they're trying, dammit! The Badgers were an original member of the Big Ten and were either mediocre or merely fine for about 90 years, winning sporadic Big Ten championships but never being a national threat, until a guy named Barry Alvarez turned them into a brilliantly idiotic rushing powerhouse and a team capable of winning both bowls and championships (since 1990 they've won more Big Ten titles than any team not named either Michigan or Ohio State).
That style of smashmouth football complimented by boring, generally competent quarterbacks (with one significant exception) is kind of great! Not by any watchability standard; Wisconsin games can be like pulling teeth. But they've got an identity, recent success, alternated between head coaches that were generally affable and specifically hateable, and have a buttload of Big Ten championships to boot.
So why the hell aren't they bigger rivals for Ohio State?
ERSATZ TRESSELBALL
My personal opinion on this issue boils down to two points: first, Ohio State has simply had too much success against them recently for Wisconsin to be viewed as a threat.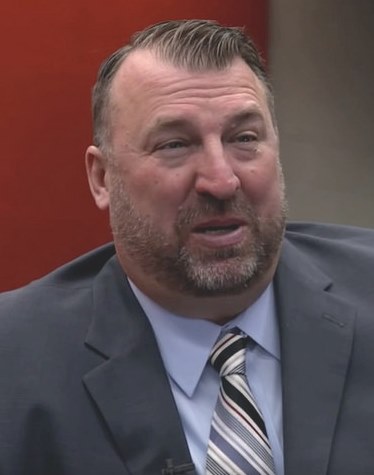 In the last 10 years, the Buckeyes have gone 8-1 against the Badgers. The 59 point carpet bombing of them in the Big Ten Championship in 2014 is probably the most memorable to most, along with Braxton Miller doing Braxton Miller things to them in the lost year of 2011, but it's weird that those are probably the only two Wisconsin games you can remember, despite almost all of them being really close in one way or another in the past decade. For whatever reason, an overtime win against the Badgers doesn't inspire as much effusive poetry as an overtime win against Penn State.
Secondly, Wisconsin's identity has kind of eaten itself like an ouroboros in the past five years or so. Bret Bielema was a perfect foil to a guy like Jim Tressel; whatever the quality of team that either coach put on the field (and admittedly, Bielema put together some pretty fantastic teams during his tenure), the imagery of God's perfect slob versus the Felix Ungar of college football was usually too good to pass up.
Here's the thing: under Gary Andersen and Paul Chryst, Wisconsin has been fantastic for five seasons in a row, going 53-13 and winning three pretty good bowl games. But without a corpulent self-aggrandizing blowhard to add some spice to the proceedings, Wisconsin football is a weirdly rote exercise in extreme competence that seems to function independently of whoever is in charge. It is at once really impressive and incredibly unexciting.
That's not to say that Chryst or Andersen can't coach, but both guys had .500 records as head coaches before going to Madison. Either Barry Alvarez is running a shadow coaching staff (possible), or Wisconsin has developed an identity so thoroughly ingrained that they'll never lose more than three games in a season ever again.
And I can respect that; in 2017 Wisconsin is undefeated largely on the back of semi-consistent quarterbacking, really great but utterly single-minded rushing, and statistically the best defense in the country. To me, that sounds really, really familiar, and while the Badgers haven't had the kind of success that Tressel did with the same formula, the operative word I could add on here is "yet."
As Ohio State gears up for the Big Ten Championship, both players and fans should take note of a team that may not inspire any particular feelings of dread or excitement, but it should. It'd be a shame if a loss in the conference championship game was what convinced fans of the viability of Wisconsin as a legitimate threat and maybe even a rival, because they've been here for years, waiting for another chance like this one.