Once a Buckeye, always a Buckeye. Across the Shield follows those who once wore Scarlet and Gray on their journeys through the NFL.
Still Can't Guard Mike

Michael Thomas is going to be a problem for NFL secondaries for the foreseeable future.
The second-year receiver has already established himself as the Saints' top receiving target and routinely gets the most targets from quarterback Drew Brees.
Sunday was no different. Thomas feasted on the Buffalo secondary, catching nine passes on 10 targets, accounting for half of New Orleans' total catches. Those nine catches netted 117 receiving yards, 47 of which were after the catch.
Michael Thomas delivered once again today pic.twitter.com/55wu4WqYYz

— Pro Football Focus (@PFF) November 12, 2017
The one thing Thomas didn't do on Sunday is get into the end zone. His numbers are undeniably solid, but he would make more than a few computer football players happy if he could find pay dirt in the next few games.
¯\_(ツ)_/¯

If you haven't heard, Joey Bosa is pretty good at football.
On Sunday, Bosa became the second-youngest player ever to reach 20 sacks, behind only Terrell Suggs.
Aside from that sack, Bosa was disruptive all game. He finished with five hurries, four quarterback hits and a sack on 47 pass rushing attempts.
Cameron Heyward Owns Indy

If you can believe it, Joey Bosa wasn't even the best former Buckeye defensive lineman on Sunday. That honor goes to Cameron Heyward.
Heyward dominated the inside of the defensive line all game, disrupting both the run and the pass. The performance earned him Pittsburgh's highest overall grade on Sunday, according to Pro Football Focus.
PFF graded out Heyward at a 92.7. Here's their analysis of his performance:
Heyward was an absolute menace on the interior of the defensive line for the Steelers Sunday. Heyward consistently was beating the Colts guards and center in with his pass rush. Heyward finished with four hurries on 24 pass-rushing snaps with an 87.0 pass-rushing grade. He was also great in run defense, forcing himself into the backfield and forcing the running backs to cut out of their intended holes. Heyward had one stop and finished with a 91.3 run-defense grade.
We haven't spoken about him much here, but this is really what he's been doing all season. Entering the game, Heyward ranked No. 7 among interior defensive linemen in pressure rate, with a rating of 10.4 percent.
It's hard to quantify what a good interior defensive lineman means for a defense, but it was hard to miss Heyward's importance on Sunday.
Ryan Shazier Pick-Ture

Heyward wasn't the only former Buckeye to come up huge for Pittsburgh on Sunday. Ryan Shazier did his part, as well.
The Steelers found themselves trailing the Colts by 17-9 in the fourth quarter. They'd been unable to punch the ball into the end zone on the day, and needed a score and a two point conversion in less than a quarter to even tie the game.
Thanks to Shazier's reflexes, they didn't have to go far to get it. The former Buckeye linebacker got his third interception of the season – tying a career high – when a tipped ball essentially landed in his lap.
Can't Lose Them All

Carlos Hyde and the 49ers have had a rough go of it this season, as they were winless heading into Sunday's game against the Giants.
Thanks in no small part to Hyde's tough running, San Francisco finally has a win, as the 'Niners were able to top New York 31-21 for their first win of the season.
Hyde finished the game with 98 yards on 17 carries and was the team's leading rusher. Most impressively, he averaged five yards after contact per attempt on Sunday, though his longest run was more of the finesse type.
Carlos Hyde Picks up 28-yards pic.twitter.com/Py104JL2Of

— Steven Breech (@Steviebreech) November 12, 2017
Despite the success and rushing numbers, Hyde's most impressive play of the game might not have even been one where he had the ball in his hands, but a key pass block to help set up an 87-yard touchdown throw and catch.
Ohio Against the World

Ezekiel Elliott's six game suspension may be the nail in the coffin for my fantasy season, but you know what, we're going to see how things play out.
Maybe Rod Smith comes out hungry and plays so well he Wally Pipps Elliott. Maybe Jeff Heuerman explodes for three touchdowns one week. Maybe Cardale Jones will get the starting nod in Los Angeles.
I have nothing but hope!
Except this week. This week, I'm going to lose. Sorry.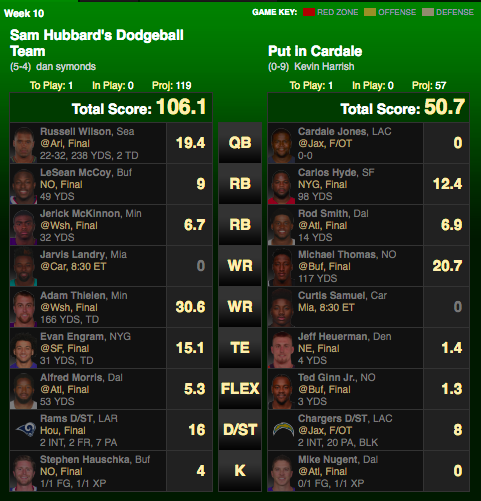 Buckeyes in the NFL: Week Ten




| Player | Position | Team | Stats |
| --- | --- | --- | --- |
| Alex Boone | OL | Arizona Cardinals |   |
| Adolphus Washington | DL | Buffalo Bills | 1 total tackle |
| Kurt Coleman | S | Carolina Panthers | Monday Night |
| Andrew Norwell | OL | Carolina Panthers | Monday Night |
| Curtis Samuel | WR | Carolina Panthers | Monday Night |
| Noah Brown | WR | Dallas Cowboys |   |
| Ezekiel Elliott | RB | Dallas Cowboys |   |
| Mike Nugent | K | Dallas Cowboys | 0/1 field goals, 1/1 extra points |
| Rod Smith | RB | Dallas Cowboys | 3 carries for 14 yards, 4 catches for 15 yards |
| Jeff Heuerman | TE | Denver Broncos | 1 catch for 4 yards |
| Bradley Roby | CB | Denver Broncos | 2 total tackles, 1 tackle for a loss, 1 pass defended |
| Taylor Decker | OL | Detroit Lions |   |
| Corey Linsley | OL | Green Bay Packers |   |
| Braxton Miller | WR | Houston Texans | 1 rush for 1 yard |
| Jonathan Hankins | DL | Indianapolis Colts | 3 total tackles, 1 pass defended |
| Malik Hooker | S | Indianapolis Colts |   |
| Jack Mewhort | OL | Indianapolis Colts |   |
| John Simon | LB | Indianapolis Colts |   |
| Joey Bosa | DE | Los Angeles Chargers | 4 total tackles, 1 sack, 1 tackle for a loss, 4 QB hits |
| Cardale Jones | QB | Los Angeles Chargers |   |
| Jake McQuaide | LS | Los Angeles Rams |   |
| Raekwon McMillan | LB | Miami Dolphins |   |
| Pat Elflein | OL | Minnesota Vikings |   |
| Nate Ebner | DB | New England Patriots | 1 total tackle |
| Vonn Bell | S | New Orleans Saints | 6 total tackles, 1 tackle for a loss |
| Ted Ginn Jr. | WR | New Orleans Saints | 1 catch for 3 yards, 5 punt returns for 19 yards |
| Marshon Lattimore | CB | New Orleans Saints | 5 total tackles |
| Michael Thomas | WR | New Orleans Saints | 9 catches for 119 yards, 1 total tackle |
| Eli Apple | CB | New York Giants | 2 total tackles |
| Curtis Grant | LB | New York Giants | 1 total tackle, 1 fumble recovery |
| Darron Lee | LB | New York Jets | 4 total tackles |
| Devin Smith | WR | New York Jets |   |
| Gareon Conley | CB | Oakland Raiders |   |
| Malcolm Jenkins | S | Philadelphia Eagles | BYE |
| Cameron Heyward | DE | Pittsburgh Steelers | 2 total tackles, 2 QB hits |
| Ryan Shazier | LB | Pittsburgh Steelers | 5 total tackles, 2 passes defended, 1 interception |
| Carlos Hyde | RB | San Francisco 49ers | 17 carries for 98 yards, 2 catches for 6 yards, 1 total tackle |
| Nick Vannett | TE | Seattle Seahawks | 2 catches for 22 yards |
| Terrelle Pryor | WR | Washington Redskins |   |