Most everyone felt like Ohio State might be walking into an ambush after laying an egg at Iowa only to find themselves listed as 16-point favorites to beat No. 12 Michigan State but the joke was on the non-believers as the Buckeyes smoked the green (and white), 48-3, in a brisk Ohio Stadium. 
Controlling both lines of scrimmage, the Buckeyes raced out to a 35-0 lead midway through the second quarter and never looked back posting 524 yards of offense including 335 on the ground sparked by Mike Weber and J.K. Dobbins. 
The win improved Ohio State to 8-2 overall and kept it in the driver's seat in the B1G East with a home date next Saturday against Illinois before the regular season finale in Ann Arbor. 
Before we shift focus to the dreadful Illini, here are Five Things from yesterday's beat down of the Fighting Dantonios.
---
FINE LINE
Facing what was the No. 3 rush defense in the land (87 ypg), the Slobs dominated Michigan State's front as the Buckeyes amassed a hefty 335 rushing yards – the most against Sparty in 15 years – on eight yards per carry. 
With Billy Price anchoring things up front, Mike Weber enjoyed a career-day with 162 yards on just nine carries including touchdown jaunts of 47 and 82 yards. Price and Demetrius Knox were particular nasty opening a seam on Weber's 47-yard sprint to open the scoring. Similarly, J.K. Dobbins exploited wide lanes going for 124 yards on 18 carries. 
With the line dominating the action, Ohio State racked up 253 rushing yards in the first half on 9.4 yards per carry with 223 of that output coming from the Weber/Dobbins duo a week after Meyer and company took some heat for doing nothing unique to get them touches last weekend as Iowa kept forcing J.T. Barrett keepers. 
We probably haven't given the Slobs enough love this year especially when you consider Dobbins has lost only seven yards on 137 carries season-to-date and Weber's lost just 10 yards on 69 attempts. Nice. 
Hat tip to Jamarco Jones, Michael Jordan, Price, Knox and Isaiah Prince for dominating what was considered an elite rush defense. And also to Weber for fighting through what's been a tough season as he battled injury while Dobbins exploded onto the scene. Weber's handled it like a pro. 
SMOTHERED AND COVERED
Not to be outdone by the O-line, Ohio State's defensive line had itself a day against an overwhelmed Spartan front. 
The Buckeyes built a 35-3 advantage at the break as the defensive line keyed a dominant effort in holding Sparty to just 55 rushing yards on 2.9 per carry. 
Larry Johnson's group triggered two turnovers in the first half while holding Michigan State to 25 yards on 16 first down snaps (1.6 yards per play), repeatedly putting it behind the chains. 
The dominant half of football saw Sam Hubbard tally three stops including one for loss. Tyquan Lewis had a couple tackles and forced a fumble.

Nick Bosa single-handedly wrecked Sparty's opening possession with a sack and damn near another as he met Malik Harrison at the quarterback, while Bobby Landers posted a TFL. 
Johnson would dive deep into the roster after the half but Ohio State still managed to hold Michigan State to just 121 total yards through three quarters and forced five 3-and-outs in 13 total possessions. 
When the victory bell sounded Sparty had just 64 rushing yards on 1.9 per carry and tallied only 195 yards on 2.8 per play as L.J. Scott churned out 30 rushing yards and quarterback Brian Lewerke completed 18 of 36 passes for 131 yards and two picks. 
It was a hell of a performance from a front four that while certainly not primarily culpable for last weekend didn't do much to help in Iowa City. 
SEARCHING FOR THE GROOVE
After a career-high four interceptions and just a 53% completion rate against Iowa following six straight games of precision, Buckeye fans were hoping to see J.T. Barrett get his groove back. 
Instead, they received a bit of a mixed bag. 
Barrett did his thing guiding the offense to points almost at-will. He found the end zone twice on the ground and two more times through the air while completing 67% of his passes – all great signs to be sure – but he also flashed a recurring issue of under-throwing the football along with a few forced, inaccurate even if still catchable efforts.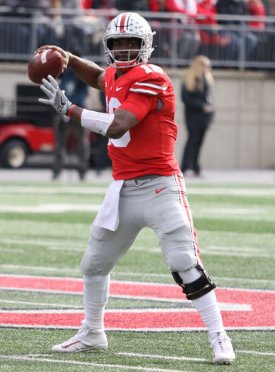 A perfectionist, J.T. himself would tell you the first interception was a poor throw and he didn't put enough air under at least another five balls. 
In one instance, he correctly targeted a wide open Marcus Baugh down the left sideline but forced Baugh to stop and drop to the ground to make the catch. If hit even close to in stride, Baugh is still running. 
Another couple throws were so short they basically ran the defenders into slowing receivers. Yes, Ohio State picked up pass interference calls but again, my guess is Barrett would love to those back especially one to Johnnie Dixon that could've been a touchdown with about three more yards of air. 
After a truly incredible eight-game stretch in which he posted 25 touchdown tosses against one interception, Barrett now has five touchdown passes with six interceptions over the last two games on a 58% completion rate. 
The single most important player on the roster, the Buckeyes will go only as far as Barrett can take them.
The way the schedule sets up, Barrett has next week versus lowly Illinois to get back into the throwing groove ahead of a trip to Michigan were his leadership, rushing and throwing ability will be needed to take down the Wolverines and Badgers.
I remain the biggest Barrett supporter you can be but I think it's fair to say Ohio State needs him be more accurate (complete or not) than we've seen over the last two weeks if it have designs on winning the B1G and giving the playoff committee something to think about. 
'ROUND THE OUTSIDE
A week after the linebackers were exposed, it looked like Ohio State might be in big trouble as Jerome Baker and Dante Booker were forced to sit out with injury. 
Instead, Tuf Borland manned the middle and Chris Worley moved back outside to the position in which he thrived a year ago. 
Picking up where he left off last season Worley posted five stops and a sack in a comfortable, decisive effort. 

He showed tremendous backside pursuit for a stop, not only set the edge but came up with a solid tackle of L.J. Scott as he tried to bounce outside on another play, and to open the second half, came up with a big sack on third down forcing a punt. 
I've been tough on Worley a few times this year but the reality remains he's an outside linebacker and his middle linebacker play this year is more of an indictment of the staff's inability to find and/or develop a legit mike before the season started. 
Borland saw time with mixed reviews earlier in the season but to his credit, he played well yesterday posting a team-high 11 stops with one sack and two TFL. 
Could it be time to again try Borland as the starting mike, with Worley and Baker on the edges? Then, in obvious passing downs and/or two LB sets, go with Worley and Baker? I'm down for both of those. 
PLAYING CLEAN
I've taken a handful of dives into Ohio State's penalty woes which reached a low point the past two weeks as the Buckeyes racked up 10 flags for 79 yards against Penn State and backed it up with nine more, including a few back breakers, for 95 yards at Iowa. 
The season-long issue saw Ohio State ranked 126th out of 130 teams with 77.2 penalty yards per game and 116th with 7.9 flags per game. 
Yesterday, the Buckeyes finally cleaned things up with just two penalties for 27 yards, the lowest totals since five flags for 55 yards against Army nearly two months ago. 
Dre'mont Jones picked up a personal foul targeting call and was ejected late in the first half for Ohio State's only penalty through the game's first 30 minutes. Definitely not a good play from Jones – whether you agree with the targeting portion or not – because the hit itself was well after Brian Lewerke let go of a pass. 
Ohio State's only other penalty came in mop up time as Jeffrey Okudah was flagged for pass interference on Michigan State's last possession of the day. 
Props to the Buckeyes for finally stepping up in the mental discipline department. Now the trick will be to make it a trend.