When No. 13 Ohio State hosts No. 12 Michigan State in Ohio Stadium on Saturday, it will be the fourth time in five years that the Buckeyes and Spartans have played with Big Ten title implications on the line for both teams.
In 2013, when Ohio State was just one game away from making the final BCS National Championship Game, the Spartans upset the Buckeyes in the Big Ten Championship Game.
Ohio State defeated Michigan State in a regular-season game in 2014, handing the Spartans their only conference loss of that season in a game that decided the first-ever Big Ten East title, which enabled that year's Buckeyes to ultimately win that year's Big Ten championship and a national championship.
Yet the Spartans – still the only Big Ten team who has beaten Ohio State multiple times since Urban Meyer became the Buckeyes' head coach – turned the tables in 2015, handing Ohio State its only loss of that season before winning their first Big Ten East title and winning the conference championship game to earn their first College Football Playoff berth.
Michigan State, coming off a 3-9 season in 2016, wasn't expected to be a Big Ten contender this season. Ohio State, on the other hand, was expected to be a vastly superior team to the Spartans and a national championship contender this year. But as the Buckeyes have fallen short of their external expectations, while the Spartans have well exceeded theirs, the two teams have identical records (7-2, 5-1 Big Ten) and are playing for the same postseason possibilities as they prepare to face each other in a game that will likely be the deciding game in the Big Ten East once again.
While Ohio State's national championship hopes suffered a likely fatal blow last Saturday, when the Buckeyes suffered a 55-24 blowout loss to Iowa, the Buckeyes still control their own destiny in the Big Ten, as they are currently tied for the Big Ten East division lead and would earn a berth in the Big Ten Championship Game if they win their final three regular-season games.
The same can also be said, though, for Michigan State, which has already beaten Penn State and Michigan this season – among others – and could put itself in position to win its second division crown in three years by beating the Buckeyes on Saturday.
Although Ohio State is a heavy betting favorite for Saturday's game – a 16.5-point favorite as of Friday morning, according to Vegas Insider – the Buckeyes are expecting another tough battle, as they typically always get, from the Spartans.
"Everybody knows this game ... our sixth year of playing them (since Meyer arrived at Ohio State) ... usually it's just a prize fight," Meyer said. "The tougher team usually wins. And we've got to understand what we're going to play against. Great respect for them and they're playing well."
The Buckeyes do appear to be a vulnerable team entering Saturday's game, coming off of what might be their worst loss since Meyer arrived in Columbus in 2012. Michigan State coach Mark Dantonio, however, says he expects the Buckeyes to be as tough to beat as ever.
"They will be a great challenge for us, no question," Dantonio said.
Michigan State Breakdown
While the Spartans' record alone substantiates that they are a significantly better team than they were last year, the biggest difference for Dantonio's squad this season has been its ability to make the plays it needs to make on both sides of the ball to win close games, as all six of Michigan State's conference games so far have been decided by eight points or less.
"I've always said it's been the inches," Dantonio said this week. "You've got to find the inches in every football game and to do that, you've got to look for them in every respect and we've looked for those throughout last season in terms of critiquing it and all those type of things. There were a lot of different things, a lot of challenges that we were going through (last season) and we lost some close games. We stayed competitive but we just didn't get it done. This season, we're finding a couple inches and they make all the difference."
As has been a staple of Michigan State's most successful teams in recent years, the Spartans' success this year has been led by a stout run defense, which has held its opponents to only 87 yards per game (third-best in the Football Bowl Subdivision) and 2.85 yards per carry (fifth-best in the FBS).
"Very good defense. Very good personnel. They haven't changed much over the years. They are intent on stopping the run," Meyer said. "They take great pride in that, and very hard to move the ball against. They're not giving up much rushing yards at all and they force you to take shots over the top a lot."
After being atypically poor against the run last season, allowing opponents to run for 158.7 yards per game, the Spartans have allowed only one team – No. 3 Notre Dame, in one of their only two losses this year – to run for more than that average this season.
The Spartans have had numerous breakout players who have led their defensive turnaround, including Brook Park, Ohio native Joe Bachie, who leads the Spartans from the middle linebacker position with 77 total tackles. Strong safety Khari Willis has been another key playmaker in the run game, tied for second on the Spartans along with outside linebacker Andrew Dowell, a North Ridgeville, Ohio native, with 60 total tackles.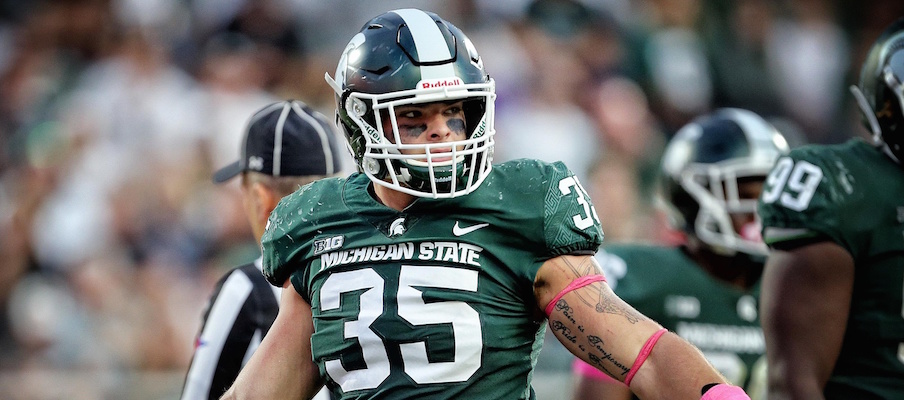 Michigan State's passing defense hasn't been as stifling as its rushing defense, but one area where the Spartans have been significantly better is their pass-rush, where they have 22 sacks this year after recording just 11 all of last season. Redshirt sophomore defensive end Kenny Willekes, a walk-on when he arrived at Michigan State, leads the Spartans with five sacks and 10.5 tackles for loss.
"It's a very defense-rich tradition team," said Ohio State center Billy Price. "They pride themselves on their defense. Those guys over there, they read the run very, very well. They read the pass pretty well. And their defense isn't just their starters and that's it. They've got two-deep."
While the Spartans defense has been typical of the units they have had since former Ohio State defensive coordinator Dantonio became their head coach, Michigan State's offense – which is co-coordinated by Dave Warner and former Ohio State coordinator Jim Bollman – has started to take on a different identity than usual, especially in its past two games.
In contrast with their reputation for being a run-heavy, ground-and-pound style offense, the Spartans have begun to rely much more heavily on their aerial attack, passing the ball 56 or more times in each of their last two games while running the ball only 55 total times between their last two games.
They've had success with that strategy, throwing for 400 or more yards in each of their last two games, thanks to the development of redshirt sophomore quarterback Brian Lewerke, who has completed 61 percent of his passes this season for 2,207 yards and has thrown 16 touchdowns to just five interceptions.
Ohio State's coaches also view Lewerke, who Meyer described as "deceptively fast," as a threat to make plays with his feet, having run for 368 yards and three touchdowns this year.
"He's a strong-armed guy, he reads very well and he has the ability to escape," said Ohio State defensive coordinator Greg Schiano. "He has the ability, if you flush him from the pocket, he can make things happen and he scrambles with his eyes down the field to make plays. He will tuck it and go eventually, but he's very good at once things break down, creating. So there's a reason that he's had twin, back-to-back games with over 400 yards. He's a very good player."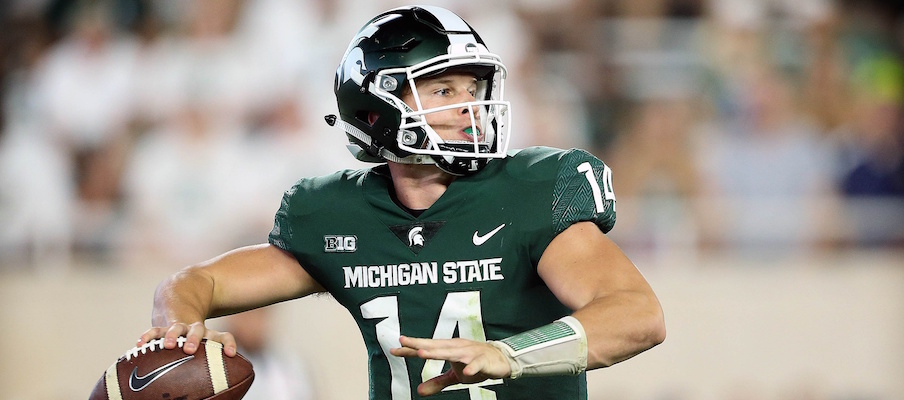 After losing each of their four most statistically productive pass-catchers from last season, the Spartans have a new crop of receiving playmakers step up this season, led by junior wide receiver Felton Davis III, who has caught 45 passes for 586 yards and eight touchdowns. Davis caught a career-high 12 passes – matching his total from last season, which was actually the most among all returning receivers – for 181 yards and a touchdown against Penn State last Saturday.
One area where the Spartans haven't been as good as they've been in the past has been running the ball, which Dantonio says has put his offense behind the chains and forced the Spartans to lean more heavily on the passing game. But because they know what the Spartans' offensive identity has traditionally been in the past, and they know the talents of Michigan State running back LJ Scott – who ran for 160 yards and a touchdown against Ohio State last year – the Buckeyes say they are still placing an emphasis on stopping Michigan State's run game this week.
"It all starts with stopping the run, so we're focusing on stopping the run to get them in situations where they got to throw the ball, and then trying to get after them with the Rushmen package when they have to throw it," said Ohio State defensive end Sam Hubbard. "That's our game plan, and that's what we're going to do."
Because of the Spartans' traditional toughness in the run game as well as the additional threat of Lewerke as a passer, Ohio State defensive end Jalyn Holmes said the Buckeyes "have to be on (their) P's and Q's" this week.
"They're a tough, rugged team," Holmes said. "We got to be just as tough and rugged against them."
Buckeye Breakdown
Whether Ohio State can earn back-to-back wins against Michigan State for the first time in Meyer's tenure with the Buckeyes could depend on which version of this year's Buckeyes shows up on Saturday.
After winning five straight games by 31 or more points before orchestrating a spectacular fourth-quarter comeback against Penn State two weeks ago, Ohio State looked as though it could be one of the best teams in college football once again.
That certainly wasn't the case last week, however, when the Buckeyes were not only defeated, but dominated, by Iowa.
2017 Statistical Comparison
 
OFFENSE
43.8
5th
POINTS FOR
24.1
96th
235.3
20th
RUSHING OFFENSE
156.8
75th
313.7
16th
PASSING OFFENSE
245.8
53rd
549.0
4th
TOTAL OFFENSE
402.6
63rd
.477
10th
3rd DOWNS
.433
40th
.878
43rd
RED ZONE
.800
86th
DEFENSE
22.3
38th
POINTS ALLOWED
20.1
27th
122.3
17th
RUSH DEFENSE
87.0
3rd
200.7
39th
PASS DEFENSE
216.7
58th
124.8
56th
PASS EFFICIENCY DEFENSE
112.2
23rd
323.0
20th
TOTAL DEFENSE
303.7
12th
.328
29th
3rd DOWNS
.308
16th
.778
34th
RED ZONE
.905
114th
SPECIAL TEAMS
4.4
107th
PUNT RETURN
3.1
120th
25.2
14th
KICKOFF RETURN
23.6
31st
42.0
11th
NET PUNTING
37.9
66th
MISCELLANEOUS
+ 0.1
61st
TURNOVER MARGIN
0.0
65th
7.9
116th
PENALTIES
6.8
84th
12
EDGE
6
Although Ohio State has won six games by at least 28 points, and defeated a Penn State team that was also expected to be one of the best teams in the country, Saturday's performance against the Hawkeyes – as well as the Buckeyes' previous loss this season to Oklahoma – calls into question whether those wins that appeared to be more impressive were really just a mirage of playing inferior competition.
One thing, though, is for sure: if the Buckeyes are going to beat a Michigan State team that has re-emerged as one of the Big Ten's best teams, they are going to have to play much better – on both sides of the ball – than they did last week.
"We got to get better each and every week, and we didn't get better from two weeks ago to last week, so we got to make that jump this week," said Ohio State linebacker Chris Worley.
Ohio State's offense had some success moving the ball against the Hawkeyes last week – until the third quarter, when the Buckeyes failed to gain a first down on three straight possessions  – but were set back by turnovers, as Ohio State quarterback J.T. Barrett threw a career-high four interceptions in one of his worst games as a Buckeye.
Up until last week, however, Barrett had been one of the best quarterbacks in the country – throwing 25 touchdowns to just one interception in Ohio State's first eight games – and the Buckeyes' offense still ranks among the nation's top five in both total offense (549 yards per game) and scoring offense (43.8 points per game). So while the Buckeyes offense needs to be sharper than it was last week, the Spartans are expecting the Buckeyes to put their defense to the test.
"It usually starts with how do you defend (Barrett) and all the different things he brings to the table," Dantonio said. "They are athletic, extremely athletic across the ball and they use a lot of players on the offensive side of the ball."
The bigger question for Ohio State entering Saturday's game is its defense, after the Buckeyes allowed 55 points – the most points ever allowed by an Urban Meyer-coached team in his entire career – and 487 yards against Iowa. The Buckeyes are coming off their worst performance of the year on run defense, allowing the Hawkeyes to rush for 6.4 yards per carry, all the while looking lost against the Hawkeyes' tight-end heavy offense in pass defense.
Ohio State clearly had some major issues on that side of the ball last weekend, and Michigan State will look to exploit those issues if the Buckeyes don't have fixes in place for this weekend's game. At the same time, though, the Spartans respect the talent that the Buckeyes have on their defense, which still ranks 21st nationally in total defense (323 yards allowed per game) despite last weekend's debacle.
"Ohio State is a very talented team, so it's going to be a great challenge for us to go down there," Dantonio said. "They're very well-coached, and I'm sure they will be ready to go."
How It Plays Out
If recent history is any indication, Saturday's game at Ohio Stadium should be a close one. Each of the six games between the Buckeyes and Spartans since 2011 have been decided by 12 points or less, with four of those games being decided by three points or less. Over the course of that six-year span, the two teams have been separated by only two cumulative points: Michigan State has scored 130 teams in total points in those games, while Ohio State has scored 128.
Ohio State vs. Michigan State in Urban Meyer era

| Year | Location | Result |
| --- | --- | --- |
| 2016 | East Lansing, Mich. | Ohio State 17, Michigan State 16 |
| 2015 | Columbus, Ohio | Michigan State 17, Ohio State 14 |
| 2014 | East Lansing, Mich. | Ohio State 49, Michigan State 37 |
| 2013 | Indianapolis, Ind. | Michigan State 34, Ohio State 24 |
| 2012 | East Lansing, Mich. | Ohio State 17, Michigan State 16 |
With the exception of the 2014 game at Michigan State, which Ohio State won 49-37, the games between Meyer's Buckeyes and Dantonio's Spartans have tended to be low-scoring affairs in which have points have been hard to come by. Neither team has scored more than 17 points against the other in either of the last two years.
Whether that trend holds true this year, however, could depend on whether Ohio State's offense regains its form – as the Buckeyes offense hasn't been stopped much when they have been in their stride – and whether the Ohio State defense can shore up the issues that led to a total failure on that side of the ball last week.
While Ohio State is more than capable of beating Michigan State, it wouldn't come as a big surprise – given the evident flaws in the Buckeyes that were exposed last week – if the Spartans emerged victorious on Saturday. The one thing that would come as a surprise, however, is if Saturday's game isn't close one way or the other.
"We know it's going to be a battle back and forth," Barrett said. "It's going to be one of those games that's won in the second half and fourth quarter."
Ultimately, as is often the case in big games, Meyer expects the game to be decided by the performances of each team's offensive line and defensive line at the line of scrimmage.
"These games are won and lost up front, and that's what we're going to find out," Meyer said.
---
ELEVEN WARRIORS STAFF PREDICTION: Ohio State 28, Michigan State 21