Ohio State will host one of the most unique teams in the Football Bowl Subdivision when the Buckeyes play Army on Saturday (4:30 p.m., Fox) at Ohio Stadium.
Army is unique on the football field because of how frequently its offense runs the ball and how sparingly it passes the ball. The Black Knights have run the ball 113 times but have attempted only 10 passes – fewest among all FBS teams – through two games. Despite completing only two of those passes, the Black Knights have won each of their first two games, with a 64-6 victory over Fordham in their season opener and a 21-17 victory over Buffalo last Saturday.
What truly separates Army from most other college football programs, however, is life off the field. While many Ohio State football players dream of playing in the NFL, all football players at the U.S. Military Academy work toward a common goal of being leaders in the U.S. Army, which requires its players to balance football with rigorous military training in addition to academic work.
With Ohio State's passing defense ranking dead last in the FBS in passing yards allowed per game, will the Black Knights attempt more passes this week? And what's it like to be a student-athlete at West Point?
Eleven Warriors caught up with Sal Interdonato, the Army football beat writer for the Times Herald-Record and hudsonvalley.com, for answers to those questions and more in this week's edition of Across the Field.
Q: Sal, considering that Ohio State's strength is its run defense, do you think Army offensive coordinator Brent Davis will try to work any additional passing plays into his offense this week?
Interdonato: I've asked Davis that same question earlier in the preseason about additional pass plays in the offense. Davis said Army needs to execute the passing plays it has better. Quarterback Ahmad Bradshaw missed two touchdowns against Buffalo, overthrowing Jermaine Adams on a fourth down and later Kjetil Cline in the end zone.
When asked earlier this week where he sees the passing game going in the future, after completing 2-of-10 throws in the first two games, coach Jeff Monken said, "probably eliminating as many passes as we possibly can, to be quite frank about it. We have to run the ball to be successful. We are not going to win a bunch of games trying to chuck it all over the place. We have to pick our spots."
Q: The discussion around Army usually centers around its triple option offense, so we don't hear much about the Black Knights' defense. What should Ohio State fans expect to see from Army on that side of the ball?
Interdonato: Defensive coordinator Jay Bateman likes to pressure opponents and force quarterbacks to make quick decisions. Army played a nickel package for most of its win over Buffalo last week with senior linebacker Alex Aukerman often lining up as a defensive end. Aukerman arrived at West Point as a 205-pound safety. He's now a 260-pound hybrid linebacker with pro potential.
Army's defense has experience. Senior safety Rhyan England is a four-year starter. Aukerman, senior defensive end John Voit and junior linebacker Kenneth Brinson are three-year starters. The Black Knights have rising stars in sophomore linebacker Cole Christiansen and sophomore safety Jaylon McClinton. Army ranked fourth in total defense last season and the Black Knights think they can be better in 2017. The Black Knights have shut out their first two opponents in the second half.
Q: Being a student-athlete at the U.S. Military Academy is surely a very different experience than being a student-athlete at Ohio State. From your perspective, how is being a football player at West Point different than it is at other schools?
Interdonato: Most Army players came to West Point for the education as much as Division I football. The academy was recently named the No. 1 public college by U.S. News & World Report. Brinson, who chose Army over Stanford, has a 4.0 grade-point average. Starting tackle Brett Toth and kicker Blake Wilson are physics majors. Players also have to fulfill their military obligations, which include formation before 7 a.m. and summer training. Freshmen must pass Beast Barracks, a seven-week boot camp, to join the Corps of Cadets. Players graduate as second lieutenants in the U.S. Army and are required to serve five years of active duty.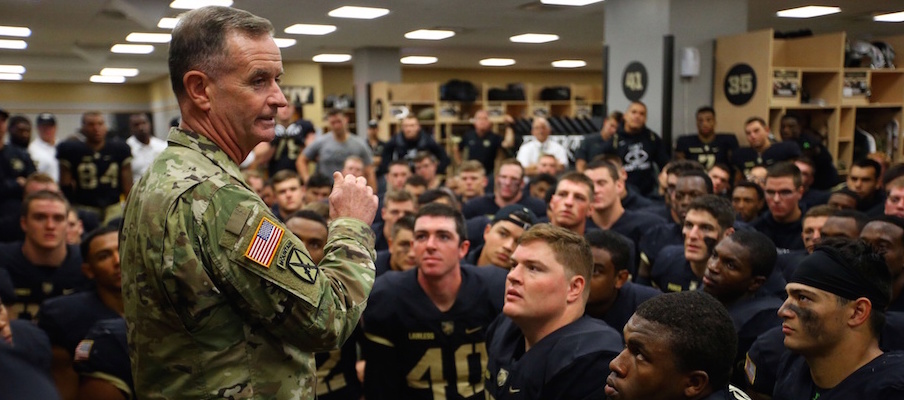 Q: What do you think it means for Army to have the opportunity to play at Ohio State for the first time ever (aside from the financial aspect)?
Interdonato: It's an opportunity for the Black Knights to shock or perhaps show the college football world that they are one of the top Group of Five teams this season. One of Army's goals is to be ranked in the top 25 this season. A good showing against the Buckeyes would go a long way toward that goal.
Q: Do you think Army can keep this game competitive? What do the Black Knights need to do to give the Buckeyes a challenge?
Interdonato: This game can be competitive if Army's offense can protect the football, sustain multiple long drives and finish them off with touchdowns. The long drives will keep Army's defense fresh and Ohio State's offense off the field. The defense needs to contain Ohio State's run, force the Buckeyes into some 3rd-and-longs and make J.T. Barrett uncomfortable throwing the ball.