The Runnin' Rebels can't run any longer. They're about to meet a wrath larger than FCS school Howard. The reasons were on their bye week but they're back. Welcome, let's take a look at 10 reasons to hate the University of Nevada — Las Vegas
10. cHUMLEE
Hate the Rebels because everyone's favorite degenerate pawn broker loves everything there is about the UNLV Rebels. 
I think Pawn Stars is some of the worst television out there and it's highlighted by giving this butterball the outlet and exposure that's resulted in him having a a net worth of $5 million.
When he's not trying to severely undercut customers like the rest of the shop does, being a general liability or getting pinched for meth possession and unregistered firearms, Chumlee loves to sit court-side and watch UNLV play basketball. By himself. No one else goes to UNLV games.
9. GUY FIERI
Disclaimer: I don't hate Guy Fieri.
This isn't about him. I will watch any Guy Fieri cooking show out there. 
I hate UNLV because they know this man better than we all do. He's a native son of Columbus and was born at Riverside Hospital, though the Ferry family moved to California almost immediately after. He hasn't been back since. Along the way to being a cool dude, he graduated from UNLV with a degree in hotel management. 
I want to know about the frosted tips and how he gets his hair to resemble raw bean sprouts and I feel like I've been robbed of that livelihood. We all have. Though he's a UNLV alum, he's going to be rooting on the Silver Bullets tomorrow. And that makes me happy.
8. UNLV Dropped their csi program
This one hit me right where it hurts. The original CSI and the New York and Miami spinoffs (CSI:NY is definitely the best of all) were a staple of my childhood. Anthony Zuiker, UNLV graduate and creator of the show, is one of few UNLV graduates I like.
After the success of the show and the prominence it brought to the field of crime scene investigation, UNLV announced they would be bringing a crime scene investigation program to the college. Less than five years in production and without accreditation, UNLV scrapped their crime scene investigation program in 2008 coinciding with the school's financial issues.
I mean, what does it say about an institution that axed probably the most popular academic program the school could have offered?
7. THe Oakland (Las Vegas) Raiders
The Raiders make this list because of their impending move to the greasiest city in the United States.
(Side note: Las Vegas is only second-greasiest in North America next to Windsor, Ontario. Souls go to that place and never return from the Detroit-Windsor Tunnel.)
I like the UNLV football program right where they're at — losing to FCS opponents, hiring high school coaches to lead their Div. 1 programs and such — and with another major professional sports team headed to Vegas, the Runnin' Rebels could conceivably get some good recruits and not be such a cupcake of a game like tomorrow will bring.
Hate UNLV because the Raiders might plausibly make them not a mockery in a few years. 
6. Anthony bennett
I can't blame Anthony Bennett for being bad at basketball as much as the Cavaliers' front office for drafting the guy, but man I'm not even a Cavs fan (welcome to Boston, Kyrie) and I hate this guy and UNLV for not developing him into anything more than his 4.4 points per game.
And it's hard to blame the Cavaliers in picking him, the 2013 draft class was softer than soft. Though they could have had a lineup of Giannis Antetokounmpo, Kyrie/I.T., LeBron, Kevin Love and J.R. Smith least for a few years. That would have been wild.
Meanwhile, Dan Gilbert is pumping billions into the city of Detroit after scrapping plans to renovate Quicken Loans Arena. Feel free to hate Dan Gilbert too. 
5. UNLV HUSTLIN' REBELS
Hate this forsaken institution because the baseball team has a whole different name than the rest of the university athletic teams. 
They're called the "Hustlin' Rebels" even though running and hustling are pretty much synonyms of each other. That is so awful for branding and awareness to the athletic program and it just sets a super awkward line for the rest of the varsity sports at UNLV.
Does the football team not hustle to get a snap off with the play clock winding down? Does the baseball team not run around the bases? Why not call the men's golf team at the "Chippin' Rebels" to correlate with the anomaly the Hustlin' Rebels have created? How many licks does it take to get the center of a Tootsie Pop?
These are answers I must know.
4. the hangover
Hate UNLV for being a part of the same city that gave my friends Stu, Phil and and Alan a really hard time.
I mean they traveled far and wide around Las Vegas to find their our friend Doug. They encountered a tiger and met his dad Mike Tyson which is kinda cool, but they were also roofied and then beat up with a crowbar by this dude named Leslie.
That sounds like a really safe college town, doesn't it?
Also, shout out to Walt Keys on this week's game poster.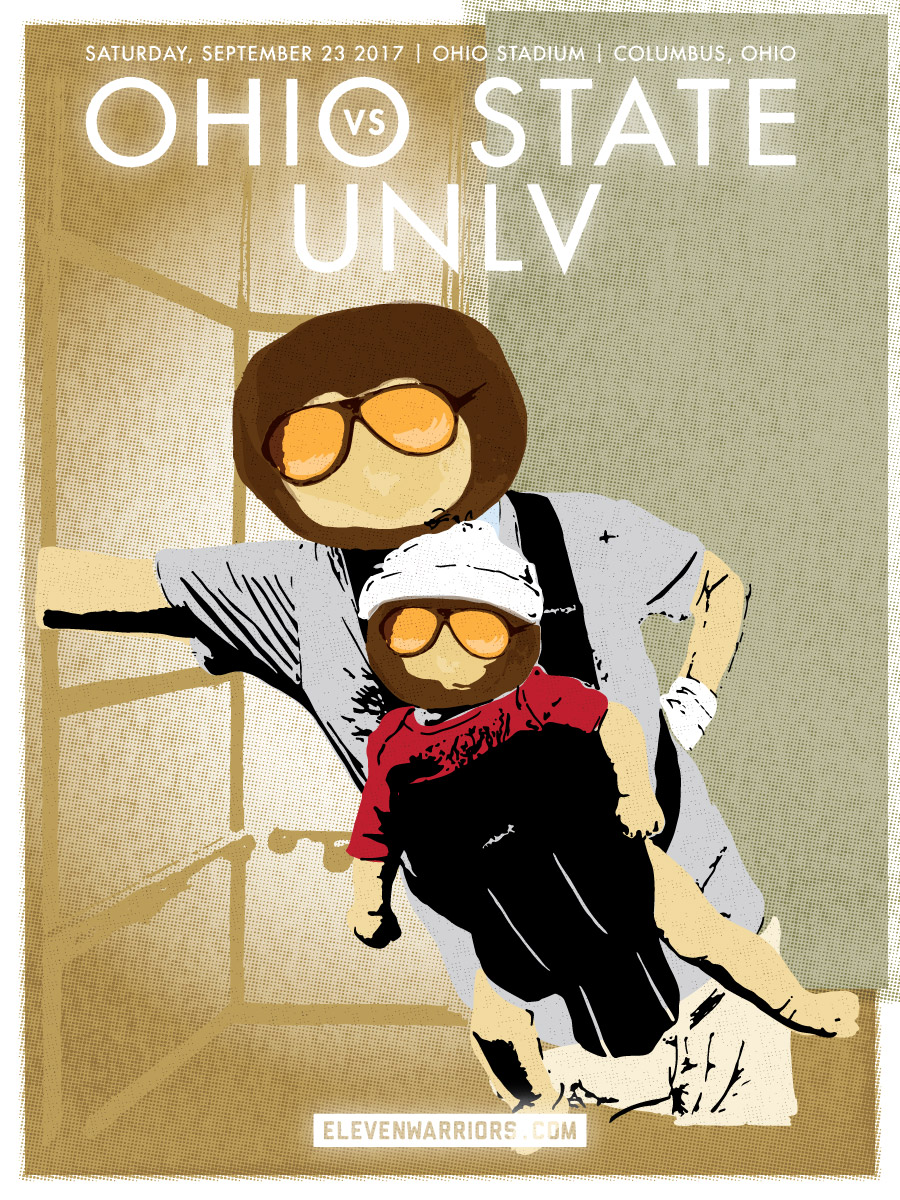 3. Their new logo is HOT garbage
Now I won't say that their old logo was the most intimidating logo on planet earth, but it was certainly more intimidating than what they unveiled in late July.
What is it????? It kind of looks like a folded pile of clothes with a cowboy hat.

— Michele Correa (@LasVegasMichele) June 28, 2017
UNLV's logo looks like a multitude of things. One of those images where you get a bunch of different things except the one you're supposed to.
I'm getting a clam, a cloud, I see something of a top hat in the center of the logo, but I don't see a running rebel.
At least UNLV is using the logo where it belongs. 
Still not a fan of #UNLV's new logo, but at least they are putting it on things where it belongs pic.twitter.com/dn5WBvXlWa

— Billy Lazarus (@Billy_Laz) September 8, 2017
2. they lost to howard
Let's be real, nobody expects Ohio State to lose this game or to come close to losing it. Heck, nobody expects Ohio State to even not cover the spread (-39).
But still, hate UNLV because they didn't fill me in that they were about to throw the game with the largest point spread ever and cash in because their athletic program is in the red.
And let's be real, later on in the season after Brutus and the Buckeyes head into Ann Arbor to let them know who their father is, you already know the uneducated masses are going to make jokes about the Buckeyes' non-conference schedule. UNLV will be the forefront of the weak schedule jokes.
1. SUGE KNIGHT
Finally friends, hate UNLV because esteemed alumnus Suge Knight is responsible for the death of 90s rap and via Suge Knight, UNLV is — by the transitive property — an accessory to the murder of Tupac.
Suge Knight played defensive line for the Runnin' Rebels during the 1986 and 1987 seasons after transferring to UNLV from El Camino College.
You know the rest of the story. After not catching on in the NFL, Knight would later go on to start Death Row Records, signing famous rap artists Dr. Dre, Snoop Dogg and Tupac Shakur among others.
In 1996, Knight orchestrated the death of one of his own, as Tupac was killed (or was he?) in a drive-by shooting in Las Vegas of all places after a Mike Tyson fight. And, depending on what highly-credible conspiracy theory site you get your information from, Knight was also responsible for the murder of Biggie Smalls as well.
Though he was never formally charged for the murder of Shakur, Knight was charged with hit-and-run in 2015 after plowing over somebody with a Ford Raptor. He's been in and out of the hospital since then, dealing with "blood clot" issues conveniently overlapping with his scheduled court appearances.
Hate UNLV because by they gave a degree to the man that murdered my boy 'Pac. Tomorrow is game day, and the Rebels are about to get dumped by 1000.