"Craig Krenzel strikes, with a minute and a half left."
Undefeated and No. 3-ranked Ohio State found itself trailing unranked Purdue 6-3 with just under a minute remaining. The Buckeyes faced a fourth-and-1 from just outside field goal range without their starting tailback and with the game and the season on the line.
Craig Krenzel took the snap from under center and dropped back to pass, but Purdue, presumably selling out on the run, rushed seven men. The Boilermakers blew up the play, giving Krenzel little time to make a decision and no space to scramble for a first down.
Using relatively poor mechanics, Krenzel calmly stepped up in the pocked and heaved a wobbly, yet perfect pass that landed right in the arms of a streaking Michael Jenkins for the game-winning, miracle touchdown.
"Holy Buckeye."
If you couldn't guess, Jim Tressel didn't call the deep ball on that play. The pass was supposed to go to the tight end on the short, two-yard drag route, but it wasn't there. Krenzel was forced to "go for the ballgame," as Brent Musburger put it. Krenzel's most iconic moment as a Buckeye came on a broken play – fitting.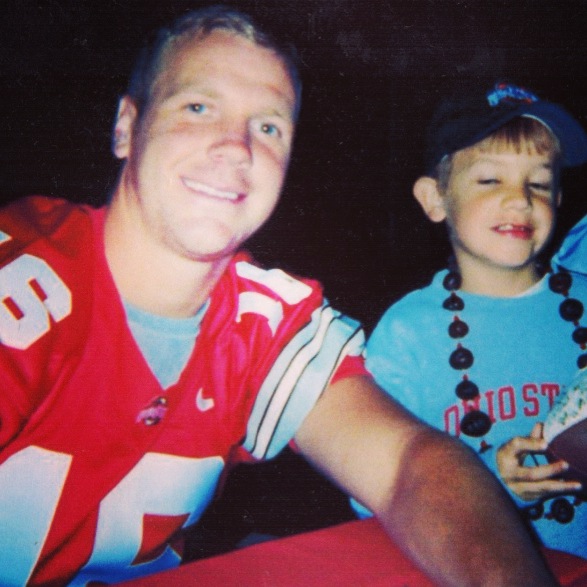 I was eight years old when I watched that play on a small, tube TV in a spare room in my house, and Craig Krenzel was already my hero. I loved the way he played with such urgency, like every down was the game-deciding play. He was tough to bring down, quick on his feet, willing to run and take hits and seemed to play his heart out every game.
I didn't realize he finished his career with just a 25-20 touchdown-to-interception ratio. I didn't realize he spent most of his career handing the ball off to running backs and was mostly a "game manager," before that term even became a thing. I didn't realize he only ran a 4.84-second 40-yard dash and that calling him a dual-threat quarterback would be quite a bit more than disingenuous.
In my eight-year-old mind, Krenzel was the best quarterback of all time. And in a way, I was right.
See, all of the knocks on Krenzel were true – he wasn't the best, most accurate passer and he wasn't near as fast as I thought he was, and didn't have perfect mechanics by any means, but he won. Craig Krenzel won.
Krenzel finished 24-3 as a starter, and one of those losses came in his first-ever start against No. 12 Illinois after Steve Bellisari was suspended for an alcohol-related incident. And he did whatever it took to win those 24 games, whether it was hitting Michael Jenkins deep on a broken play, running the ball himself 19 times and becoming the national championship game's leading rusher, or playing through injuries because his team needed him.
A few far more talented Buckeye quarterbacks followed Krenzel – Troy Smith, Terrelle Pryor and Braxton Miller – but none of them had quite his knack for seeming to play above what they're even capable of and finding a way to win.
Then came the new No. 16.
If any Buckeye quarterback comes close to Krenzel's ability to find a victory from seemingly nothing, it's J.T. Barrett. 
Though Barrett, who holds 21 school records already, is undeniably a better quarterback than Krenzel was, their play style is similar. Like Krenzel, Barrett is not the fastest, strongest or most elusive guy on the field, but somehow he manages to break big runs, find first downs, power his way through tackles and shake All-Big Ten linebackers in the open field. There's no reason either one of them should have had success running the ball, but they did.
But Barrett has more in common with Krenzel than simply his style of play or his skill set; like Krenzel, Barrett is simply a winner. Through three seasons, Barrett has a record strikingly similar to that of Krenzel: 26-4. And just like Krenzel, Barrett has had to pull out all the stops to get more than a few of those victories.
In 2014, he led the Buckeyes into a Happy Valley whiteout in his first year as a starter. The offense sputtered after taking a quick 17-0 first-half lead, and to make matters worse, Barrett injured his knee in the second half. Penn State tied the game at 17, and Barrett would not be kept off the field. The Buckeye quarterback rushed for 34 yards and two touchdowns in overtime on what turned out to be a sprained MCL, giving his team the win nearly single-handedly.
In 2015, Ohio State was searching for a cure for its ailing offense and one proposed solution was to make Barrett a sort of red zone specialist. That game, Barrett amassed 102 yards and two touchdowns on 11 carries and went a perfect 4-for-4 passing for 30 yards and two touchdowns. That performance earned him the starting spot the rest of the season.
In 2016, Barrett carried the team to victory on a number of occasions – literally. Barrett carried the ball 21 times against Wisconsin for 92 yards, 24 times against Michigan State for 105 yards and 30 times against Michigan for 125 yards. Those games were decided by a total of eight points, with two of the three going to overtime, and Barrett used his legs to help win them all.
The past few years, when the Buckeyes have needed a play, it's been Barrett they could turn to. When the offense was sputtering, Barrett would make a play. Like Krenzel, it wasn't always pretty, and sometimes the games felt a lot closer than they should have, but a win percentage that high doesn't happen by accident.
Though, there's still one key difference separating Krenzel from Barrett – Krenzel led his team to a national championship, and that's eluded Barrett so far. Of course, Barrett has a ring for the 2014 season, and deservedly so. He did lead the Buckeyes to the postseason, after all. But it's different; everyone knows that.
That said, there's one more thing separating the two – Barrett can still add to his legacy. Entering his fifth season, Barrett is the veteran leader on a talented squad that's now hungry after ending its season on a bitter note. He's got another chance to chase his title; one more chance to carry his team to victories.
I don't know if he'll lift a trophy at the end of the season. I don't know how many records he'll hold when all is said and done. I don't know if he'll go on to become a successful NFL quarterback.
What I do know is that J.T. Barrett is a winner, and there are still a lot more wins to be had.