Round of applause, everyone. We've now made it to The Opening, an important milestone in offseason local team #content. Just gotta keep our failing organs together for a couple more months.
ICYMI:
Word of the Day: Urbane.
 WHO'S THIS J.T. BARRETT GUY? When I, the No. 1 Ohio State fan, think about what's to like about the 2017 local team my first thought is "Everything." It still feels like cheating life by cheering for the Buckeyes, despite a 31-0 loss six months ago. 
But I always enjoy reading preview pieces from national outlets... outlets that can't keep boots on the ground routinely but speculate on the season nonetheless. 
From usatoday.com on what's to like about Ohio State in 2017:
No. 3 J.T. Barrett. Rest assured that Barrett has heard all the criticisms heaped his way during and after a junior season that fell short of expectations. But there's a reason he's a major Heisman Trophy contender: Barrett is perhaps the most experienced starting quarterback in college football and very likely the best leader to be found under center, not to mention highly motivated to make the most of his final season. The shift in offensive style will find Barrett resembling the redshirt freshman who led the Buckeyes to the Playoff.
(The first two things, for the record, were the defensive line and the hiring of Kevin Wilson. They must read Eleven Warriors up there at USA TODAY.)
Barrett will be the most experienced starter in 2017, and he might be underrated, overall, by his own fanbase.
In 2016, no returning FBS QB was better against the blitz than @OhioStateFB's J.T. Barrett. pic.twitter.com/6k912ofHz4

— PFF College Football (@PFF_College) June 7, 2017
People forget Barrett can do his legs, too (shout out to big Noah Brown for the block that didn't show up on the stat sheet).
What are you doing when you don't have the ball to help your team? The eye in the sky will reveal it. #spreadoffense pic.twitter.com/fElrNb5GHR

— SpreadOffense.com (@SpreadOffense) June 27, 2017
Get dumped then, Wisconsin.
 BIG FELLA 'CROOTING. Auburn callously blocked defensive tackle Antwuan Jackson from transferring to Ohio State, whom fiercely recruited the four-star Georgia prospect out of high school. 
Jackson appealed the ruling and was denied, a verdict he rightly called "unfair." Instead, he will head to Blinn Community College (famously known as the school that turned around Cam Newton's career).
The Buckeyes will reportedly recruit him after the season.
From 247sports.com:
In checking with sources inside the WHAC, it appears the Buckeyes definitely will recruit Jackson again. The Scarlet and Gray would like to add another defensive tackle to the Class of 2018 next to Taron Vincent, and Jackson is a guy who would be seen as more game-ready versus an incoming high school senior.

And in talking to people on the Jackson side of things, it appears if OSU pushes for the talented defensive tackle, that Columbus could very well be his eventual landing spot. South Carolina is probably running second, but one source said "there's no doubt Ohio State is Antwuan's first choice right now."
It appears I will definitely cosign on that move if it happens. Sometimes a change in scenery is all a player needs (as I expect we'll see from JUCO transfer Kendall Sheffield this fall).
 YOU DON'T SAY? Columbus drivers are trash because they're not perfect on the road like me, the greatest driver to ever live. 
According to a comparison by QuoteWizard, an insurance comparison marketplace, Columbus features some of the worst drivers in the region and seventh-worst in the country.
From dispatch.com:
QuoteWizard sampled incident data from over 2 million data points from drivers who used their site. The site then looked at different incidents in each state with the percentage of occurrences. Finally, the site calculated rankings from the sum of weighted means calculated from incidents like accidents, speeding tickets, DUIs and citations.
WORST DRIVERS IN AMERICA

| RANK | CITY | STATE |
| --- | --- | --- |
| 1 | SACRAMENTO | CA |
| 2 | SALT LAKE CITY | UT |
| 3 | RIVERSIDE | CA |
| 4 | RICHMOND | VA |
| 5 | SAN DIEGO | CA |
| 6 | LOS ANGELES | CA |
| 7 | COLUMBUS | OH |
| 8 | OMAHA | NE |
| 9 | DENVER | CO |
| 10 | BAKERSFIELD | CA |
Cleveland ranked 18, with Cincinnati coming in at 32. Just wait until NFL season, those cities will undoubtedly rise with the uptick in DUIs.
 DO IT, PITT. I view Pitt like any other regional upstart trying to usurp Ohio State's throne: It can die in an elevator fire. 
That said, I never hate on a bold and wise sartorial choice. The Panthers should make their alternate jerseys their real ones.
From post-gazette.com:
In an interview Tuesday with Pittsburgh media, Lyke was asked about the possibility of the athletic department returning to its royal-blue-and-yellow color scheme and said, "I'm not going to say the conversation has not not happened."

Lyke cautioned nothing was imminent, but the news of a potential return to the program's historic colors is welcomed with open arms by many Pitt fans.

The chorus of voices calling for Pitt to scrap its current palette of navy blue and gold has intensified since August, when the athletic department first released images of the retro uniforms the football team wore on Oct. 8 against Georgia Tech and Nov. 19 against Duke.
The throwback is objectively (I use that word only because it jibes with my subjective opinion) better.
The new one looks like they swaggerjacked Akron: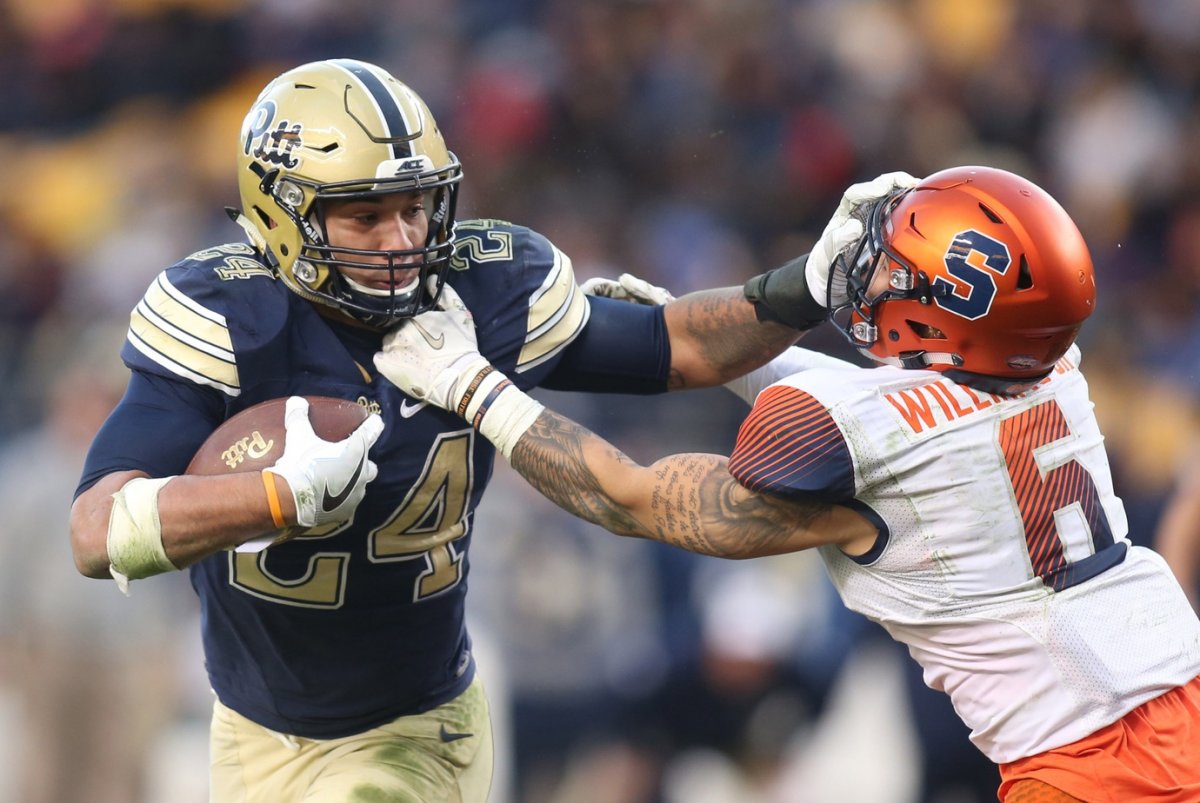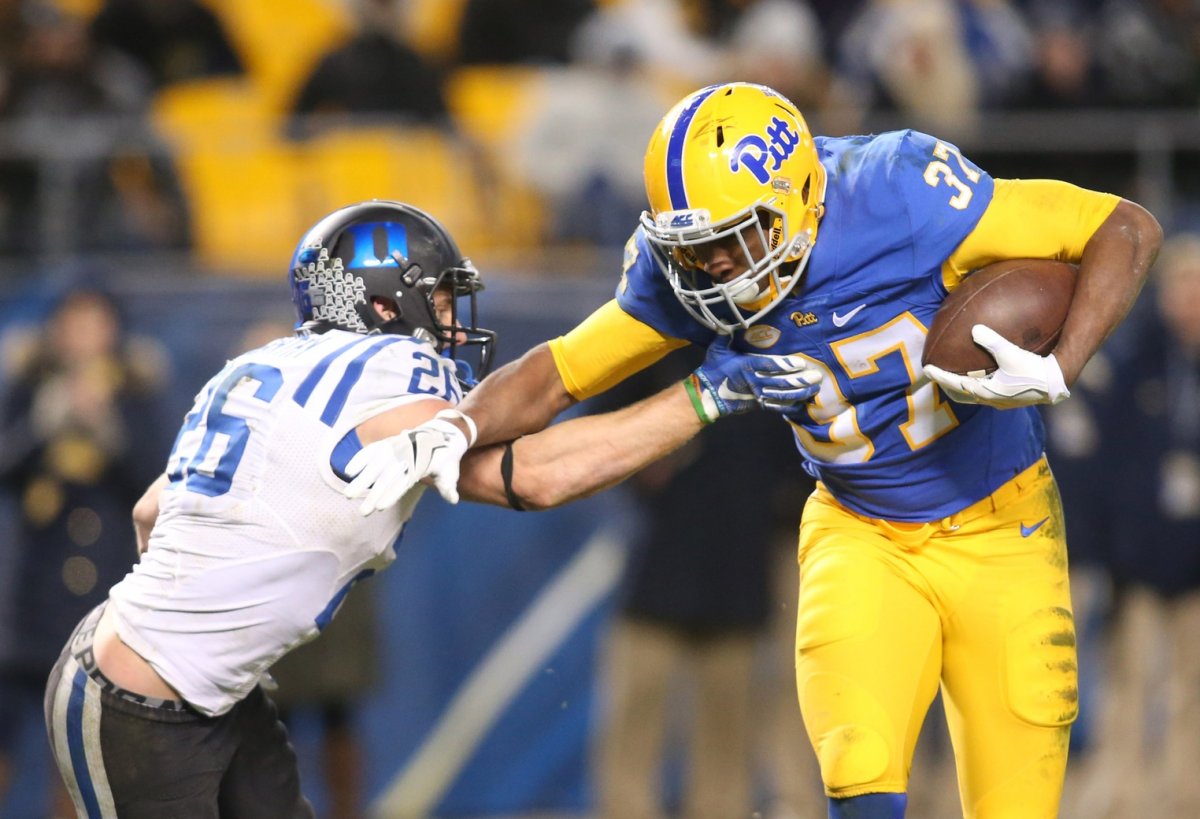 Still not as silky as the Scarlet and Gray, but what is?
 IT LOOKED WORSE AFTER THE JUMPS. Ohio State's renovation of Mirror Lake is currently in the "desolate hellscape" stage.
Here's what Mirror Lake looks like right now pic.twitter.com/EgQRjiHvTl

— Tom Knox (@TomKnoxBiz1st) June 27, 2017
Sleep easy, old friend. Your resurrection is coming.
 THOSE WMDs. Frustration, uncertainty, and dread: An inside look at Jamie Horowitz's takeover of FOX Digital... Self-defense tips from Jack Dempsey... Private finally home, 73 years after his death in the Netherlands... Mystery behind San Francisco fires... Can China take a joke?