Let's get this out of the way first: Jeff Heuerman is a character. The exact kind of character you want on your team, regardless the sport.
A terrific football player, goofball and individual who has a lust for fun in life in more ways than one, Heuerman responded eloquently to a question about his Ohio State career in the locker room at AT&T Stadium shortly after the Buckeyes thumped Oregon 42-20 to win the first-ever College Football Playoff. Would he change anything about it?
"Uh, on the field, yeah," Heuerman grunted. "Off the field? No." [commence hearty laugh]
Take that how you will. Later in the interview, however, Heuerman dropped this wonderful, glorious, delicious bomb to Ohio State football beat GOAT and Columbus Dispatch sportswriter Tim May:
Jeff Heuerman told me Urban Meyer told team if it beat Oregon he would get a tattoo on upper arm.

— Tim May (@TIM_MAYsports) January 13, 2015
*Checks calendar* *Googles Urban Meyer tattoo* ... hmmm.
Heuerman added that Meyer promised the ink in the Superdome locker room after the Buckeyes trumped Alabama 42-35 in the Sugar Bowl one game earlier. Naturally, Meyer has since been asked about it and answered about as diplomatically as you would expect.
"I imagine someday that'll happen," he said. "Heuerman is the one that won't let it go. That's going to happen someday."
Meyer then added that "51-year-old dudes don't need tattoos," a fair #take for the now 52-year-old that turns 53 in a month. But he knows that his former tight end will be in his ear like a gnat that keeps coming back until he gets what he wants — his head coach making good on his promise.
"I'll supervise it," Heuerman said, according to USA Today. "Trust me. I'm going to be right next to him."
We believe you, Jeff. So why is this story relevant now?
Well, you may have heard that the NCAA dropped its gavel on Louisville and head coach Rick Pitino on Thursday, hitting him with the dreaded "failure to monitor" after former assistant Andre McGee arranged and paid for sex parties and prostitutes for three players, 15 recruits on visits, two non-scholastic coaches and a bro hanging around a party on one of the nights between December 2010 to July 2014. Those allegations from the NCAA began in January, after Katina Powell spoke of her experiences in an exposé by Dick Cady, Breaking Cardinal Rules: Basketball and the Escort Queen, published in October 2015.
Louisville received four years of probation, while Pitino, 64, is suspended for his team's first five ACC games of the upcoming season. McGee got a 10-year show cause penalty and the program must vacate the records and victories it recorded in that timeframe, which includes its 2013 national title win against Michigan.
Unsurprisingly, Slick Rick is vehemently against these penalties, claiming Louisville did not deserve them and he plans to appeal and "win multiple championships and move forward" rather than step down because "that's what leaders do."
Chances are good the Cardinals will have to take down that national title banner (though nothing official has yet been said about that) but oh let's not forget what Pitino put on his body after hanging it: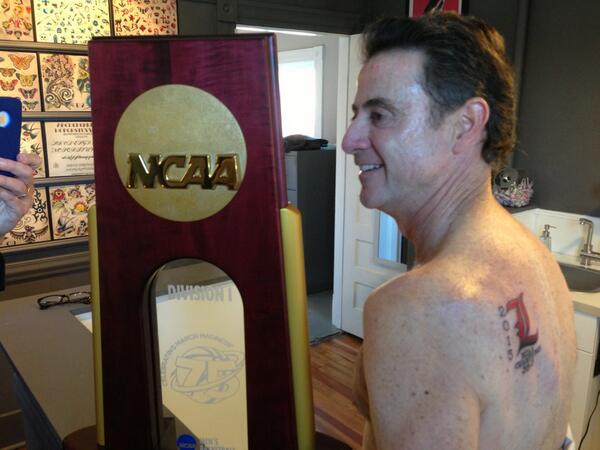 Pitino promised point guard Peyton Siva — who called making his coach get the tattoo his team's "biggest motivation" — and his other players that he would get the ink if they won the national championship, just like Meyer. To his credit, Pitino followed through.
While Pitino's program is sifting through a mess of paperwork as it begins to appeal process, Meyer is holding recruiting camps and preparing for the 2017 season. The Buckeyes will again compete for a Big Ten and the national championship this fall.
Meyer has never left a program that later dealt with sanctions handed down by the NCAA, so the 2014 title should remain intact forever. But where is that darn tattoo?
The Buckeyes won the national championship against Oregon all of 886 days ago. Johnny even wrote a guide to getting an Ohio State tattoo that Meyer could use to become a man of his word. An 11W fan even got a tattoo of one of our shirts on her shoulder, which we support.
The case (and mystery) is still ongoing. And who knows, maybe Meyer did get one. But in the social media age, and having covered Heuerman and his other teammates that season, it is a pretty safe bet a photo or video of the ink hitting his skin surely would have made it to Twitter had it already happened.
In the meantime, let's remember these other ridiculous acts by fans and coaches in support of their teams.
Tom Herman, then the head coach of the Houston Cougars, got a diamond grill after his team won the AAC.
Thanks to @paulwallbaby, @TvJohnny and especially the Grill Committee for helping me keep my promise. #GoCoogs pic.twitter.com/V7wEon4IXN

— Coach Tom Herman (@CoachTomHerman) December 29, 2015
Too bad he took the Texas job not even a year later.
A man at Talladega has Nick Saban tattooed on his back.
That is the exact face Nick Saban would make if he ever saw this tattoo pic.twitter.com/ufJHxUloor

— Michael Borkey (@MichaelBorkey) May 7, 2017
Another Alabama fan has Saban likened to Jesus and on a candle. Folks in the south love them some Saban.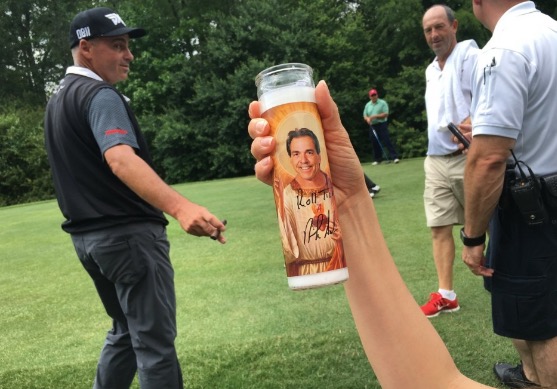 And, an Ohio State fan has some Meyer and Woody Hayes ink on his arm.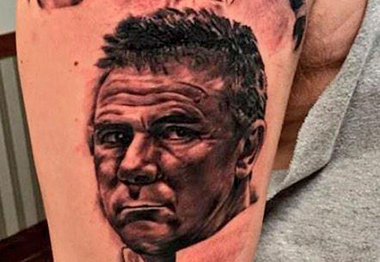 Doug Lesmerises of cleveland.com got his story.
There are surely many more oddities, so please share the ones you know of below as we wait for answers to why Meyer's skin is still absent of tattoo ink.