Urban Meyer's program saw a hefty 10 newcomers enroll in time for spring ball with nine of those being true freshmen, accompanied by redshirt sophomore cornerback Kendall Sheffield. 
As usual, Meyer has been quick to give the newcomers some love in the form of potentially exaggerated comments citing the group as being "maybe the best group that we've had come in", loving that "they're all progressing at a rapid rate" and noting "a lot of those guys are going to play." 
In reality, however, more often than not the collective true freshmen are lucky to see impactful playing time outside of special teams and, despite Meyer's numerous comments about wanting to do so since arriving in Columbus, the staff has redshirted more than its fair share of true freshmen. 
Last year, a consensus top-5 class came in highlighted with names like Nick Bosa, Austin Mack, Jonathan Cooper, Demario McCall, Dwayne Haskins, Keandre Jones and Binjimen Victor but only Michael Jordan emerged a major contributor as he admirably locked down the left guard spot becoming the first true freshman starter on the offensive line since Orlando Pace in 1994. 
To his credit, Bosa logged seven sacks, good for 2nd place on the squad and Demario McCall looked like a legend in the making in mop up duty but at the end of the day, the spring talk about various members of this class emerging to play key roles never quite materialized. 
That's not a knock on any of these guys. It's tough to play as true freshman on anything other than special teams in a program like Ohio State, let alone start on offense or defense and play a critical role like Jordan was able to do last fall.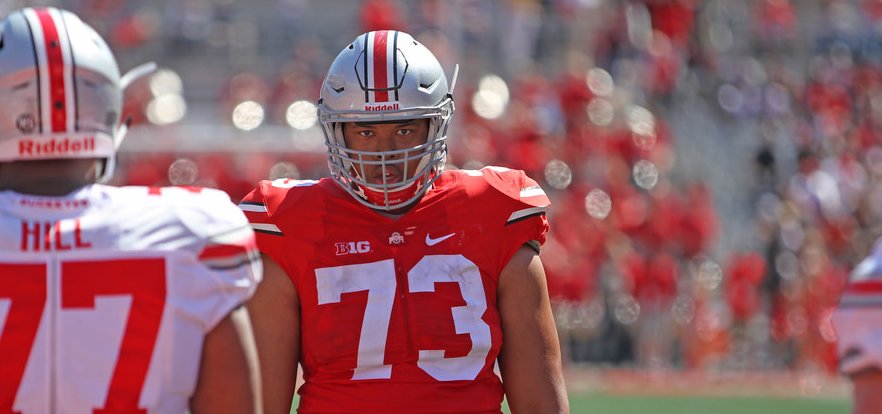 The message here is more about, as a fan, not letting yourself get too sucked in by all the hyperbole that will likely fly throughout spring drills as Meyer looks to build the confidence of his newcomers while potentially indirectly (and psychologically?) taking a subtle jab at a 2015 class that has yet to match its own collective hype. 
It seems to happen every year but too many us fall for the spring hype. In 2015 it was names like Jashon Cornell, Justin Hilliard, Jerome Baker and Mike Weber, among others, gaining a lot of lip service but come fall there was way too much depth ahead of them for any to make a major mark. 
The 2014 season was a little better as Raekwon McMillan made noise as a true freshman and Curtis Samuel showed flashes despite being stuck behind a dude named Zeke but other hot names like Sam Hubbard, Marshon Lattimore, Jamarco Jones, Jalyn Holmes, Damon Webb and Noah Brown were forced to wait their turn. 
The year before that it was Vonn Bell, Mike Mitchell, Eli Apple, Zeke, Jalin Marshall, Joey Bosa and Dontre Wilson. 
Most of those guys turned out to be straight ballers but as freshmen Elliott and Wilson received 30 and 31 carries respectively and Bell was held back for reasons I still can't fathom (cough, Pitt Brown, cough, gasp) while Bosa did rack up 7.5 sacks and 13.5 TFL. 
So, for this year's crop of newcomers will things be any different? 

Of the early enrollees (Sheffield, J.K. Dobbins, Shaun Wade, Baron Browning, Jeffrey Okudah, Marcus Williamson, Brendon White, Josh Myers, Isaiah Pryor and Tate Martell), Sheffield figures to have the best chance to be an impact player.
Thus far in camp, our beat guys have Sheffield as the No. 3 corner behind Denzel Ward (he's going to bust out this year) and Damon Arnette who appears to be finding his stride after getting abused at times last year. Knowing Ohio State has largely employed a bit of a rotation at corner among three guys, Sheffield should see plenty of time but remember, he's also an older guy with one year of juco ball under his belt after transferring from Alabama, hence his redshirt sophomore status. 
Things get a little more dicey for the true freshmen in search of impact playing time. 
Dobbins recently passed the injured Antonio Williams on the tailback depth chart but I struggle to see him beating out McCall for the title of Mike Weber's backup assuming Parris Campbell keeps a hold of the H-back spot. 
Browning, a five-star out of Texas, drew rave reviews from the staff thanks to his physical maturity, among other attributes, since his early arrival but a reported torn labrum has him out until June. Though that timeline would put him back in the fold before fall camp, it seemingly would take an major injury to Chris Worley to put him in position to be a force in the linebacking corps this fall. Again, that's no knock – hopefully he can be a player on special teams – as he waits his turn. 
Okudah, Wade, Pryor and Williamson all arrived as highly touted players, Wade and Okudah especially but with the noted trio of Ward, Arnette and Sheffield currently holding down the rotational corner spots, major playing time in the secondary could prove tough to come by. 
Of course, Arnette could slip back to what we saw last year and Sheffield still has plenty to prove but if nothing else, competition for snaps will be fierce for the true freshmen. 

Pryor projects as a safety and Okudah could end up in the back two which could bode well for both from an opportunity standpoint as the Buckeyes return a sure fire starter in Webb but alongside him Erick Smith is penciled in now but that pencil has an eraser. 
Of course, the competition is fierce at those spots too with sophomore Jordan Fuller in the mix along with a pair of redshirt freshmen in Jahsen Wint and Wayne Davis. 
Rounding out the early enrollees, Tate Martell isn't seeing the field this year with J.T. Barrett, Joe Burrow and Dwayne Haskins creating a logjam and Brendon White, a four-star out of Powell, looks like a very talented guy but joins his own logjam at wide receiver. 
That leaves us to the true freshmen that won't arrive until fall. There are some big time prospects in that group headlined by five-star defensive end Chase Young and five-star offensive lineman Wyatt Davis but it's certainly an uphill battle to join such a loaded roster in fall camp. 
Anything can happen but the moral of the story is it would be wise to focus more on how the returning contributors have improved and how that projects to overall team improvement from last year than worrying too much about which true freshmen might explode onto the scene and take the 2017 squad to the next level. 
Yes, there are true freshmen from years past who went bonkers and captured B1G Freshman of the Year honors like Andy Katzenmoyer, Korey Stringer, Orlando Pace, Maurice Clarett, Robert Smith, Terrelle Pryor and Braxton Miller but the reality is that it doesn't happen very often, and when it does, it takes not only the player's greatness but a roster hole that needs plugged.