It wasn't quite the zoo as a year ago, but don't believe for a second that NFL teams are anywhere close to forgetting about Ohio State.
Urban Meyer's program completed its fourth practice of the spring season on Thursday morning at the Woody Hayes Athletic Center. Then 13 former Buckeyes and a quarterback from a nearby Division II program took center stage in front of a bevy of personnel from the world's best football league.
Last year, ESPN and NFL Network hosted live coverage of the event, where 22 former Buckeyes and 12 eventual draft picks worked out. Meyer and Co. still rubbed elbows with people like five-time Super Bowl champion and New England Patriots head coach Bill Belichick, though.
Here are our biggest takeaways from the day.
Ohio State's NFL Train Shows No Signs of Stopping
The final count of NFL personnel in attendance on Thursday: nine head coaches, seven general managers, 122 scouts and at least one representative from every team. There was also a scout from the Canadien Football League. Ohio State credentialed 79 media members.
The NFL head coaches: Pittsburgh's Mike Tomlin, Cleveland's Hue Jackson, Baltimore's John Harbaugh, New Orleans's Sean Payton, Detroit's Jim Caldwell, Cincinnati's Marvin Lewis, Tennessee's Mike Mularkey, New York's Todd Bowles and Belichick. The latter spent more than 20 minutes chatting with and standing next to Meyer watching the 40-yard dashes.
Count 'em 9 @NFL head coaches in the building for #OSUProDay #GoBucks pic.twitter.com/jXNVMjLxWq

— Ohio State Football (@OhioStateFB) March 23, 2017
So even though Pro Day wasn't nearly in the same realm as the circus that occurred last year, more than enough NFL brass made the trip to Columbus with draft day a mere 35 days out. The offensive skill on display wasn't nearly on the same level as a year ago but the day represented a massive opportunity for a group of receivers.
Noah Brown Shows a Burst
Neither Ohio State or the scouts in attendance released the times they recorded in the 40-yard dash on Thursday but Brown showed he has solid straight-line speed. He reportedly ran a 4.55, an excellent time for a big-bodied receiver who stands 6-foot-2 and 222 pounds and elected not to run at the NFL Combine last month.
Only Dontre Wilson, Craig Fada, Jarrod Barnes and Corey Smith joined Brown in the 40, as Pat Elflein, Curtis Samuel and the three star defensive backs were either physically unable to work out or chose to not run after posting terrific times at the Combine.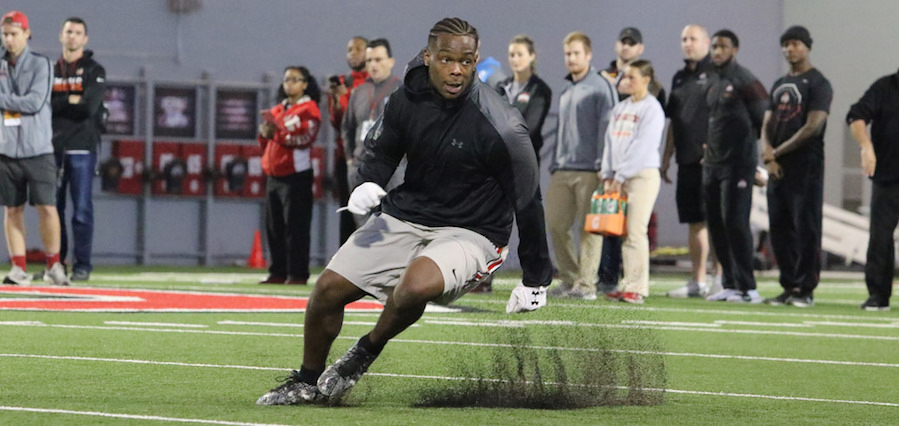 Still, Brown caught every pass that came near him from Tiffin quarterback Antonio Pipkin, rising high in the back of the end zone a few times and coming down with two feet in bounds. The receivers did not face any defenders as they went out for passes, yet Brown showed solid footwork in and out of cuts in addition to explosiveness in the three-cone drill.
He spent the majority of the catching portion of his workout on the right side of the field, focusing on near sideline and back of the end zone grabs on passes from Pipkin.
Brown did not speak to reporters after his workouts. An Ohio State spokesman ended the interview session because Brown was meeting with NFL teams at the WHAC.
Curtis Samuel: Swiss Army Knife
Stop if you've heard this before: Curtis Samuel is solid at just about everything.
The electric H-back showed that on Thursday afternoon. NFL scouts asked him to do not only receiver drills but also show his salt as a running back. Samuel was completely fine with that, as he said he wanted to show his versatility. He was the lone player to go through running back drills on Thursday.
Curtis Samuel also doing running back drills pic.twitter.com/VlhndrkQyf

— Eric Seger (@EricSeger33) March 23, 2017
Samuel also made a nice grab near the pylon in the throwing portion of his workout, making a nice adjustment to a pass from Pipkin. Per usual, his speed was evident. Samuel caught passes out of the backfield, from the slot and even lined up as the outside receiver. Afterwards, Samuel said right now he feels most like a slot wide receiver but is confident he could transition outside.
Along with Wilson, Samuel also caught punts and kickoffs at the request of NFL brass. Media was not allowed to view that portion of Pro Day.
Dontre Wilson Does Everything He Can To Get Noticed
Wilson did not merit an invitation to the NFL Scouting Combine last month. If you follow him on social media, you'll know that served as motivation.
Like Samuel, Wilson caught passes from everywhere on Thursday but mainly in the slot. He also reeled in a pass in the back of the end zone with one hand.
One-handed catch by Dontre Wilson pic.twitter.com/AoDisKOE5Y

— Doug Lesmerises (@DougLesmerises) March 23, 2017
Reporters were shuffled out before Wilson returned to the indoor field after snagging punts and kicks alongside Samuel. In any event, he looked healthy, didn't drop a pass that was in range for him to catch and showed his speed in and out of cuts. Wilson reportedly ran as fast as a 4.55 in the 40-yard dash.
Malik Hooker Stood Out Despite Not Doing a Single Drill
Cameras and scouts flocked to the star safety even though he is recovering from hip labrum and hernia surgeries. Hooker could potentially be the first Buckeye taken next month and was docked from head to toe in Jordan gear on Thursday, saying he recently signed an apparel contract with the brand.
Malik Hooker said he signed a deal last week with the Jordan brand. Here was his attire today. pic.twitter.com/YvucNRkj0s

— Tim Shoemaker (@TimShoemaker) March 23, 2017
Not a bad recruiting pitch for Meyer and Ohio State, who obviously hosted a number of prospects on Thursday.
Pat Elflein, Marshon Lattimore and Gareon Conley Are Who We Thought They Were
After his workout, Elflein spoke about the importance of consistency being his biggest bargaining chip at Pro Day. He performed well at the Scouting Combine, as did Lattimore and Conley. They needed to do that again on Thursday and did.
Conly and Lattimore — showing no restraint from the hip flexor injury he suffered in Indianapolis — again staked their claim as first round talents. Lattimore is all but a sure bet to go in the first 32 picks but Conley's recent rise up mock drafts is evident.
The latter did drop a few passes, however, but is a smooth athlete and can flip his hips just as well as Lattimore.
Ohio State CBs Gareon Conley and Marshon Lattimore did not run 40s but are doing drills. Both are fast, fluid athletes pic.twitter.com/PGb3a7DAqU

— Eric Seger (@EricSeger33) March 23, 2017
With past players like Michael Thomas, Cardale Jones, Joshua Perry, Braxton Miller, Darron Lee and many others in attendance, Ohio State's next wave of NFL talent is supreme.