Coaching staff turnover is nothing new to Ohio State and Urban Meyer.
Everett Withers, Mike Vrabel, Stan Drayton, Tom Herman, Chris Ash, Ed Warinner, Tim Beck and even Luke Fickell all left Columbus for other coaching opportunities since Meyer took over ahead of the 2012 season. The exposure of working for Ohio State and the three-time national champion opens doors provided the winning continues, which it has regardless who resides on the staff. The Buckeyes are 61-6 in Meyer's tenure.
Yet the offseason between Meyer's fifth and sixth seasons at the helm has a touch of a different feel. Losing a Buckeye lifer in Fickell to Cincinnati is a significant development, plus Meyer blew up his offensive brain trust. Ed Warinner moved on to Minnesota and Tim Beck to Texas. Those three either had direct ties to the University, each other or Meyer when they worked here. The coaches Meyer replaced them with merely just have connections to him.
New linebackers coach Billy Davis served as the best man at Meyer's wedding in 1986. The two met while playing football at the University of Cincinnati, where Davis lettered four consecutive years. And though he is a Youngstown native, Davis's lengthy coaching resumé includes plenty of time in the NFL — but none in Columbus or with any of the eight other assistants. Davis did coach against defensive coordinator and safeties coach Greg Schiano in the pro ranks, however. While defensive coordinator in 2013, Davis's Philadelphia Eagles beat Schiano's Tampa Bay Buccaneers 31-20.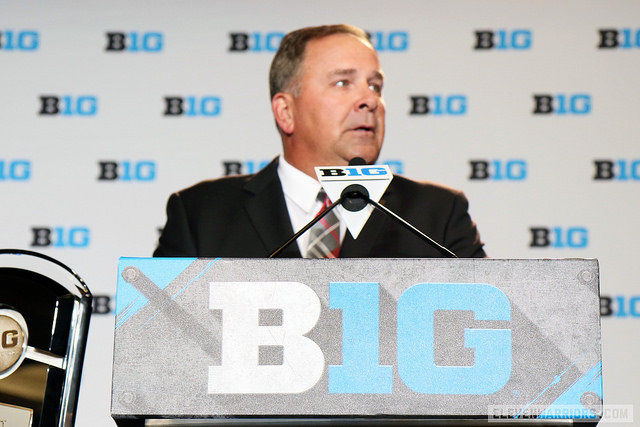 The 2017 season represents the first time Davis will be with Meyer as a full-time assistant. He worked in quality control for the Buckeyes last year.
Quarterbacks coach Ryan Day worked for Meyer as a graduate assistant at the University of Florida in 2005, the head coach's first season with the Gators. Wide receivers coach Zach Smith was with the Gators then too, employed in quality control the lone season Day worked in Gainesville.
Finally, offensive coordinator and tight ends coach Kevin Wilson is about to enter his first season working for Meyer. The two met while Wilson was at Northwestern and Meyer at Bowling Green in the early 2000s. We've already outlined how Meyer took pieces of what Wilson did with his spread offense to kickstart his career. Born in North Carolina, Wilson worked in the state both at the high school and college level before catching on at Miami (Ohio), then at Northwestern, Oklahoma and most recently as Indiana's head coach. The eight other current assistants on Ohio State's staff never worked with Wilson.
The difference is the attrition that took place on Ohio State's staff in prior offseasons. Beck worked with Warinner at Kansas in 2007, so Meyer trusted that connection when he added the former to the staff in 2015. It didn't end up working out, and now both are gone.
Born in Akron, running backs coach Tony Alford worked with Warinner and senior level executive director for football relations Tim Hinton at Notre Dame. Alford also spent time with Meyer when both were at Colorado State in 1990 — Meyer as an assistant and Alford as a player. The paths of former safeties coach Chris Ash and Alford also crossed at Iowa State from 2002-06. Needless to say, there was an obvious familiarity between Alford and his new co-workers when Meyer added the running backs to his staff in February 2015.
"Change equates to 15 percent increase in production, and so that's the whole thing we're going to do this year, just going to change things up a little bit."– Urban Meyer
"I know his family. And I know his coaches," Alford said of Meyer then. "I've worked directly with three of them and I've recruited against all of them."
Meyer stresses alignment in his program all the time, starting first with his coaching staff. You can't have the kind of success you want if those leading the charge aren't on the same page about every conceivable detail.
Having great players in one thing. But it isn't everything.
"Everybody's got great players," Meyer said in 2014. "[The difference is] the alignment of staff and the chemistry on your team."
Offensive line coach Greg Studrawa coached the same unit for Meyer at Bowling Green. A Fostoria native, Studrawa played for the Falcons and served as a graduate assistant for John Cooper at Ohio State in 1997.
"I've known Greg for a long time, starting with my time at Bowling Green when he was my offensive line coach," Meyer said the day the program announced Studrawa's hire. "I know how good of a coach he is."
Coaching Staff Attrition Under Meyer


| OFFSEASON | COACHES THAT MOVED ON | REPLACEMENTS | STILL ON STAFF? |
| --- | --- | --- | --- |
| 2012-13 | – | – | – |
| 2013-14 | Everett Withers, Mike Vrabel | Chris Ash, Larry Johnson | Ash-No; Johnson-Yes |
| 2014-15 | Tom Herman, Stan Drayton | Tim Beck, Tony Alford | Beck-No; Alford-Yes |
| 2015-16 | Chris Ash | Greg Schiano | Yes |
| 2016-17 | Luke Fickell, Tim Beck, Ed Warinner | Billy Davis, Ryan Day, Kevin Wilson | All Yes |
Schiano didn't have any connections to Ohio State either outside of Meyer. The two are friends. Their wives are friends. But what Schiano did with the back end of Ohio State's defense in 2016 — and its three new starters — shows it was a smart move for Meyer to hire his buddy after Ash headed to Rutgers.
"I wanted to be a part of a staff with character and a program with character," Schiano said in December 2015 shortly after being hired. "You have that at Ohio State."
It appears Schiano gets what Meyer wants to sell to the outside world and those within the walls of the Woody Hayes Athletic Center. More of Meyer's buddies are the most recent additions to the coaching staff. Will they be able to follow suit?
Wilson is an offensive mastermind tasked with fixing the inefficiencies that tanked the team's chances at a second national championship in three seasons.
"I think it's time to refresh a little bit the program."– Urban Meyer
Day must correct what ailed J.T. Barrett last fall and help Wilson, Meyer and the Buckeyes move the ball through the air better.
And all Davis has to do is replace one of the most decorated members of the program in Fickell, a more than 20-year Ohio State veteran who had a hand in coordinating the defense throughout his tenure. Meyer isn't asking Davis to do that. But the challenge is clear.
Will Meyer's plan work? That remains to be seen. It isn't like the new faces aren't known in coaching circles. But ensuring they know how he wants his program ran is imperative before spring practice opens in a little more than two weeks. Plus, how the head coach handles things if and when they go south will be of great interest. Can Meyer call out his friends to be better? He needs to be able to if he wishes to return to Indianapolis and the Big Ten Championship in December.
"There's going to be some changes that are made throughout, including just minor changes, where we — I think it's time to refresh a little bit the program," Meyer said on signing day Feb. 1. "From minor things about where we do stretch, where we practice, we'll switch the fields, switch lockers, doing all kinds of — just changing up some things.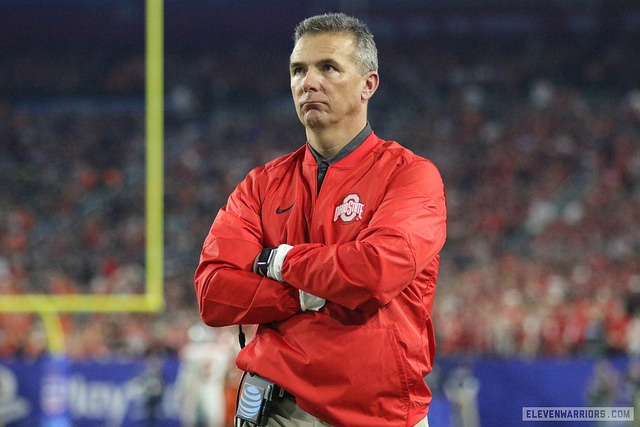 "I'm going to change the coaches' offices all around," he continued. "I can't remember all — there's a business [tactic] where you change — change equates to 15 percent increase in production, and so that's the whole thing we're going to do this year, just going to change things up a little bit."
Meyer is the CEO of Ohio State's football operation. It is on him to make tough decisions like swapping coaches, naming starters and recruiting the top talent to the program. He also needs people around him willing to work at his level, to push the envelope and desire more. A stunning 31-0 loss to Clemson in the College Football Playoff opened a bunch of eyes everywhere. Meyer's are among them.
He must now assure Day, Wilson and Davis understand what he wants done and how he wants it done. His additions before the 2014 season (Ash and Johnson) proved fruitful. A national championship is the expectation. Stability throughout all corners of the program is essential for that expectation to bleed into a reality.