J.T. Barrett reads them. The comments on his Instagram page — notably the ones from Ohio State fans negatively reacting to his decision to return to Columbus — do not go unnoticed.
"It was some hateful stuff, people were mad," Barrett said on Sunday during the Ohio State men's basketball team's 74-72 loss to Northwestern after he and three teammates were recognized for fine individual seasons. "But that's OK."
Barrett informed the world of his intentions to come back to Columbus on Jan. 4, a handful of days after he and the offense failed to register a single point against Clemson in the Fiesta Bowl. The 31-0 defeat in the College Football Playoff made fans demand changes. Urban Meyer sought them too.
"Ohio State is not used to this. I'm not used to this, and we will not get used to this," Meyer declared the night of the loss. "That's not going to happen again."
Meyer brought in Ryan Day as his new quarterbacks coach in place of Tim Beck, who left for Texas. Former Indiana head coach Kevin Wilson is the new offensive coordinator after Ed Warinner headed north to Minnesota to be part of P.J. Fleck's new staff.
"Am I going to be perfect? No, I'm not. But I'm going to leave it out there and try to do the best I can in order for us to win games."– J.T. Barrett
With talented and highly recruited quarterbacks Joe Burrow and Dwayne Haskins behind Barrett on the depth chart, plus Tate Martell set to enroll for spring classes, fans were ready for the man who is 3-0 against Michigan to continue his career elsewhere. Whether it be in the NFL or as a graduate transfer, the options were certainly on the table for Barrett to leave.
Only he didn't even really consider it.
"With all the things that I've done at Ohio State, love Buckeye Nation and being in Ohio has made me who I am today and I don't think that was a wise decision to go somewhere else being that the relationships I built here," Barrett said. "Coach Meyer is still here, my brothers coming back, I didn't think that was right."
The fifth-year senior wanted another shot at leading his team to the pinnacle of college football. Attempting to do so with new offensive minds in place sounded pretty attractive.
"That was part of it," he said. "Just trying to make sure that if I was going to come back that it was something I was going to do that was best for me in order for me to help and grow as a quarterback as well."
Barrett is already one of the most decorated quarterbacks in school history. He has 100 career touchdowns and will break Drew Brees' Big Ten record of 106 in that category this fall provided he stays healthy. Barrett is also 26-4 as a starter and has consistently been called one of the best leaders Meyer has ever coached.
Change is good, though, and Barrett understands that. He also gets why fans were upset after the loss to Clemson. He was too.
"I know what happened. We got new [people] in as far as coaching. That's a conversation I had with Coach Meyer, a closed circle-type thing," Barrett said. "I'm not going to talk about it.
"But it will be better."
Barrett's numbers and the fact the Buckeyes tallied 11 regular season victories led the Big Ten's coaches to vote him as co-Most Valuable Player of the conference with Penn State running back Saquon Barkley. In a "what have you done for me lately world," though, the issues that popped up offensively against Clemson serve as a lasting image for those outside of the program.
Unfortunately for players like Barrett, those people are also usually the most vocal on social media and elsewhere. And they are the ones that flooded his Instagram page and Twitter feed with harsh comments after he announced he would return in 2017.
"We're talking about people that really don't know football," Barrett said.
And yet, some forget Ohio State led the Big Ten in total offense in 2016 and finished second in scoring, less than one point behind Michigan. There are questions, certainly merited after a horrible showing in the College Football Playoff. But Barrett, at least statistically, had a fine season. It makes sense to running back Mike Weber why his quarterback won two of the Big Ten's individual awards this season.
"What I like about him the most is being poised. He's really poised," Weber said. "Down to earth guy, a great leader and he knows how to win. He knows what it takes to win."
All-American offensive lineman Billy Price is sure the return of his quarterback will only mean good things for Ohio State.
"It's another leader, a guy I've been to war with, to come back and lead this team," Price said.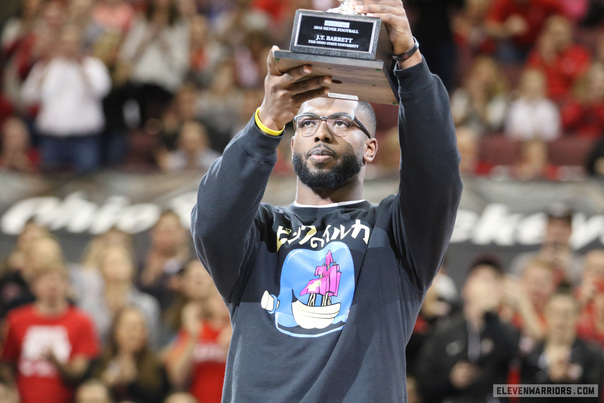 Wilson and Day are tasked with bringing balance back to Ohio State's offense. Meyer knows that is what the Buckeyes missed the last two seasons, during which they still managed to win 23 games. Things aren't all bad, but definitely could be better. And Barrett is ready to get to work.
"One of the main things that we've talked about, it's not like we were awful by any means. It was more of a, we weren't just lighting up the scoreboard," Barrett said. "We had the yardage, the yardage was still the same with where we wanted to be. But it wasn't the 50-point games that we expect at Ohio State. That's the main thing. We have the train running but we just gotta make sure that it's going full speed.
"Coach Wilson and Coach Day, they're both extremely bright people," he continued. "And Coach Day, he's a laid back guy. Coming from the NFL, he's got a lot of experience. We've just been having talks about things that he's done in the past with Chip Kelly. Exciting as far as what we could be in the future."
What the Buckeyes will be at least in terms of the 2017 season is a team led by Barrett, who is in line to be a three-time captain and could become the first quarterback in Ohio State's illustrious history to beat archrival Michigan four times. It hasn't always been a smooth ride. There are likely to be bumps in the road during his senior season too.
That comes with the territory of being front and center at a place like Ohio State. And Barrett loves it in Columbus, even if the negativity might have been even harsher after the way last season ended.
"You play quarterback, sometimes it's a love-hate [relationship]," Barrett said. "But it's one of those things that I just let the fans know, I go out there, play my heart out for Ohio State, for my teammates. Am I going to be perfect? No, I'm not. But I'm going to leave it out there and try to do the best I can in order for us to win games."