It took a little while, but Ohio State still garnered plenty of attention on the first few nights of the 2017 NFL Draft.
The Buckeyes saw three players go in the first round on Thursday night — Marshon Lattimore, Malik Hooker and Gareon Conley — tied for second-most with LSU and Michigan and behind only Alabama (four). Certainly, nothing to be upset about.
Urban Meyer's program unleashed five players among the top 20 picks a year ago including three in the top-10; Lattimore didn't get taken until the 11th slot this year.
In all, 10 Buckeyes came off the board among the first 94 picks last year in Chicago. Six did in 2017, which leaves a few others waiting on Saturday.
The fourth round begins at noon, with the Green Bay Packers on the clock at pick No. 108. Below is a trio of storylines we'll be watching as the day unfolds.
Will There Be Any Love For Ohio State's Pass Catchers?
It isn't a secret that J.T. Barrett's main target during the 2016 season was superstar H-back Curtis Samuel. The explosive playmaker was destined to be Ohio State's first offensive player taken in the 2017 NFL Draft. He was, when Carolina selected him with the 40th overall pick on Friday night.
That leaves Noah Brown, Dontre Wilson and Corey Smith. Brown left two seasons of college football on the table in Columbus, while Wilson and Smith ran out of eligibility. The latter two didn't receive invitations to the Scouting Combine last month, so the chances they are drafted remain slim.
Odd things happen in the later rounds of the Draft, however. And it is important to remember that Tyvis Powell and Jalin Marshall both worked out in Indianapolis only to go undrafted just last year. If Wilson or Smith were able to get pre-Draft interviews or visits set up with a team or two and said organization likes them well enough, maybe they will pull the trigger.
But it isn't likely.
What About the Aussie?
Punters don't normally get drafted. That is the position of Cameron Johnston, one of Ohio State's most valuable players over the last four seasons.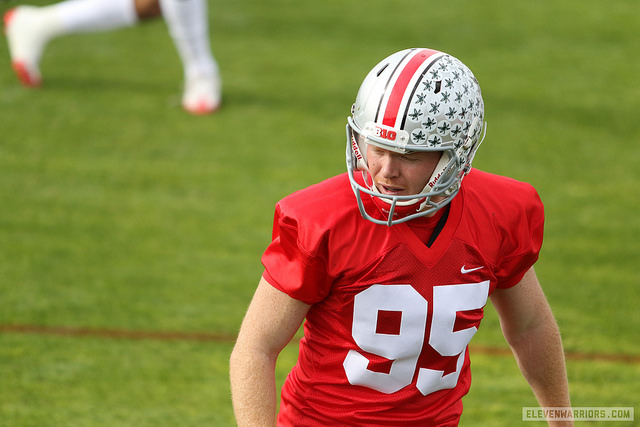 Johnston is a 2016 Ray Guy Award finalist but the man who won that award, Utah's Mitch Wishnowsky (another Australian), is still in school. One of only five punters invited to the Scouting Combine, Johnston wanted to prove he can do more than just the rugby style that he made so effective at Ohio State. That doesn't really translate to the next level, so he feverishly worked at becoming more traditional since the season ended on New Year's Eve.
Only 10 punters have been selected in the NFL Draft since 2010 and the earliest one came off the board last year was in the sixth round. Johnston will definitely sign with a franchise as a free agent at the very least but getting drafted is (obviously) better.
"You know you're really lucky then," Johnston said at the Combine in March. "If they're using a pick for a specialist, you're probably going to be there for multiple years. That's where you want to be."
The Age Old Question: Will Any Buckeye Stay in Ohio?
Johnny touched on this a bit Friday morning, noting the last time either the Cincinnati Bengals or Cleveland Browns took a player out of Ohio State was in 2009 when the Browns drafted wide receiver Brian Robiskie.
Cleveland had a chance to take Hooker or Conley with the 12th overall pick on Thursday and traded down to No. 25. Jabrill Peppers was their choice. Raekwon McMillan was available for Cincinnati at No. 48 — but the Bengals went with Oklahoma running back Joe Mixon instead.
Every first-round Buckeye was on the board when Cincinnati took Washington wide receiver John Ross ninth overall. But the second and third rounds ended without an Ohio State player heading to Cleveland or the Bengals.
Trades happened and other teams picked Buckeyes before Cleveland or Cincinnati had the chance to on Friday. How that bodes for Saturday remains to be seen.
Ohio State's NFL talent pool isn't nearly on the same level as it was last year, so it looks like we are well on our way for the eighth straight draft to come and go without either Cincinnati or Cleveland taking a Buckeye.