ARLINGTON, Texas – While Ohio State cornerback Denzel Ward has already made clear his intentions to declare for the 2018 NFL draft by choosing to sit out the Cotton Bowl, it remains uncertain which of the Buckeyes' other draft-eligible underclassmen will choose to join him.
Jerome Baker, Parris Campbell, Sam Hubbard, Dre'Mont Jones, Terry McLaurin and Mike Weber all declined to say whether they plan to go pro or return to Ohio State for another season during postgame interviews after Ohio State's 24-7 win over USC at AT&T Stadium on Friday night. The draft-eligible Buckeyes did, however, give some insight into what could go into their upcoming decisions.
Baker said he had tried to focus on the season and just wanted to celebrate the Cotton Bowl win after the Buckeyes' win on Friday, so he said he does not have a timetable for when he will make his decision between now and the Jan. 15 draft declaration deadline.
"I really tried my best not to think about it before the Big Ten championship," Baker said. "I guess this is the time for me to actually think about it. So definitely going to see what the future holds."
Campbell said he wanted to take some time away from thinking about football before making his decision.
"I'm planning to take as long a break as I can, just to get away from football for awhile, just hang around my family and obviously make that decision," Campbell said.
Hubbard said he did not want to talk about whether or not he had made an NFL decision yet during his postgame interview, but said the process of making that decision had been challenging.
"It's a long process and a lot of information, a lot of talking with family and people you trust, and it's not easy, that's for sure," Hubbard said.
Jones said he had not yet made up his mind and wants to take his time before making his decision.
"I've got my own personal process of what I'm thinking, what I'm feeling about it," Jones said. "There's a lot of steps … patience is the key for me. I don't want to rush this."
McLaurin, like Campbell, said he needed to take a step back from football before making his decision, but said he is weighing numerous factors in the process.
"You got to consider a lot of things," McLaurin said. "If you're coming back, do you see yourself getting better and taking that next step, or have you necessarily topped out? What do you have coming back as an offense? And just basically, do you see yourself playing in the NFL now or later? If you feel like this at point in your career, you can either play or you can't, and I'm going to consider all my things and make my decision from there."
Weber, who had tears in his eyes after the game, said he needed to talk with the people he trusts most before finalizing his decision.
"Really just get with my family, get with my coaches and see what's out there for me and go from there," Weber said.
While it remains unknown whether Friday's game was those six players' final games as Buckeyes, it is known that the Cotton Bowl was the final collegiate game for 19 Ohio State seniors – including quarterback J.T. Barrett, center Billy Price, left tackle Jamarco Jones and defensive end Tyquan Lewis – who were honored during the Buckeyes' senior day earlier this year.
Lewis, one of seven fifth-year seniors on the Buckeyes, was among those who had bittersweet emotions that Friday was his final game.
"I love this university so much, man," Lewis said. "I wish there was more time, but moving on."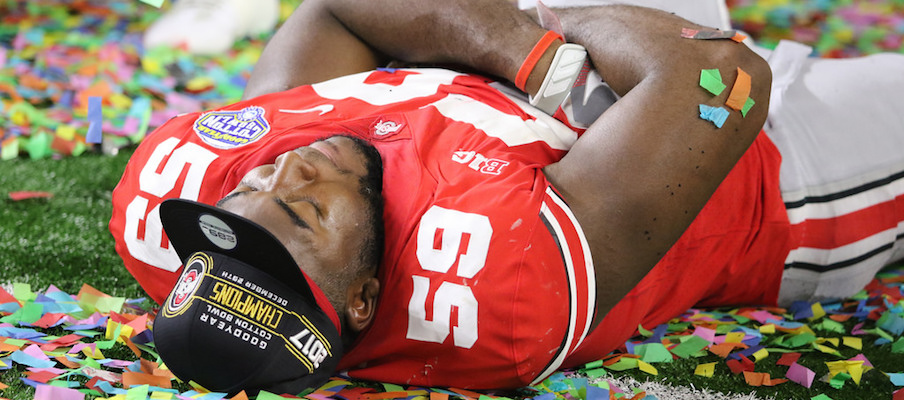 Price, who started every one of Ohio State's games for the past four seasons, said it was tough to realize his Buckeyes career was over, but was glad he finished out his career with a win.
"It's everything, it really is," Price said of his winning his final game as a Buckeye. "Go cap your legacy off on a victory, against a top-10 program in the nation. I got a lot of respect for those guys. They came to play."
Jones, repeating a statement that many of his teammates have made this season, said the biggest thing he will remember about being a Buckeye was the brotherhood that he and his teammates had.
"We are a really close team," Jones said. "I can honestly say that. This is truly a brotherhood here. I can call on any of these guys at any time, and I know that they would be there for me. I would be there for them. It's those bonds that you build over the years. We were a really close team this year. Every year we got closer and closer. I'm just glad we got to go out with a win tonight."