Two of the most storied and historically successful programs in college football will meet when Ohio State plays USC in the Cotton Bowl on Dec. 29.
Going into this year's bowl season, Ohio State is tied with Texas for the second-most all-time wins among Football Bowl Subdivision teams with 897, while USC ranks ninth all-time with 834 wins.
One of those teams will add another win to its lofty total, and do so by winning one of this year's marquee bowl games, later this month.
While it isn't the College Football Playoff game they wanted, the Buckeyes are excited to have the opportunity to finish their season with a chance to play another one of the sport's most prominent programs.
"You have two tradition-rich programs. They're extremely, extremely rich," said Ohio State center Billy Price. "So I mean, it's going to be special for us, representing the Big Ten, and that's what we're looking forward to."
Since Ohio State earned a 42-21 win over USC in the 1974 Rose Bowl, the Trojans have won their last seven straight matchups against the Buckeyes, with the most recent wins coming in a home-and-home series between the two schools in 2008 and 2009.
While Ohio State's players have only been alive for the two most recent games in the series, with the most recent games between the Buckeyes and Trojans before those coming in 1989 and 1990, Ohio State coach Urban Meyer is more well-versed on the history between the two schools, having grown up during a period when the Buckeyes and Trojans met in six separate Rose Bowls between 1969 and 1985.
"I grew up an Ohio State fan, so I've always had great respect for the Rose Bowl and these two teams playing against each other," Meyer said. "And when I was at Notre Dame (as an assistant coach from 1996 to 2000), I had the opportunity to coach every year against USC. I love that stadium. I love the tradition, and it has always been one of my favorite places, just when you hear the fight song and etc. So just a lot of respect for USC."
While the Buckeyes' focus is on the present and not the past, the history and prestige of the opponent they are facing does make the season-ending trip to Dallas, despite its lack of national championship implications, feel a little more special.
"You got two programs who have so much tradition, and I wouldn't be too surprised if this is one of the most-watched games in this bowl season," said Ohio State wide receiver Terry McLaurin. "You got two programs that are playing really good football at the end of the year, have a lot of tradition and want to win their last two games of the season."
Both Ohio State and USC won their conference championships – making the Cotton Bowl one of only two games this bowl season, along with the College Football Playoff semifinal between Oklahoma and Georgia, that pits conference champions against one another – while losing only two games during the regular season, leaving both teams with a case for being snubbed from the playoff.
All of that increases Ohio State's excitement for the Cotton Bowl, too, as it enables the Buckeyes to represent the Big Ten as conference champions while having the opportunity to put a stamp on their season against another Power 5 conference champion.
"You obviously want to show that you were one of the top teams in the country, so what better test than to have both champions from two opposite conferences going at it, and only one team can win," McLaurin said. "You got two teams that add onto it with tradition like Ohio State and USC … Two teams that were vying to get into the playoff, didn't necessarily get there but they're excited to go at each other."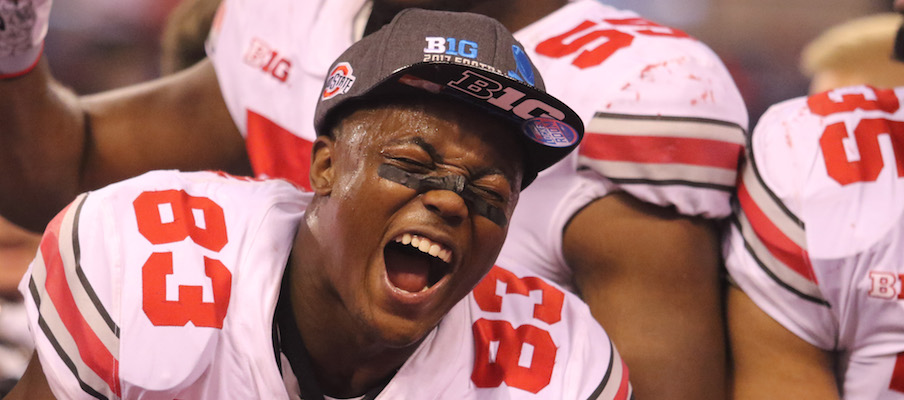 All of that said, it doesn't take much for the Buckeyes to recognize that a game between Ohio State and USC is a game they should treat as a big game.
"I think every guy on this team knows whenever Ohio State's in a game, it's a big-time matchup," said Ohio State wide receiver Parris Campbell. "And you got USC, a dominating opponent, as well. So it's always going to be a big-time matchup."
"You obviously want to show that you were one of the top teams in the country, so what better test than to have both champions from two opposite conferences going at it, and only one team can win."– Ohio State wide receiver Terry McLaurin
Ohio State defensive end Tyquan Lewis is among the Buckeyes who said that while they are still disappointed that they are not playing for a national title, playing in a New Year's Six Bowl against USC made it easier to turn the page and reshift their focus toward closing out their season with a 12th win.
"We got in a good bowl, playing against a tradition-rich program, so I mean, we're ready to go," Lewis said. "It's still a big-time game, so every opportunity I get, I cherish … the focus is on beating USC and making the brotherhood stronger, because this is my last shot to go out with a ring, from the Cotton Bowl."
For seniors like Lewis and Price, it will be a chance to finish their Ohio State careers with another win for their program's storied history, and the Buckeyes with remaining eligibility, like McLaurin and Campbell, want to make sure they help those seniors do that.
"J.T. (Barrett), Tyquan, Chris (Worley), Jalyn (Holmes), guys like that who put so much into this program and this is their last shot ... the best thing I can do as a leader and a captain is give them all my attention, everything I can to make sure I send them out on a high note," McLaurin said.