Ohio State will see a familiar foe on the other sideline on Dec. 29. Ohio State-USC is one of the most common and one of the most celebrated non-conference series in the history of college football, excluding those non-conference "rivals" that schedule games each year like Georgia, Georgia Tech.
The Cotton Bowl will be the 24th encounter between the Buckeyes and Trojans all-time. This ranks USC second to only Pittsburgh in the record book of most common non-conference opponents for Ohio State.
It'll also be the first postseason encounter outside the Rose Bowl, in which the Buckeyes and Trojans have played nine times. We'll start a three-week series of flashbacks to some of those most celebrated games, starting with the last one Ohio State won.
The 1974 Rose Bowl game between Ohio State and USC didn't happen. The more historically versed among the Ohio State faithful will recall that both Michigan and Ohio State split a conference championship in 1973 and even tied a 10-all game in Ann Arbor. Whereas Ohio State played in the Rose Bowl the previous year, Michigan's program and fan base fully expected it would get the nod in 1973 thanks to an informal "no-repeat" norm in the league. 
Ohio State's team expected Michigan would be going to Pasadena as well. Woody Hayes and Heisman finalist lineman John Hicks had a teary goodbye expecting the tie in Ann Arbor was John Hicks' final game.
However, the Big Ten athletic directors surprised everyone by sending Ohio State to the Rose Bowl. Informally, the athletic directors were worried about Michigan quarterback Dennis Franklin's injury and wanted to send a team they thought could do best to avenge the league's reputation problem. It's why it jettisoned the "no-repeat" norm to place its best team in the Rose Bowl to end a four-game losing streak in "The Granddaddy of Them All."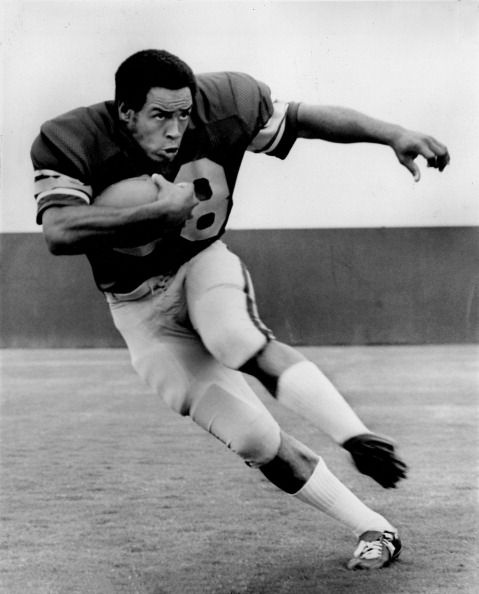 USC was not limited by any such "no-repeat" norm and was at the height of its early 1970s dominance. The Trojans were the consensus national champions in 1972; no team came within nine points of a team that smashed Ohio State, 42-17, in the previous Rose Bowl. The pre-season No. 1 Trojans were not in competition for a national championship after tying No. 8 Oklahoma and losing to eventual undefeated national co-champion Notre Dame in South Bend, but there was no problem running over the Pacific-8 again. Only Stanford came within two scores of what was another undefeated run through the conference en route to its second-straight Rose Bowl.
Ohio State had a different energy in this Rose Bowl matchup than it had last year. Last year's team was far too green, almost grateful to be there. Its placement in the Rose Bowl hinged on a home upset of the defending Big Ten champion Michigan Wolverines, who were assuredly the superior team notwithstanding the outcome in Columbus. 
The 1973 Buckeyes were a better match for the Trojans. Archie Griffin was in his second year, as was Brian Baschnagel. John Hicks was fully healed from his injury that still hindered him in 1972. The defense was lights out all season and the best unit in the country top to bottom in a walk. Cornelius Greene and Pete Johnson gave the option-based running game a far different wrinkle than it had in 1972 with Greg Hare and Champ Henson. This year's Buckeyes expected to beat the defending national champion Trojans.
It didn't start that way, though. Ohio State's pre-game optimism preceded a realization the Buckeyes and Trojans were more evenly matched than they had anticipated. USC started the game with a field goal drive to go up 3-0. Cornelius Greene threw an interception on Ohio State's next drive, which set up another field goal attempt, albeit one short and to the left of the goal posts.
Ohio State responded with a heavy dose of the running game, especially with true freshman sensation Pete Johnson, to go up 7-3. However, USC responded with a field goal to cut Ohio State's lead to a point in the second quarter. 
On its next drive, USC pulled out a trick play, disguising a halfback pass as a more familiar "student body left" run play. Ohio State bit completely on the play fake, leaving a coach's son J.K. McKay wide open in the end zone for a pass from Anthony Davis. USC completed a two-point conversion on top of that for a 14-7 lead.
Ohio State did well to respond under those circumstances. Cornelius Greene orchestrated a 12-play, 70-yard drive capped by another Pete Johnson goal-line plunge to tie the game at 14 heading to halftime.
The Buckeyes started the second half with the ball, and a discernible energy. Fans saw a glimpse of how this game would end when Pete Johnson broke off a 38-yard run against the Trojans' defense. Fred Pagac' 17-yard grab two plays later advanced the Buckeyes to the USC 15-yard line. However, Archie Griffin fumbled the next play, which set up a USC touchdown and a 21-14 Trojans lead.
That resulted in an inspiration meltdown from Woody Hayes on the sideline and was ultimately the end of all highlights for USC.
Ohio State responded quickly with a five-play touchdown drive to cut the lead to 21-20 after the PAT was blocked. The highlight here was Cornelius Greene scrambling and finding Fred Pagac 39 yards down the field for a completion to USC's 4-yard line. Ohio State scored on the next play.
A USC three-and-out resulted in a punt that Neal Colzie returned 56 yards to the USC 9-yard line. Ohio State scored four-plays later to take a 27-21 lead. Cornelius Greene punctuated the Ohio State mood by dancing in the end zone.
Ohio State poured it on the Trojans in the fourth quarter. The Buckeyes' drive started with a 25-yard completion to Brian Baschnagel, extended with a 25-yard Archie Griffin run, and concluded with a Bruce Elia two-yard touchdown run. Cornelius Greene converted a two-point try to extend the Buckeyes' lead to 35-21.
By this point in the game, the Buckeyes had victory well in hand. Pete Johnson's three rushing touchdowns may have been the high mark for the day for any Ohio State back until Archie Griffin turned in one of the most iconic run in the entire history of the Rose Bowl Game. With less than five minutes left to play, Griffin turned in an electric 47-yard touchdown run to ice the win. The run itself may have been a precursor to what became a remarkable two-year back-to-back Heisman-winning stretch. It routinely appears in best-of moments in the entire 104-year history of the game.
Ohio State's 42-21 win broke a four-year losing streak for the Big Ten and capped what should've been a national championship for that squad. The 1973 season is unique; certainly one of those seasons in which you wish there was a playoff. Alabama, Ohio State, Michigan, Notre Dame, and Penn State concluded undefeated regular seasons but Alabama and Notre Dame shared the national championship despite Alabama losing to Notre Dame in that year's Sugar Bowl.
The 1973 season in particular constitutes a missed opportunity since it might have been Woody Hayes' best overall team. The pieces were there on offense that made Ohio State impossible to stop in 1974 and 1975. The defense was arguably Woody Hayes' best ever. The Rose Bowl win may have even been Woody Hayes' finest hour, smashing a defending national champion by 21 points. Yet, what might have been Woody Hayes' best team, and an undefeated squad at that, missed a national championship honor to its name.
This game also stands out as the last win for Ohio State over USC. It's not for lack of opportunities either. The two met in a "rubber match" in the next season with a share of a national championship on the line. Ohio State lost a heartbreaker by one point. The two met again in the 1980 Rose Bowl with Ohio State trying to secure an undefeated national championship season. The Buckeyes again lost a heartbreaker by a single point. Follow-up defeats include the 1985 Rose Bowl and home-and-homes in 1989-1990 and 2008-2009.
Ohio State will get an opportunity to get back in the win column against the Trojans in one of the most iconic non-conference series in the history of college football. Ohio State fans would be delighted if the game resembled the second-half blitz the Buckeyes put on the Trojans in the 1974 Rose Bowl.