After a three week stretch of often looking like losing so much talent to the NFL might be catching up with Urban Meyer just a bit, the Buckeyes absolutely smoked the 10th-ranked Nebraska Cornhuskers last night in the Shoe. 
Ohio State owned every facet of the game and would've likely owned the punting battle too, had a chance ever materialized. 
The win marked Ohio State's sixth against a top-10 team in its last seven tries and the 62 points are the most the Buckeyes have ever scored against a top-10 foe, bettering the 50 points OSU put on No. 2 Michigan back in 1968 as part of the "because I couldn't go for three" game. 
J.T. Barrett was sensational posting a career-high 26 completions, 329 total yards and four more touchdowns giving him 94 career touchdowns responsible for. That boy is good. 
Beyond Barrett's big night, I present five more things that stood out during last night's thorough Nebras-kicking. 
---
WHAT'S THE USE?
Part of the frustration in recent weeks centered around whether or not Curtis Samuel was getting enough touches. Meyer defended his stance that 15 touches or so is the sweet spot for Ohio State's most explosive playmaker. 
That number was certainly hard to argue last night after Samuel touched it 13 times (8 rec, 5 rush) and blew up for 178 total yards with two touchdowns. He would've likely earned closer to 20 but Meyer called off the dogs with the game out of hand. 
The big play everyone will be talking about was Samuel's 75-yard touchdown grab on the opening play of the 2nd half and rightfully so as it captured just how dangerous Samuel can be out of the slot. 
I think what I liked most about Samuel's night was that Meyer and Ed Warinner clearly went to the drawing board this week in figuring out new and creative ways to get him the ball. 
In what looked like a new wrinkle, Barrett lined up under for one of the few times this season and fed Samuel on a modified version of the shotgun jet sweep we've seen in the past. The timing of the handoff was perfect and the formation with Barrett under center looked to catch Nebraska off guard as Samuel easily got the corner and raced 16 yards downfield. 
Continuing to feed Samuel the rock is a necessity for this offense and challenging defenses by doing so via alternate looks can only help his effectiveness. 
ZONE 6 SHOWS UP 
I've been hard on Zone 6 in this column in recent weeks and rightfully so however I'm also happy to give credit when it's due and last night Ohio State's wide receiving corps showed a little bit of progress. 
In particular, K.J. Hill continued his emergence after a crucial 34-yard catch and run last week with five grabs on five targets against the Huskers for 66 yards. Hill looks increasingly comfortable in his role which should continue to expand down the stretch. 
Noah Brown had just two catches for 14 yards on three targets but one was a six-yard scoring strike from Barrett pushing Ohio State's lead to 45-3 in the 3rd quarter.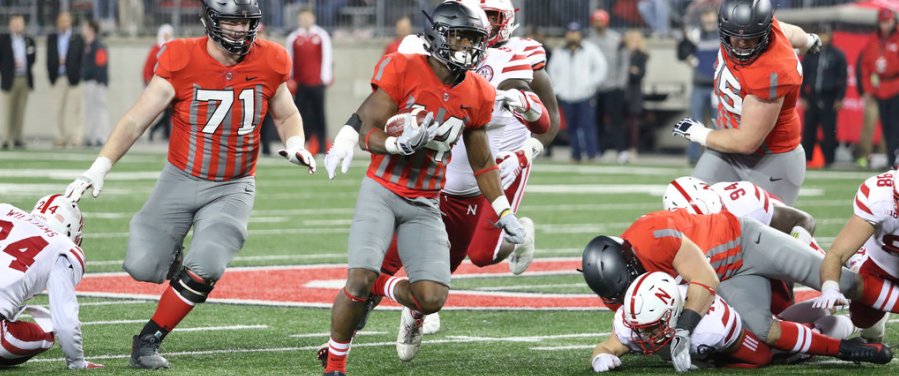 Terry McLaurin had just one grab but it was a big one as his 7-yard catch in the back of the end zone helped Ohio State's offense overcome a couple penalties and a Marcus Baugh drop to still score a touchdown on its opening possession of the night to take a 14-3 lead. 
Benjimen Victor nearly had a touchdown on a fade route too and it was great to see him on the field in the redzone for obvious reasons. 
The true wide receivers only accounted for 38% of the total completions on the night after accounting for 43% last week against Northwestern. That's progress over their output against Indiana (22%) and Penn State (18%). 
I can only manage to move the needle from 'very concerned' in recent weeks to 'cautiously optimistic' about this group but that's still progress even if the jury remains out. 
MAKE THE MCCALL
Freshman Demario McCall got to touch the ball for the first time in four games and once again looked like a guy who can provide a spark when given the chance. 
With Ohio State building a 31-3 halftime lead and Mike Weber dinging his shoulder a tad late in the 1st half, Meyer and Warinner gave McCall 16 carries in the 2nd half which he turned into 73 yards on a so-so 4.6 yards per carry. 
Let there be no doubt, McCall is the future at the H-back position but the real question is whether or not he should be the present on punt return. 
After Dontre Wilson muffed another punt in the 1st half, Meyer put Samuel back to return the next punt but after that McCall got a chance and peeled off a 15-yard return. 
Samuel is far too valuable to return punts for this team and since Wilson has proved largely incapable of not giving Meyer and the rest of us heart palpitations, it feels like the time is now to make the change and give McCall his shot. 
Meyer said as much in the postgame but we'll see if he sticks to his guns after the emotion of the game has settled. 
RESTRICTED AIR SPACE
Ohio State's secondary was ridiculous last night. 
The staff can virtually always count on Marshon Lattimore, Gareon Conley and Malik Hooker to provide excellent coverage (which they did last night) but opposing defenses already know that and lately have looked to exploit Damon Arnette and Damon Webb in coverage, often by installing their best receiver in the slot forcing a coverage mismatch on one of the two Damons. 
Last night, not only did the defensive staff adjust a time or two and put Conley on a slot guy but Webb in particular came up huge. On Ohio State's first defensive possession Raekwon McMillan tipped a slant pass before Lattimore also got his hand on the ball as it reached the intended receiver, sending the ball straight up, allowing to pluck it out of the air for his first carer interception before racing 36 yards to the house igniting an onslaught.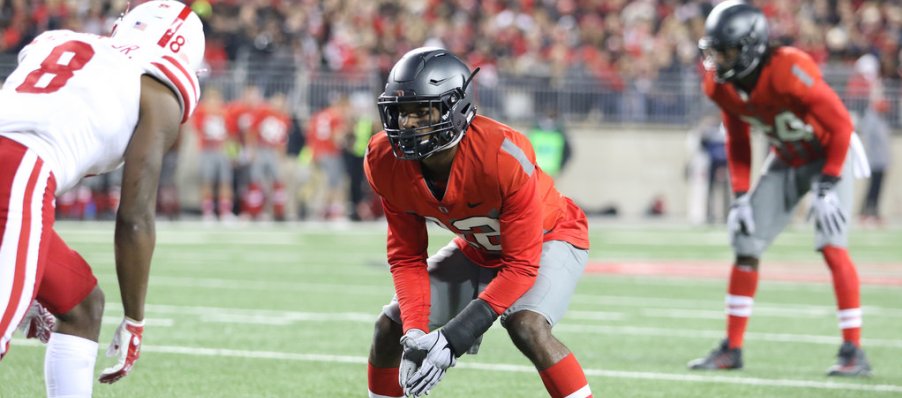 Arnette again had an issue or two but the real story was Denzel Ward taking what looked like increased reps and making the most of it. Ward probably played his best game as a Buckeye posting three pass breakups and three tackles. 
Ohio State longs for Webb to be consistent in coverage (he did give up a long gainer on the defense's third series) and if Ward can do what he did yesterday and play more snaps than Arnette, the Buckeye pass defense will be in great shape. 
When the smoke cleared on yesterday's beatdown, Nebraska quarterbacks combined to complete just nine of 33 passes for 126 yards with two interceptions. And don't think those numbers are slanted because of Tommy Armstrong Jr. leaving the game as he completed only four of his 15 throws including Webb's pick six. 
THE DUBGATE RAGES ON
Thanks to everyone for coming out the sixth edition of our annual charity tailgate, The Eleven Dubgate, which was held yesterday at new hallowed grounds on Lane Avenue in the Stop and Shop parking lot across from St. John Arena. 
The new venue was spacious, flat and drenched in sunshine. Not only that, our sponsors, friends from DownSyndrome Achieves, the incomparable Steve Shoemaker from BW3, our very own Ramzy and countless volunteers made the event another one to remember. 
Shout out to longtime reader Abe Froman for concocting some orgasmic bacon-pork-wrap-thingys and a pre-congrats to moderator Nick and his better half in advance of their nuptials coming up next year. 
For the 11W staff, the event is a great way for us to not only meet many of you readers which we so appreciate but also to hangout as a full staff for one of what is just a handful of times each year. Thanks again for the overwhelming support all of you guys and gals give not just in support of the charity tailgate but throughout the year. 
You all are truly the straw that stirs the drink.