Ohio State football oozes tradition. Whether you're talking Gold Pants, the iconic Buckeye Leafs placed on helmets, Senior Tackle, Ohio Stadium's Victory Bell or Buckeye Grove, the rich history of the football program is unrivaled in collegiate athletics.
Few traditions, however, induce the chills Ohio State fans get when witnessing "Script Ohio" performed by the school's marching band. Today, that tradition turns 80.
Although the University of Michigan Marching Band pioneered an "Ohio" formation in 1932, the flowing script adored by generations of Buckeye fans was first performed on Oct. 10, 1936 by the Ohio State University Marching Band.
Script Ohio was the brainchild of then band director Eugene J. Weigel, who took his inspiration from Loew's Ohio Theater in Columbus. The script comes to life to Robert Planquette's "Le Régiment de Sambre et Meuse," which, if you've always wanted to connect Ohio State to the French Third Republic, there you go.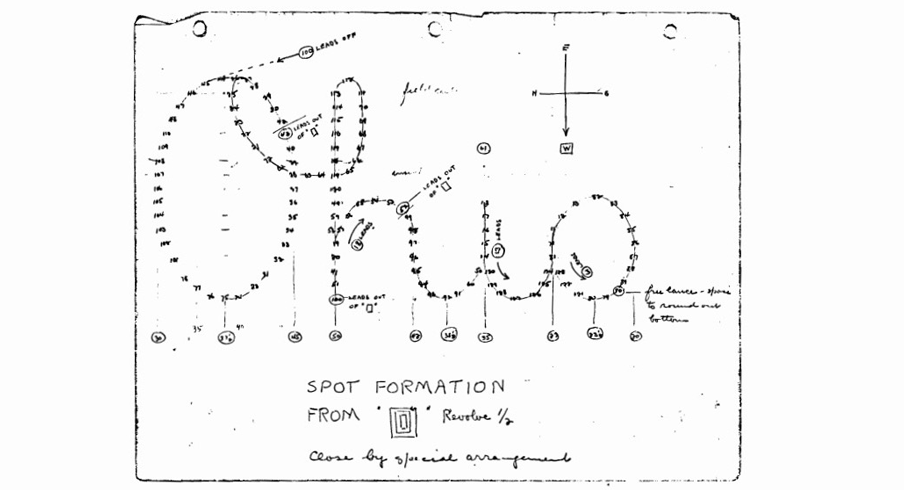 Trumpet player John W. Brungart of Coshocton holds the distinction of being the first person to "dot the i" in the script that day – at halftime of a 6-0 loss to Pittsburgh – though today, the honor goes to a fourth- or fifth-year sousaphone player.
In the years since, 14 people from outside of the band have had the honor of dotting the i, including Bob Hope, Woody Hayes, Jack Nicklaus and John Glenn.
Nine days ago, former Ohio State coach Earle Bruce become the most recent dignitary to dot the i at halftime during the Rutgers game.
Happy 80th, Script Ohio.