Nick Bosa fired off the ball and drove his powerful arms and hands into the chest of the left tackle, tossed him aside and flew towards the ball carrier. Devine Redding and the Indiana Hoosiers had no chance.
"You can't see anything from the sideline. I heard over the headsets, and Nick Bosa, from what I understand, had probably his best day," Urban Meyer said after Ohio State's 38-17 victory on Saturday.
"Obviously, he's a guy that, the last name, high expectations. I think he's starting to fulfill them."– Urban Meyer on Nick Bosa
Everyone knows about Bosa's older brother, Joey, who made his NFL debut with the San Diego Chargers on Sunday. The No. 3 overall pick in the 2016 NFL Draft recorded his first two career sacks in short work a day after his little brother again made his presence felt in Columbus. One could say the second wave of the Bosa regime at Ohio State is officially in motion.
"I've been ready for it," Bosa said. "Took me a couple games to get my feet under me and I think I'm getting ready every week so I'm ready to go."
The younger Bosa entered Saturday's game tied with Tyquan Lewis for the Ohio State team lead in sacks with two. Lewis' strip-sack of Richard Lagow put him in the lead by himself but Bosa's 18 yards lost on his two sacks are the most on a defensive line that includes an underappreciated star in Lewis, a freak athlete in Sam Hubbard and an end with a constant motor in Jalyn Holmes.
Bosa came to Columbus as the crown jewel of Meyer's 2016 recruiting class despite suffering a partial ACL tear his senior season at St. Thomas Aquinas in Fort Lauderdale, Florida. He attacked his rehab and had to slowly work his way into the fold in Larry Johnson's defensive line room but it was never in doubt he would play significant minutes this fall. The first sack of his career came against Bowling Green in the season opener and he nabbed another in Ohio State's 58-0 shellacking of Rutgers.
Johnson and Luke Fickell primarily used him on third down and passing situations against Indiana. But being on the field for the 4th down stop at the 4-yard line—with the Hoosiers threatening to make it a one-score game with roughly 10 minutes to play—is indicative that he is more than capable of taking on more of a load.
"He's really coming along," Hubbard said of Bosa last week. "He just gets better each week, just like the young defensive tackles that are getting reps under their belt. They're just going to keep getting better and hopefully we can play our best ball together at the end of the year."
A five-star recruit isn't brought to a program to stand on the sideline. But Ohio State had to be careful and be sure Bosa's knee could withstand the workload necessary to be a vital cog in its defensive line rotation. Not exactly easy to do considering his lineage.
"I didn't really listen to the hype too much," Bosa said. "Coach J made it really easy for me to transition. He knew that there was going to be some pressure, but I just worked with him and kept getting better and my teammates helped me get acclimated."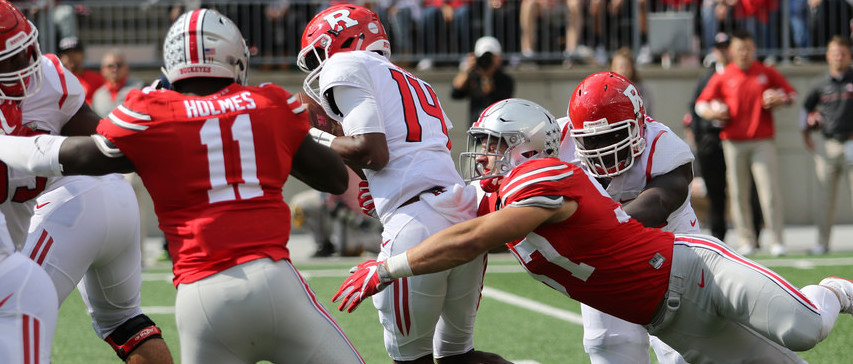 The elder Bosa is finally making plays at the next level after a contract holdout and hamstring injury, all while Meyer and Co. seem prepared to give Nick more snaps. After blowing up the ball carrier on what the head coach called the play of the game Saturday, it's clear Nick Bosa has arrived. He is third on the team in tackles for loss with four.
"We probably just have to play him probably a bit more as he's getting healthy and more involved in the defense," Meyer said. "Obviously he's a guy that, the last name, high expectations. I think he's starting to fulfill them."
"In football, you've gotta play, gotta get reps to get up to speed," Bosa added. "You can't just run out there after a year of not playing and think you're going to make plays right away."
That didn't happen, but there surely feels like much more is to come.