Benjamin Franklin, who coined the phrase "nothing can be said to be certain except death and taxes" clearly wasn't a college football fan – which I guess makes sense considering Rutgers and Princeton didn't square off in the first collegiate football game until 79 years after his death. 
If there is one other certainty on the level of death and taxes, it has to be the annual tradition of grossly exaggerating the expected impact true freshmen football players will have in their first year at an elite football factory. 
At Ohio State this is without question a yearly occurrence that seems to have only picked up more steam since Urban Meyer's arrival thanks to his recruiting prowess. 
Heading into the 2012 season it was Noah Spence who generated a ton of buzz, the next year Vonn Bell, Dontre Wilson, Mike Mitchell and Joey Bosa, among a host of others, were talked about as having a chance to be starters from day one. 
In 2014, Raekwon McMillan was the crown jewel hyped to potentially start right away with names like Curtis Samuel and Sam Hubbard not far behind. Last year, Jason Cornell, Torrance Gibson and Mike Weber all rolled off the lips of many as possible producers in year one.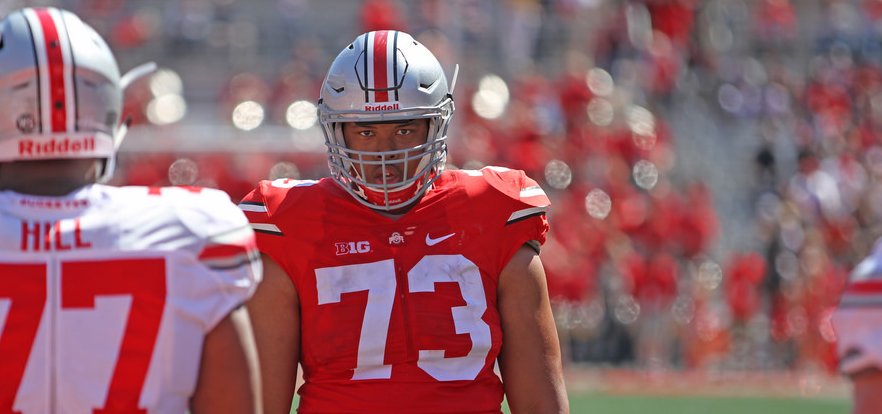 This year, wide receiver Austin Mack and offensive lineman Michael Jordan have been mentioned often as potential 2016 starters especially after rave reviews as early enrollees  while Joey's brother Nick Bosa has fans chomping at the bit for him to arrive and turn heads in fall camp despite tearing his ACL last fall. 
In reality, just a handful of the true freshmen in each of Meyer's first four recruiting classes – which were all elite nationally – did anything of note on the field, let alone started for the majority of the season.
That's not a knock on any of those players or classes, it's simply an indictment of the level of frenzy we as fans go to as part of our fandom and desire to fantasize about greatness for our team. 
Think about it, since freshmen became eligible to play football right away, Ohio State has churned out 46 recruiting classes which at 20-25 kids per class rounds out to about 900-1,100 total players but how many true freshmen can you remember coming in and either setting the world on fire or at least being truly big time starters? 
Curious as to roughly how many stud freshmen starters the Buckeyes have enjoyed over the years, I strung together a couple nights of loose research after struggling to find a list of major use to make things easier in an effort to answer the question. 
With that, here's a high-level summary of true freshmen who made their mark in Columbus in year one of the Buckeye careers. 
---
OFFENSE
Since the success of most teams starts at the quarterback position we'll begin here. 
Terrelle Pryor came out of Jeanette, Pennsylvania in 2008 to take over the starting gig from Todd Boeckman in game four and tossed four touchdown passes against Troy. Pryor would go on to complete 61% of his passes (100/165) for 1,311 yards and 12 touchdowns against four interceptions while serving as the team's second-leading rusher with 631 yards and six more scores. Pryor's 1,942 yards of total offense with 18 touchdowns easily earned him B1G Freshman of the Year honors. 
Three years later, Braxton Miller exploded onto the scene, also taking over starting quarterback duties in the fourth game and went on to throw for 1,159 yards and rush for another 715 despite being tutored by a video coordinator and Jim Bollman. 
Miller's extraordinary efforts (20 touchdowns, 1,874 total yards) on an extraordinarily bad team earned him the freshly renamed Thompson-Randle El Freshman of the Year honor.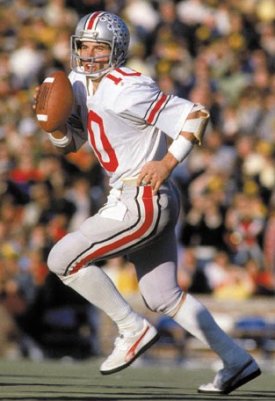 Finally, Art Schlichter went straight from Miami Trace to Ohio State's starting quarterback in 1978 though the results weren't quite so amazing. Schlichter was the runaway team leader in total offense with 1,840 yards compared to just 591 yards for second-place Paul Campbell but Art also tossed 21 interceptions with only four touchdown passes. 
Moving on to running back, we'll start the list with Archie Griffin since he was the first true freshman to start at tailback in school history. In 1972, the same year true freshmen were eligible to play, Griffin led the team with 867 rushing yards on 5.4 yards per carry wit three touchdowns. 
A year later, Pete Johnson would start about half the season with Bruce Elia battling injury and totaled six touchdowns on 55 carries. 
More notably, Robert Smith came along in 1990 and broke Archie's school record for frosh yardage with 1,126 yards on an outstanding 6.4 yards per carry with eight touchdowns. Smith might have completely shattered the record but he only averaged 14.7 rushes per game as Raymont Harris (119 carries), Scottie Graham (73) and Butler By'not'e (53) were also in the ball carrying rotation. His impressive season was easily good enough to capture B1G Freshman of the Year honors.
Maurice Clarett became the gold standard for freshman running back production at Ohio State as he seized the starting gig from game one and rushed for an OSU freshman record 1,237 yards and 18 touchdowns in just 11 games during the 2002 national championship season. 
Clarett's determined running style (5.6 ypc) was a catalyst for the season giving the squad something it would've sorely lacked with backup Lydell Ross's more pedestrian rushing skills (3.7 ypc) which was hugely important considering Ohio State's struggle to consistently move the ball through the air. Like Smith, Clarett was a shoe-in for B1G Freshman of the Year accolades.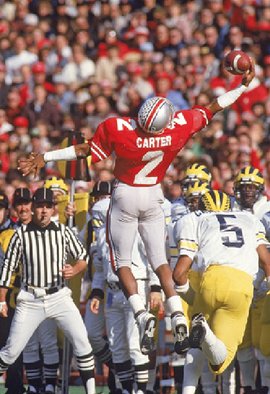 The Buckeyes haven't had the same level of success from true freshmen wide receivers. Cris Carter is the obvious name after a 1984 campaign in which he racked up 41 receptions totaling 648 yards (6th in B1G) and eight touchdowns (3rd in B1G). Carter was at his best in his last game of the year as he blew up for a then Rose Bowl record nine grabs for 172 yards. 
Over a decade later, David Boston would arrive from Humble, Texas and tally 33 receptions for 450 yards as a true freshman in 1996 but otherwise, true freshmen production from Buckeyes at the wide receiver spot largely been sparse. 
While the general consensus over the years has been that it's supremely difficult to start at offensive line as a true freshman, a handful of guys have made a successful conversion. 
Leading this group is none other than Buckeye legend Orlando Pace. The big man out of Sandusky held down the starting left tackle spot from day one in 1994 to earn B1G Freshman of the Year and eventually evolved into arguably the greatest collegiate offensive linemen ever before a pro career worthy of a plaque in Canton. 
Korey Stringer also B1G Freshman of the Year honors on the strength of six starts at right tackle in 1994 and Michael Brewster was named to a freshman All-American team in 2008 after starting 10 games at center. 
Alex Boone logged three starts at tackle in 2005, Rob Sims (four starts) and Nick Mangold (eight games) both evolved into integral parts of a national championship team as true freshmen in 2002. 
DEFENSE
Moving to the defensive side of the ball, Ryan Pickett played in all 12 games for the 1998 juggernaut starting nine on the way to 22 stops and two sacks from his defensive line spot before going on to a somewhat quiet yet highly successful pro career. 
Cameron Heyward became a starter at defensive tackle as a true freshman for the 2007 Buckeyes. Showing strength and maturity beyond his years Heyward posted 30 stops and nine tackles for loss earning freshman All-American honors from numerous media outlets.
Joey Bosa started 10 of 14 games for the 2013 Buckeyes at defensive end and made The Sporting News Freshmen All-American squad on the strength of 7.5 sacks. 

At linebacker, Andy Katzenmoyer set the standard becoming the first true freshman to start at linebacker for the Buckeyes back in 1996. The Big Kat finished third on the team with 85 tackles while his 12 sacks and 23 tackles for loss still rank in the top five in school history from a single-season perspective. 
If not for nagging ankle injuries Chris Spielman could very well have been the benchmark for freshmen OSU linebackers. In 1984, Spielman tallied 45 stops in just seven games playing alongside the great Pepper Johnson. 
Steve Tovar also deserves mention here for finishing sixth on the 1989 team with 58 tackles. That same season, true freshman Alonzo Spellman posted 49 tackles with a team-high 10 tackles for loss from an outside linebacker spot. 
In the secondary, Buckeye legend Antoine Winfield recorded 56 tackles primarily from the nickel on the 1995 defense.