Adjustments will assuredly be made to the draft stocks of all Ohio State players in this year's pro football talent pool, especially with how many of them participated in the Scouting Combine in Indianapolis.
Fourteen Buckeyes interviewed for their futures in football both on and off the field over the seven days the combine spanned at Lucas Oil Stadium. The only position Ohio State didn't have representation was among the specialist group, a pretty impressive statistic when you really think about it.
Not everyone participated in every drill the combine had to offer, however. Nick Vannett elected to not run the 40-yard dash due to a strained abdomen muscle, while Ezekiel Elliott chose not to bench press. Vonn Bell didn't run at all because of a barking hamstring, the same injury that kept Cardale Jones sidelined after he pulled it in his second 40-yard dash attempt.
Whether or not they chose to do all drills is a decision entirely reserved to each player — no one is making them do anything they don't want.
All 14 players should hear their name called once the draft kicks off at the end of April, which would tie an NFL record for individuals drafted from one school. Which ones helped, hurt or did neither at the combine? Let's explore.
Keep in mind, Ohio State's Pro Day is March 11.
---
Winners

Darron Lee, LB — Lee was the talk of the combine Sunday afternoon, absolutely destroying he workouts and recording the fastest 40-yard dash time for a linebacker since 2007: 4.43 seconds.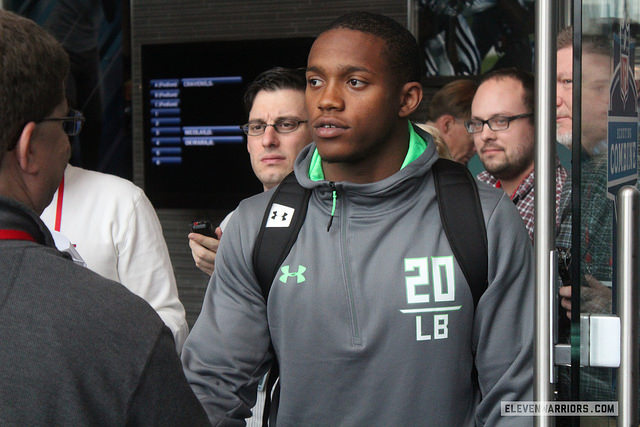 Lee's size (6-foot-1, 232 pounds) and speed is ideal for the new age linebacker the NFL desires, a guy that can lock horns in the run game yet has the explosion and talent to help in the cover game down the field. His 11-foot, 1-inch broad jump was also best among linebackers in this year's class.
Lee made some serious coin in Indianapolis.
Eli Apple, CB — Apple shredded his 40-yard dash, finishing with an official time of 4.40 seconds for sixth best at his position. The redshirt sophomore also impressed in drills, putting him in the conversation to be among the top corners in this year's draft class with Vernon Hargreaves and Jalen Ramsey.
Apple's long arms and fluid body control will translate well at the next level and he showed improvement over his two years as a starter at Ohio State. That continued in Indianapolis.
Joey Bosa, DE — Bosa's 40-yard dash time of 4.86 seconds wasn't spectacular, a number the man himself said he was disappointed with. But his tallies in other drills — and the fact he did all of them in addition to pass drop workouts — showed his willingness to go outside his comfort zone. Bosa did nothing to disprove he is a top-5 talent in this year's draft.
"Lot of people talking about his 40 time and that, but find me a scout who thinks the 40 time is really that important for a pass rusher. It's not," CBS Sports NFL Draft analyst Dane Brugler told Eleven Warriors. "They care about short shuttle and they care about the three cone. That's where Bosa killed it."
Bosa's vertical jump (32 inches) also didn't turn heads and he slipped a few times in bag drills, but his tape shows he excels with technique and power. His combine performance didn't hurt him.
Ezekiel Elliott, RB — Elliott didn't do the bench press likely because of the wrist injury he dealt with at Ohio State, but that won't hurt him in the long run because of his game tape and strong 40-yard dash performance. He finished tied for fifth at his position in the drill 4.47 seconds.
Elliott is a winner on this list because he didn't really do much to hurt his stock in Indianapolis, at least that the media knows about. Entering the combine, Elliott was the top-rated running back in this class. He leaves at the same position, provided he didn't struggle in interviews with various franchises.
Elliott addressed his comments from after the Michigan State game yet again with the media, and said if it came up in interviews his response was that it was a result of passion. Most teams won't see that as an issue down the road, instead turning on his tape and seeing penchant for blocking and decisive running style.
Joshua Perry, LB — Perry ran the seventh fastest 40-yard dash (4.68 seconds) among linebackers at the combine despite weighing in as the third heaviest at the position. That's impressive.
His 10-foot, 4-inch broad jump is also fourth best among linebackers and Perry was in the top 12 of both the vertical jump and bench press. Add it all up with the fact Perry likely interviewed well with NFL personnel, and he quietly had a good week at the combine.
Tyvis Powell, S — Not many expected Powell to turn in the 40-yard dash time he did Monday. A 4.46-second performance as a 211-pound safety is excellent and certainly opened some eyes.
Powell surprised some people — most notably Urban Meyer — by making the jump to the pros after the 2015 season, but has his degree and a national championship ring to his name. He might not be an early round pick, but ran well at the combine.
"I thought Powell definitely helped himself in running a 4.46 at 211 pounds," Brugler said. "I thought he definitely helped himself. I thought his other numbers were solid as well. When you figure he jumped basically the same as Braxton Miller did, similar vertical, similar broad."
Losers

Jalin Marshall, WR — NFL Draft analyst Mike Mayock made it known he was surprised Marshall chose to leave Ohio State after last season, mostly because he could have been J.T. Barrett's main target at wide receiver in 2016. Marshall's 40-yard dash time of 4.60 seconds didn't do much to help his cause, though he did test well in the shuttle drills.
He set out to prove he belonged and his decision to leave Ohio State after playing just two years wasn't a mistake, but Marshall said he received questions from NFL teams on the topic when he spoke to the media Wednesday.
Marshall is a rare talent in the return game, something he must use to his advantage at Ohio State's Pro Day and beyond in order to get a job at the next level.
"I think he'll get drafted because really what he can do as a punt returner is a big factor," Brugler said. "I think scouts see a very, very young player who has not reached his ceiling yet."
Cardale Jones, QB — Jones pulled his hamstring in his second 40-yard dash attempt, an injury that prevented him from participating in any throwing drills at the combine. That is a huge blow for his stock, because scouts yearned to see him spin it in person after he lost his job to Barrett last season.
"If you believe in the kid and you can fix the mechanics and get him to a certainly level, you take him higher," Mayock told the media Saturday. "But I think we're all going through that discovery phase right now. His Pro Day becomes a big day for him in Columbus for a couple weeks."
The Pro Day could be a huge boost for Jones, provided his ailing hamstring is healthy enough for him to throw. He'll work to his own teammates in an environment he's used to, but it is his last chance to show scouts what he and George Whitfield worked on since he left Ohio State. His injury made it that way.
"It's paramount," Brugler said. "Because he cut his workout short, it all comes down to the Pro Day. He always has a chance to have a private workout with some teams where he can sway maybe a team, but the Pro Day is the big one."
Adolphus Washington, DL — At the combine, Washington spoke publicly for the first time after his arrest for solicitation in December. The incident ultimately ended his college football career — Meyer suspended him for the Fiesta Bowl against Notre Dame.
Washington has solid tape and put forth a strong senior season at three-technique in place of a departed Michael Bennett in 2015, but struggled to show explosion in the three cone drill and shuttle runs at the combine. He will likely remain a second to third round selection, but didn't do much in Indianapolis to separate himself in what is an extremely deep defensive line class.
Vonn Bell, S — Bell had a bit of an odd combine experience, at least based on what the media and public eye saw.
First, he told the media he at times was lazy in run defense at Ohio State, claiming it would be fixed at the next level because of a boost in passion. Then he cited a tender hamstring as a reason for not running or participating in on-field drills Monday.
Missed opportunity.
"It's one of those things that if he runs the combine, runs a 4.45 then he doesn't have to worry about running the 40-yard dash again," Brugler said. "He can just focus on positional stuff at his Pro Day. But now because of this injury he only has one shot at the Pro Day to run a good 40. So if he slips or doesn't like his 40 time, it kind of is what it is."
Bell is among the top defensive backs in the draft, but missed a chance to solidify himself as the top guy at safety.
Holding Steady

Braxton Miller, WR — Miller's 4.50-second official 40-yard dash time surprised loads of people, though some scouts reportedly had him at much faster. He'll have another chance at Pro Day.
Miller resides in the category because scouts and analysts already knew of his outstanding athleticism both because of what he did at Ohio State and then at the Senior Bowl in January. So, his terrific cone and shuttle numbers weren't really a surprise. He could sneak up and be a late first round pick if a franchise is willing to take that chance, but it is looking more and more like Miller will be an attractive second round option because he's still learning the nuances of his new position.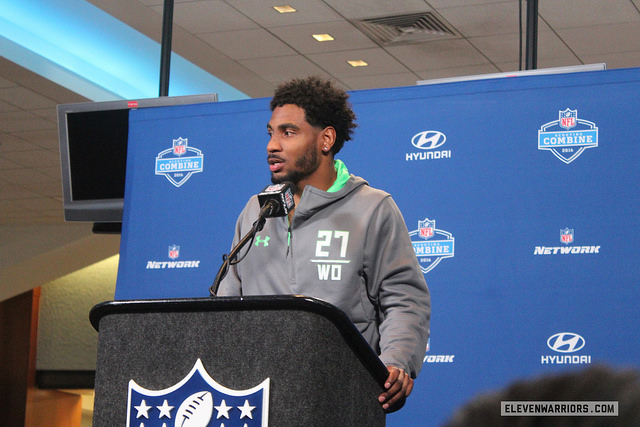 "He's still in that second round range where it would not shock me if a team in the late first round decided he we think three years from now Braxton Miller's going to be one of the top wide receivers in this group even though it's going to take some time," Brugler said. "Long term, we like him."
Taylor Decker, OT — Decker wants to play left tackle at the next level, but sits behind presumed No. 1 overall pick Laremy Tunsil and Notre Dame's Ronnie Stanley in the eyes of most at the position. Still, Decker is bound to be a solid player at either left or right tackle in the NFL.
He didn't test particularly well, because at 6-foot-7 it isn't the easiest to bend down and touch the line in the cone and shuttle drills. That is what scouts fear with Decker, but his tape is strong and he dominated in college because of his outstanding length and strength.
"The three-cone drill, the 7.70, that's a very high number that you don't see for a lot of guys," Brugler said. "But at the same time, I don't think it's going to matter too much for him. He's really good at what he does, the strength that he has. I don't think the three-cone drill is really going to change anyone's position on that."
Michael Thomas, WR — Thomas' game isn't based on his straight line speed, so his 4.57-second 40-yard dash wasn't too surprising. His money is made with his precise route running and his ridiculous catch radius.
Thomas' measurables were outstanding for a wide receiver, but he didn't kill the media portion of his combine week. While at Ohio State, Thomas never was someone who cared much for the media, usually giving short and concise answers to reporters. There is nothing wrong with that, but he didn't seem comfortable at the podium in Indianapolis.
He is a big receiver and among the best at the position in the draft — his combine all but confirmed that.
Nick Vannett, TE — Vannett is a member of a weak tight end class and isn't oblivious to the fact his receiving numbers at Ohio State didn't do him any favors for draft evaluation. That is by no means his fault — the Buckeyes rode Ezekiel Elliott hard last year.
Vannett didn't run the 40 due to his abdomen injury, but his other numbers were solid. He is a bit of throwback at the position with how much he improved his blocking last season out of necessity. If he can show he can consistently do that and make plays down the field like he did at the Senior Bowl, he'll have a job in the NFL.
We knew that going into the combine and we still know it now. Vannett's stock held firm.