INDIANAPOLIS — Four of Ohio State's 14 players at the NFL Scouting Combine hope to earn a living in part by catching footballs thrown by quarterbacks.
Braxton Miller, Jalin Marshall, Michael Thomas, Nick Vannett — three wide receivers and a tight end. Two positions that place them in situations where they are expected by NFL franchises to catch the ball. Only problem is, they didn't really do it all that much in Columbus during the 2015 season.
"That's the first thing, when I meet with these teams, they say 'we felt like you were underutilized,'" tight end Nick Vannett said Friday. "I always smirk when I hear that, but we have so many threats at Ohio State and it's hard to spread the ball around to every one of us."
Buckeye Pass Catchers at 2016 NFL Combine


| NAME | RECEPTIONS | YARDS | AVG/CATCH | TD |
| --- | --- | --- | --- | --- |
| MICHAEL THOMAS | 56 | 781 | 13.9 | 9 |
| JALIN MARSHALL | 36 | 477 | 13.3 | 5 |
| BRAXTON MILLER | 26 | 341 | 13.1 | 3 |
| NICK VANNETT | 19 | 162 | 8.5 | 0 |
Vannett finished with the sixth-most receptions and yards on his team in 2015. He didn't score a touchdown. Michael Thomas led the Buckeyes with 781 receiving yards, the 83rd-most among NCAA pass catchers in 2015.
"We can just control what we can control," Thomas said. "Thank the man up above for this opportunity to be here. Control what we can control and dominate (Saturday)."
Saturday is when Thomas, Vannett, Braxton Miller and Jalin Marshall are set to work out in front of NFL scouts and front office members at Lucas Oil Stadium. The same goes for quarterback Cardale Jones, who joined Thomas and Marshall as three of nine Buckeyes to leave the program with eligibility remaining.
Ohio State's quarterback quandary, a struggling passing game and dominant running back in Ezekiel Elliott didn't allot the receivers many opportunities to showcase their skills on Saturday afternoons last year. Marshall failed to break the 500-yard plateau, and Miller didn't even tally 350 receiving yards.
So what gives? Why are two of the four players Urban Meyer sent to the draft who play positions that require pass-catching skills underclassmen?
"We won games, so that might boost us a little bit more than getting the ball. It really is a win-win situation for us," Marshall said Thursday. "Being at Ohio State, whether you got the ball or not, you get exposure. What you do with it when you get the ball is how people view you. We all feel like when we did get the ball we made the most of our opportunities."
Miller was more blunt: "Coach Meyer, he's one of the best in the business."
Meyer has 50 wins against four losses in four seasons at Ohio State. He won a Big Ten and national title, and the 14 Buckeyes at the combine played huge roles. What he doesn't have, however, is a 1,000-yard receiver in his tenure. Devin Smith came the closest in 2014 with 931 yards and 12 touchdowns, but needed 15 games to do so.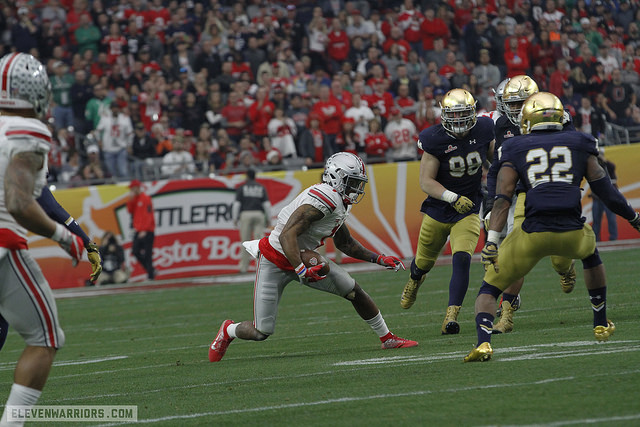 "To me, winning means more to me than getting the ball all the time. If our team is winning, I'm doing something right, you know what I mean?" Marshall said. "If we continue to win and get better each week you get an opportunity to come out here and prove that you belong."
Meyer didn't even have a 1,000-yard receiver the entire time he was the head coach of the Florida Gators. Paris Warren recorded 1,076 receiving yards for Meyer at Utah in 2004. Meyer's power spread offense just isn't built for one receiver to star, but instead the stockpile of talent to get touches in all areas.
Coaches won't tell you there is a thing as having too much talent, though it is clear Meyer and his staff instilled a team-first mentality within their program. It's one of the reasons Ohio State won the national championship in 2014.
A lot of times winning comes as a result of how well you use the skill at your disposal.
Elliott should be the first running back selected in the 2016 NFL Draft. He won the Silver Football last year. He deserved to touch the ball a lot.
But with so much talent at other positions, it is hard not to wonder if the other players wished they had a few more chances to put plays on tape for NFL executives to see.
The Buckeyes won't say that, though — at least not to the media.
"Ohio State, Coach Meyer, Coach (Zach) Smith, my two receiver coaches for the most part helped me develop into being an elite receiver I feel like," Marshall said. "I feel like the things they taught me will help me succeed at the next level."
Added Thomas: "We're still going to compete when we're around other guys. Ohio State is going to continue to have talent year in and year out."
And maybe as long as Meyer is there, that's just how things will go.
"The opportunities I had, I was out to make the best of them," Miller said. "So I can control what I can control and that's what I did throughout the whole season."