Ohio State's quarterback rotation from 2015 should become more fixed in 2016. J.T. Barrett split starts with Cardale Jones, and occasionally snaps with Braxton Miller, though he is poised to reclaim his status as starter in 2016.
But who is his "next man up" this coming season? Braxton Miller graduated and Cardale Jones wants to try his hand at being some other than a college student. Right now, the candidates at second team quarterback include three guys with a combined zero passing attempts. Another option, a true freshman to be named later, is not on campus nor currently pledged to the program.
This feature discusses the options at quarterback behind J.T. Barrett and who might ultimately be his No. 2 in 2016. With uncertainty still on the recruiting trail, this feature will focus on three options currently on the roster.
Stephen Collier is the only other quarterback on the roster with some game experience, though it's not much. Collier redshirted in 2014 and has just three snaps to his credit in 2015. Those three snaps came in the Hawaii game in which he handed the ball to Warren Ball three times to close out the shutout win over the Rainbow Warriors.
Collier lacks much of a résumé at this point to merit status as backup to Barrett, but he'll have some advantages. He's been in the program longer than the other options. He also has a discernible size advantage, should be that a deciding factor in a close call on the depth chart before the season starts. At 6-4 and 225 pounds, Collier has at least an inch and about 15 pounds on the other options.
Further, Collier uses his size well in what we have at least seen on his high school film. He can take hits but has nimble enough feet to avoid them.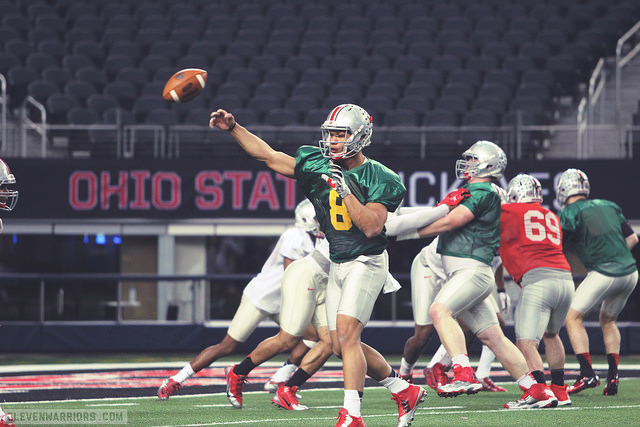 However, those evaluations of Collier come from his 2013 tape when he was in high school. Ohio State fans may remember a somewhat rocky outing in the 2015 spring game, though we should be careful to qualify that Collier was quarterback in a glorified scrimmage with a partial roster and a patchwork offensive line. That particular performance is not informative.
The lack of mentions for Collier during the course of this season might be more informative than his absence from game festivities in 2015 or his appearance in the last spring game. Collier was never going to command serious playing time on the 2015 team. However, the coaching staff never said much about him last year. 
Joe Burrow, who redshirted last year, has yet to appear on any depth chart during his young career. However, he's probably the odds-on favorite at this point.To be fair, Tom Herman liked him and saw a lot of potential in him to thrive under his tutelage. Then, Herman left after the 2014 season. His last glimpse of Collier came with him simulating Marcus Mariota in practices before the 2015 championship game.
Urban Meyer mentioned the Athens native numerous times during the course of the 2015 season despite Burrow's status as clear redshirt. For one, Meyer noted that Burrow was getting "quality reps" in practice before the Minnesota game. This was the week for which J.T. Barrett served a one-game suspension for an OVI charge. 
Burrow did not appear on the depth chart for Minnesota that week. Braxton Miller did as backup to Cardale Jones. However, Meyer's claim that Burrow was the third-string quarterback as a prospective redshirt was implicit in that statement.
Meyer further signaled Burrow as third-string quarterback in 2015 (and, thus, odds-on favorite to be backup this year) in the week before the 2016 Fiesta Bowl. Joe Burrow was in a minor car accident for which he suffered a concussion. He did not make the trip to Arizona with the rest of the team. However, Meyer announced that incident by referring to Burrow as the No. 3 quarterback.
Burrow's high school film in 2014 portended the signals of high praise his head coach has been giving him in the media this season. Few high school quarterbacks caught fire like Burrow did down the stretch in 2014. He became a one-man highlight and even appeared on Sportscenter for throwing a touchdown to himself and giving a Bosa shrug in the end zone. Burrow is a coach's son (his dad is an assistant at Ohio University) who, late into high school, began to realize how good he could be. His ceiling is quite high accordingly.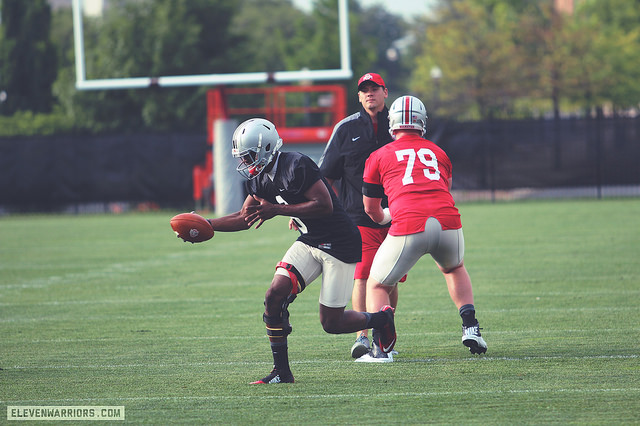 Burrow and Collier are the two players currently on the roster best positioned to compete for the No. 2 job in 2016. However, Torrance Gibson is an outside threat.
The 6-4, 205-pound product from Plantation, Florida redshirted his first year on campus. Listed as "QB/WR" on the team's website, he's effectively a player without a position right now. That said, Gibson is easily the best athlete of the three options. He might be the best athlete on the entire roster.
It's not out the realm of possibility that Gibson could have a phenomenal camp at the quarterback position and emerge as Barrett's backup. It is still unlikely, though. Gibson may project better at wide receiver than quarterback. This is certainly true at the professional level though also true at the collegiate level.
Gibson has long odds to secure the backup job behind J.T. Barrett, but he might command some snaps as a true playmaker. The extent to which he can do that reliably during camp may make him a more credible candidate at quarterback.