Ohio State football circa 2016 is presently about who won't be running out of the tunnel.
This is what happens in the immediate aftermath of a season. Hey, did you hear about the nine early NFL entries? Add in eight matriculating senior starters and that leaves just six returning this fall: Pat Elflein, Billy Price, J.T. Barrett, Tyquan Lewis, Raekwon McMillan and Gareon Conley. Nobody else on the roster has ever played football in their lives.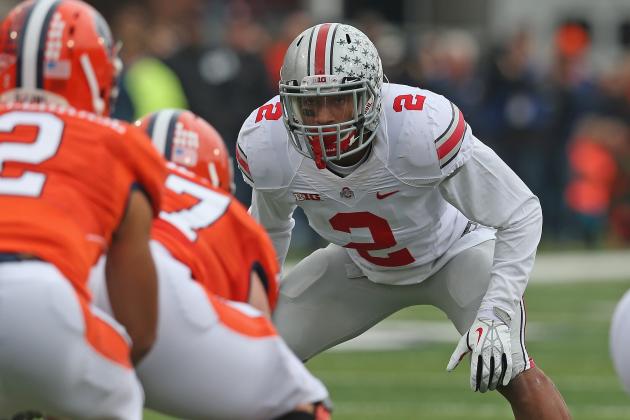 The mood won't stay like this for long, praise be to spring practice - but that's where legends are born, promises are made and holes are filled. And it's a farce. We'll nourish ourselves on spring's lies until the season begins in September. Too pessimistic? Reread Kyle's film study from the 2014 spring game. Does that look anything like a team that will win more than nine games? It won the national championship.
Here's Chris' recap in 2011 and Jason's in 2010. Spring football will lie to your face every year and you'll happily eat it up, especially with 16 new starters on the way because Ohio State football circa 2016 is presently about who won't be running out of the tunnel. We're about to hastily invest our sanity in those who have been Left Behind, because a football game without the departed playing in it is still just too scary.
You would have to go all the way back to the year 2014 to find a Buckeye team taking on this much turnover heading into spring. Two thousand fourteen. That America is barely recognizable in today's day and age; gas cost $4.14 per gallon, One Direction was still intact and the Dab hadn't yet replaced the Nae Nae. The Ohio State Buckeyes of that year - mostly new faces but familiar names - were tasked with taking the torch from a beastly predecessor that had come tantalizingly close to playing for a national championship.
The season previews had no shot of keeping up with that kind of turnover. Here's a sampling of the two-deep dartboard from that summer: Quarterback Braxton Miller, Right Guard Joel Hale, Finally, Eddie George Rod Smith, Johnnie Dixon, Kyle Dodson, Noah Spence, Jamal Marcus, Donovan Munger. Eight sane, logical projections. Smith was off the team by November. Munger got mop-up duty in blowouts. Nobody else played a down that season.
MYSTERY is more fun than certainty. MYSTERY was "The Chase." Certainty just won the Fiesta Bowl.
Meanwhile, converted option quarterback Jalin Marshall emerged as the exciting gamebreaker, diversion and part-time angina catalyst Dontre Wilson had been previously scheduled to fulfill. Darron Lee, another quarterback who had never played in a college game, replaced Ryan Shazier at linebacker, bringing all of the same speed and field awareness while removing just enough destruction from his collisions to not not constantly get himself injured. 
Both had redshirted in 2013, as did Eli Apple, Billy Price and Michael Thomas. Spence and Miller had represented the best players Ohio State had returning on each side of the ball - and they were August subtractions. Nobody was prepared for that, or for career backups Steve Miller, Darryl Baldwin or Jacoby Boren to emerge as vital cogs on what became a championship run.
We haven't mentioned the quarterback situation from that season yet. It worked out alright.
All told, you had Apple, Baldwin, Barrett, Bell, Boren, Elflein, Elliott, Cardale Jones, Lee, Marshall, Steve Miller, Price and Thomas making enormous contributions in 2014 after barely or not seeing the field at all the previous season. They entered the season as wholly or relatively inexperienced unknowns and exited as both prudent veterans and national champions. 
But the strange thing was that none of them turned out to be the next Carlos Hyde, Philly Brown, Andrew Norwell, Corey Linsley, Jack Mewhort, Marcus Hall, Bradley Roby, Christian Bryant, C.J. Barnett or Shazier. Those were the gaping holes those guys filled, but that's not at all how you ever thought of them in 2014. It's not how those guys thought of themselves either.
That's not how mass-departures work, nor is it how Ohio State football culture was constructed to operate under Urban Meyer. None of the stars who emerge after this spring is finished lying to us are going to be the next anyone else. There is only one, extremely rare exception to this rule - and that's Nick Bosa, who is quite literally going to be the next Bosa.
It won't be all surprises, either. Noah Brown should be no stranger; he was heavily involved in Ohio State's championship games against Wisconsin, Alabama and Oregon. Isaiah Prince played a lot this season, as did Happy Jamarco; the line isn't nearly as green as people might think. There's also a significant number redshirt freshmen who can't wait to rip the shrinkwrap off their college careers and surprise the hell out of you and everybody else.
This team already has captains. There's no big reveal or emergence on the way. That's not usually how teams starting from scratch normally come together.
Urban's 2016 edition is currently defined by what it isn't, with all the graduating seniors and early NFL entrants that were part of a terrific run departing and clearing the way for another one. The Grind is dead, and you didn't enjoy it as much as you had hoped. We just need to remind ourselves that mystery is significantly more fun than certainty. Mystery was The Chase. Certainty just won the Fiesta Bowl.
And the guys who do finally run out of the tunnel this fall will not be filling anyone else's void. They will just start creating what will eventually become new ones.