GLENDALE, Ariz. — Brian Kelly spoke of resiliency, but it didn't matter how much Notre Dame kept trying to come back against Ohio State. The Fighting Irish were overmatched.
"I challenged them and told them," Kelly said minutes after Ohio State's 44-28 romp over Notre Dame in the Fiesta Bowl. "It was a bit risky as a head coach that you tell your football team that the game is going to be decided in the first five minutes of the third quarter, because obviously if Ohio State goes down and scores, it probably takes the wind out of our sales."
Ohio State quarterback J.T. Barrett threw an interception on his team's first drive of the second half, which Notre Dame turned into seven points to make the score 28-21. Even with an 81-yard catch and run by star receiver Will Fuller late in the third quarter, Notre Dame didn't threaten Ohio State again in the game.
Ezekiel Elliott pushed Ohio State back out front by double digits for good with a slick 47-yard touchdown run untouched — his third of four on the day — on the ensuing drive, crippling any momentum Notre Dame feverishly tried to establish.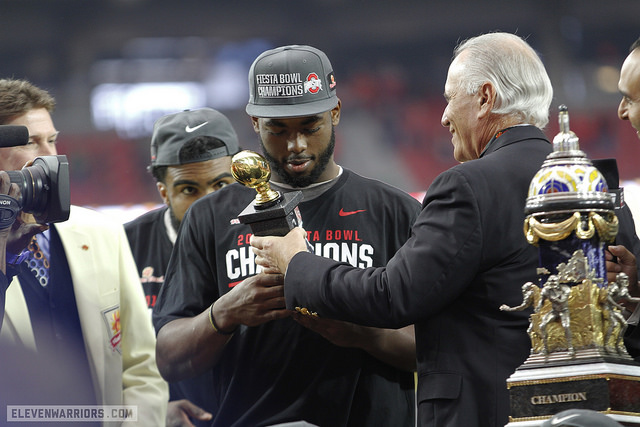 "I think Zeke, all due respect to all the great running backs in Ohio State history, my first-round draft pick, I'd pick Zeke Elliott," Urban Meyer said. "What he does without the ball, his work ethic in practice, just his attitude every day, the way he shows up, bounces around with us. I love him."
Elliott romped to 149 rushing yards to go with the four scores, and caught a pass out of the backfield for 30 yards for good measure. He showed why he is the Big Ten's best player in 2015, being the difference along with Barrett and Ohio State's offensive line to shred a shorthanded Irish front seven.
"I would say schematically they do a great job of creating challenging situations with changing numbers and unique plays," Notre Dame linebacker Joe Schmidt said. "You combine that with Ezekiel Elliott and J.T. Barrett's ability to run the football, then their offensive line doing a great job all day. So I would say their back is very talented. But they did a great job scheming, especially early on."
Ohio State had its first two drives scripted, an efficient and as it turns out overwhelming play sheet put in place by offensive coordinator Ed Warinner. The Buckeyes scored 14 points before the midway point of the first quarter and didn't face a third down until there was under a minute to play in the frame.
"We had a plan, we had a set of plays that we wanted to use," Warinner said. "We went through certain ones the first drive and certain ones the second drive. Used tempo to get into a rhythm and our players were ready to play. They were well prepared by our head coach and our coaching staff."
What appeared to be setting up as an early blowout for Ohio State was marred by an ejection handed to All-American defensive end Joey Bosa, who drove the crown of his helmet into the chest of Irish quarterback DeShone Kizer as the latter threw an interception to Tyvis Powell. Notre Dame later scored to hang around for a bit, and had success without Bosa on the field, but the Buckeyes were too powerful on this day.
"Oh, my goodness, that was a kidney shot," Meyer said of the targeting penalty on Bosa. "I guess it was a proper call. Hit him below. But it was leading with the crown of the helmet. I looked out, we were down another lineman, Adolphus Washington didn't make the trip. We were playing with some cats out there I didn't know were going to play. But they played hard and did fine against a very good team. This team has a way of fighting through adversity, and that is a great example."
Bosa is headed to the NFL Draft, so his final career game ends as a bit of disappointment for the mess of scouts on hand New Year's Day. Elliott will join him at the next level as well as Ohio State backup quarterback Cardale Jones. Other Buckeyes remain quiet on their future, but the message in the locker room afterwards was more about what had just happened at University of Phoenix Stadium.
After a 17-14 slip up to Michigan State aided by a baffling offensive game plan by Meyer and a last-second game-winning field goal by the Spartans effectively eliminated Ohio State from College Football Playoff contention. Michigan State failed to score against Alabama New Year's Eve in the Cotton Bowl.
"That's what you worry about," defensive coordinator Luke Fickell said. "Those games were on last night and I told all the defensive guys, 'If I were you I wouldn't watch them.' Because the last thing you want to do is start thinking, what if? We look forward and we're where we are for a reason. We can't worry about what's behind us. That's what you really hope those guys are doing and the maturity showed."
Feeling regret for the mistakes made in late November wasn't allowed among the monthlong bowl prep between the regular season finale at Michigan and the Fiesta Bowl.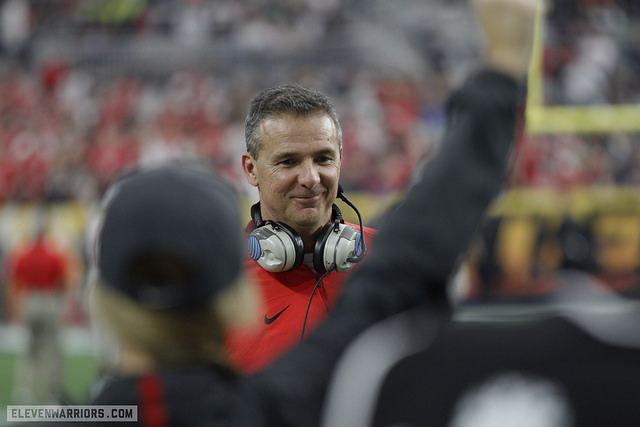 "You can't do that," Barrett said. "Since I've been saying since we've lost, you live and you learn. That's part of it. You think about the teams that are in the Playoff: Besides Clemson, when did they lose? They lost early, you know what I'm saying? Then they learned from that. It was just unfortunate that we lost later in the season, but we still learned from that and became better as a team. The three teams that are even in the Playoffs, that's a part of it. They lost, but learned from that. With us, it unfortunately happened later in the year and we didn't have the chance to put ourselves in the Playoff. I'm not frustrated, I don't regret anything, I'm happy that we're Fiesta Bowl champs and I think it was a great win for us today."
A final tally of 496 yards and 10-of-18 third down completion rate gave Ohio State's historic senior class its 50th win in the last four season, and Meyer his 10th bowl victory. The head coach is 50-4 in Columbus, and he tried to focus on what his team was able to accomplish Friday instead of the mishap against Michigan State that thwarted a chance at a repeat.
Especially in the postgame press conference, when a reporter brought it up.
"Thanks for coming," Meyer joked. "Those who know me, I can't let go of things. I've let go of that. We just won the Fiesta Bowl."
Ohio State did it in resounding fashion, sending out a group of players how they planned to at the beginning of the season — raising a trophy about their heads in Arizona.
It just happened 10 days before they expected it would.
"That's just the nature of it," Taylor Decker said. "People are going to say we failed because we didn't make the Playoff, but that's just not true. I'm not going to sit here and comment on other teams, I love the guys I'm here with, the guys I played with."
For a 2015 season that had way more highs than lows, Ohio State will look back on what might have been. But it certainly won't forget how it all came to a close.
"That was just about as good as I've ever felt out there on the field during warmups and I was really ready to go after these weeks of preparation," Bosa said. "It didn't really feel real for at least 30 minutes after it happened. It was unfortunate, I'm happy we won because that's the whole point, you know? It was just an awesome way to finish."