SCOTTSDALE, Ariz. — Urban Meyer let his answer roll off the tongue swiftly, answering yet another question about his team's youth and inexperience. The Ohio State head coach is responsible for putting together arguably the youngest team in college football, an oftentimes tired cliché revisited time and again by the more than 40 players on the roster with freshmen eligibility.
Twelve games have come and gone for the Buckeyes so the inexperience card can't really be used any longer. Except for the one final thing that Meyer casually mentioned Thursday at the commencement of media day for one of two national semifinal games.
"Almost half our roster's never been to a bowl game. And there are freshmen that have never played in a bowl game," Meyer said. "It was a little different preparation than we've had if you were a veteran team. That's the only difference."
Armed with a slew of unproven talent at the beginning of the season, Meyer and his staff still navigated a brutal schedule that included trips to Oklahoma, Penn State and Wisconsin. The Buckeyes fell victim to Beaver Stadium and the Nittany Lions but made the College Football Playoff anyway, the first team in setup's brief three-year history to do so without a conference championship.

CLEMSON TIGERS
12-1
ROSTER / SCHEDULE
---
7:00 PM – SATURDAY, DEC. 31
UNIVERSITY OF PHOENIX STADIUM
GLENDALE, ARIZONA
---
ESPN
WATCHESPN
The reward was a No. 3 ranking and return trip to the desert, where Meyer's last team capped its season with a 44-28 victory against Notre Dame to finish 12-1. Nearly that entire team is gone. His current one was tasked with living up to the remarkably high expectations that come with playing football at Ohio State. Challenges in the form of fresh faces, a tough schedule and a non-dominant offense write the story of the season.
Its next chapter is against the Clemson Tigers, the ACC Champions and No. 2 team in the country as determined by the College Football Playoff committee. Armed with Heisman Trophy runner-up and quarterback Deshaun Watson, the Tigers present a challenge unlike any Ohio State has seen this season. Meyer's youthful roster must once again rise to the occasion in order to receive a chance at the sport's ultimate goal.
"We've had young teams like the 2014 was very young. This team falls more into that mode," Meyer said. "We practiced hard. I've tried to put them in as many game situations as possible."
Dabo Swinney's Tigers are far from perfect just like Meyer's Buckeyes, yet each man led his team to a shot at winning the national title. Clemson fell just short a year ago, losing its first and only game of the year to Alabama 45-40 at University of Phoenix Stadium in the title game.
Neither team had the easiest road, losing once along the way. But they are here. That is all that matters.
"We know this will be a very difficult matchup," Swinney said. "You don't get to be in the final four unless you're a team that's capable of winning it all."
Clemson Breakdown
The Tigers enter Saturday's showdown on a three-game winning streak, with their most recent victory coming against Virginia Tech in the ACC Championship Game on Dec. 3. That 42-35 decision catapulted Clemson above Ohio State, who sat idle, in the final Playoff rankings the following day.
The ranking doesn't matter much except for what color of uniform each team wears for the game. One thing that does matter for the Tigers is Watson, however, and his ability to score points in bunches. One of the most outstanding players in all of college football, Watson's importance to what Clemson does offensively holds a similar weight to J.T. Barrett's role with Ohio State.
2016 Statistical Comparison
 
OFFENSE
42.7
9th
POINTS FOR
40.2
15th
258.3
9th
RUSHING OFFENSE
173.1
69th
221.2
77th
PASSING OFFENSE
332.6
7th
479.5
21st
TOTAL OFFENSE
505.7
13th
.486
10th
3rd DOWNS
.515
6th
.871
38th
RED ZONE
.838
68th
DEFENSE
14.2
3rd
POINTS ALLOWED
18.4
12th
117.8
14th
RUSH DEFENSE
125.8
22nd
164.5
6th
PASS DEFENSE
188.2
19th
91.4
1st
PASS EFFICIENCY DEFENSE
102.4
5th
282.3
5th
TOTAL DEFENSE
313.9
9th
.308
10th
3rd DOWNS
.297
6th
.722
5th
RED ZONE
.778
27th
SPECIAL TEAMS
5.4
101st
PUNT RETURN
8.1
62nd
24.1
14th
KICKOFF RETURN
21.2
56th
42.5
4th
NET PUNTING
35.3
106th
MISCELLANEOUS
+ 1.3
3rd
TURNOVER MARGIN
+ 0.0
67th
6.2
65th
PENALTIES
6.7
93rd
13
EDGE
5
"He is the total package. I mean, I can't say it enough," Swinney said. "That's what makes him so special. It's his intangibles. It's who he is — I mean, he's a great human being that just happens to be a good football player. That's the best way I can describe him."
Meyer desperately wanted Watson to be the quarterback of his 2014 recruiting class, infatuated with his ability to extend plays with his legs while still throwing the ball efficiently and accurately downfield. Watson is the player Meyer envisioned for his offense, predicated on play-action passing but buoyed by a powerful rushing attack.
"He is one of the top two or three players in America," Meyer said of Watson. "He is key to everything they do."
Back-to-back trips to New York City and Heisman Trophy presentation tell you pretty much all you need to know about Watson. His 3,914 passing yards and 37 touchdown passes easily led the ACC this season, though he did throw 15 interceptions.
Big-time receivers like Mike Williams—projected as the first at his position taken in the 2017 NFL Draft—Deon Cain, Artavis Scott and Hunter Renfrow plus a more than serviceable tight end in Jordan Leggett allow the quarterback to take chances. And yet, he can run too, with more than 500 rushing yards this season and six scores on the ground, including the two he had against the Hokies in the ACC title game.
Figuring out how to defend him is not easy.
"The majority of the time I thought he felt like he's dedicated to just throwing the ball. But I feel like he's capable of running and throwing the ball. He's that gifted," Ohio State star safety Malik Hooker said. "He's a good quarterback, one of the better players in college football."
Clemson's ground game revolves around Wayne Gallman, who furiously runs with a downhill intensity of a charging bull. His 1,002 rushing yards are more than 500 fewer than a year ago but 15 touchdowns on the ground are a huge reason why the Tigers averaged 40.2 points per game this season. Clemson's 332.6 passing yards per game ranks in the top-10 nationally and the Tigers put up more than 500 total yards per game.
Watson is at the heart of it all. But he is by no means alone.
"They've got athletes all across the ball, even on the O-line. They're athletic, big guys, that can make plays," Ohio State middle linebacker Raekwon McMillan said. "Mike Williams on the outside, Jordan Leggett, Deshaun Watson and Wayne Gallman, those guys can make plays all over the field. Gotta be prepared for all of them."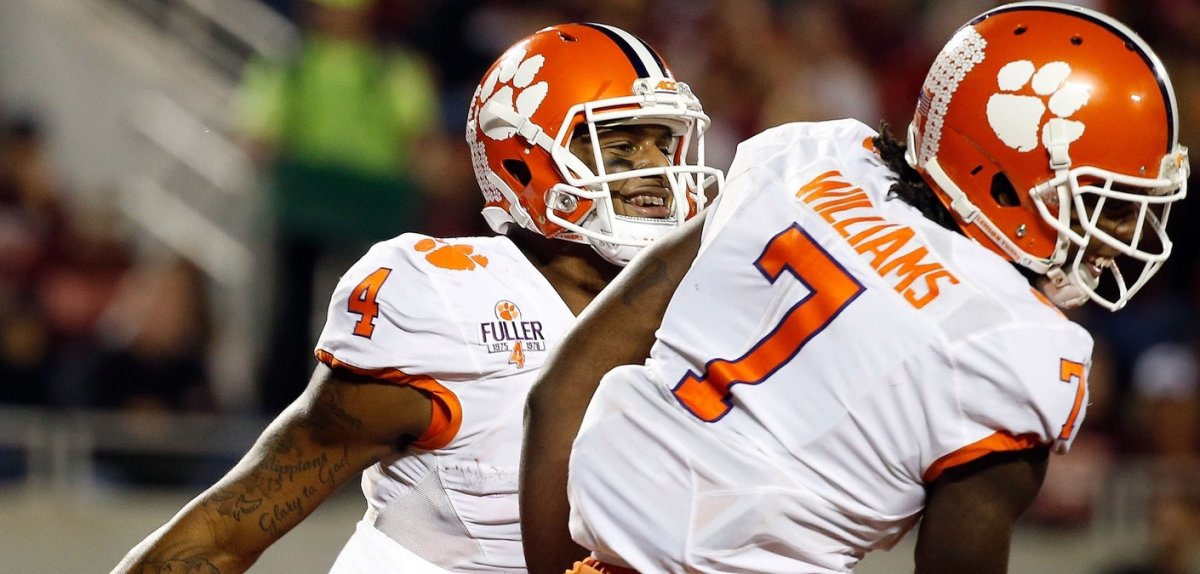 On the other side of the ball, Brent Venables' defense is bookended by a ferocious defensive line. Carlos Watkins and Christian Wilkins are a pair of All-Americans responsible for 22.5 tackles for loss and 12 sacks. Venables is known for his multiple defensive looks, which makes it extremely difficult to prepare for how the Tigers attack the line of scrimmage. He received the 2016 Broyles Award winner as the nation's top assistant coach for constantly giving opposing offenses a different alignment, blitz or coverage. It led to his unit picking off 18 passes this season and finishing third in the nation in sacks (46) and tackles for loss (112).
"They like to switch it up. I feel like it's one of the type of teams or kind of mindsets that they don't really want to you catch a beat on what they're trying to do," Barrett said. "Their game plans kind of switch each and every game depending on whatever offense they're going against."
Ben Boulware is the ringleader at linebacker, a senior that leads the team with 105 tackles. Safety Jadar Johnson has five interceptions this season and corner Cordrea Tankersley owns three, the best players in a secondary that allows just 188.2 yards per game through the air.
Top to bottom, Clemson's talent on both sides of the ball rivals Ohio State's, a rarity for the Buckeyes. Such is life in the College Football Playoff, however, reserved for the nation's best coaches and players. Swinney is still searching for his first national title as a head coach, yearning for that final straw in his cap after losing to his alma mater last season.
This year, Ohio State stands in his way in order to have another shot at the top.
"We're a program that's very proud of what we've been able to do and the consistency, especially the last six-plus years. But we want to get to the top of the mountain," Swinney said. "Nobody gives you that. You've got to go and earn it and you've got to beat the best, and they certainly represent that."
Buckeye Breakdown
Questions about Ohio State's passing game stood in the forefront for the entirety of the 2016 season. The lack of a true deep threat or explosive playmaker on the outside other than H-back Curtis Samuel caused angst from fans, in addition to the team's inability to protect Barrett consistently. The quarterback missed throws but still performed well enough to win receive Big Ten Quarterback of the Year honors and share the Silver Football with Penn State's Saquon Barkley.
"I came to Ohio State to play in games like this."– J.T. Barrett
And still, the inquiries continued in Phoenix. Barrett countered with he and his team's plan to clean up the issues during bowl practice.
"Just being true to who we are, getting as far as like our offensive game plan, things like that, seeing throughout the season what we have done well and what we need to improve on, those different things," he said. "And the things we needed to improve on we addressed those things and try to get better at those. And then, too, the things that we're good at, just try to make sure we enhance them and get better at those things."
The Buckeyes are set to play their second game at University of Phoenix Stadium in a calendar year after defeating Notre Dame on New Year's Day. This game, obviously, carries a little more weight. Urban Meyer has preached the need for balance on his offense ever since learning of the matchup with Clemson.
"We have to be balanced," Meyer said. "We won't win this game if we aren't balanced."
Unlike the last time Meyer led the Buckeyes to Arizona, his team is budding with young stars instead of household names like Ezekiel Elliott, Darron Lee and Joey Bosa. Those three (and many others from the 2015 squad) are now in the NFL. What is left are new faces like Jerome Baker, Malik Hooker and Mike Weber meshed with old heads Pat Elflein, Raekwon McMillan and Barrett.
Just like last year entering the Fiesta Bowl, the Buckeyes sit at 11-1 and are among the best equipped teams in the nation. The difference in the two squads is the one with all those draft picks didn't get a shot at playing for a national championship. This one does.
"You're playing in the College Football Playoff, playing for a national championship," Weber said. "How can you not be focused?"
"I came to Ohio State to play in games like this," Barrett added. "We're at our best when we're nine units strong and if we do that, we'll have our best chance to win that game."
Barrett missed his team's first trip to the College Football Playoff two years ago with a broken ankle. Now he is the team's leader and figurehead, embodying the "9 Strong" philosophy the program broadcasted on a countdown to the Fiesta Bowl every day at practice, on social media and everything in between.
The number for days left before the game is nearly at zero.
"Something is attainable, it's right around the corner for us," guard Billy Price said.
No team is perfect, each with different obstacles it must overcome. Meyer knew that when he entered the season, yet claimed it felt a little bit like the 2014 team that ran through Alabama and Oregon to win the first-ever College Football Playoff.
He has held the same attitude as the season wore on and while all the problems that plagued his group aren't necessarily gone, the fact the head coach made a return trip to the desert with such a youthful group speaks volumes. There is one final hurdle for another shot at the zenith of the sport in the way in the form of a ridiculously talented Clemson squad.
"This is when Coach Meyer is at his best, I think," Pat Elflein said.
"He really keeps you focused on one thing at a time and doesn't put too much pressure on you for the game," Sam Hubbard said. "So I think we do a good job with our bowl prep."
Bowl prep is over. The game plan is in place. If Ohio State is indeed a year ahead will be determined soon.
"This is it, now," Meyer said. "It's Phase 3. It's time to go."
How It Plays Out

Ohio State rode the legs of Ezekiel Elliott and J.T. Barrett to the winner's circle the last time it played in the Fiesta Bowl. The two combined for five rushing touchdowns to beat Notre Dame. If the Buckeyes want to stay with Clemson and Deshaun Watson, finding the right balance between the running and passing game is essential.
Clemson's defensive line is bound to get some pressure on Barrett but he must get the ball out of his hands quickly. Ohio State believes it has a more confident Isaiah Prince in the fold at right tackle and worked more than enough on its passing attack during bowl prep to move the ball through the air.
It hasn't been there consistently this season, though, so the onus will likely fall on Mike Weber, Curtis Samuel and Barrett. Samuel, the electrifying talent and only player in the country with more than 700 yards rushing and 700 yards receiving, is at his best in space. How well Ed Warinner, Tim Beck and Urban Meyer can do that will play largely into if the Buckeyes can move the ball and score points.
Deshaun Watson will be ready, as will his favorite targets Mike Williams and Jordan Leggett. They will test a brilliant Ohio State secondary, which says is up to and welcomes the challenge. If the Buckeyes can protect Barrett and avoid allowing backbreaking plays like the last time these two teams met in the 2014 Orange Bowl, then the outcome is essentially a toss up. If not, then it is a different story.
Ohio State is a three-point favorite. Dabo Swinney has his program back again with a shot at the title. Urban Meyer has been here many times before. Whoever presses the right buttons at the right times will lead his team to the national title game.
"Program-wise, they're right there at the top. And then their coaching staff is tremendous," Swinney said. "I know several of those guys and got a lot of respect for Coach Meyer. He rarely ever loses."
Swinney doesn't either, especially since the last time the two men met. Clemson has nine losses since the Orange Bowl three seasons ago. Ohio State has five losses in Meyer's entire tenure. Both teams have firepower. Both are full of NFL talent.
If Clemson protects the ball the Tigers will be tough to beat. If Ohio State can run the ball with ferocity, it is hard to see a scenario the Buckeyes lose. Turnovers are bound to play a part, as they do in any game against good teams.
Saturday is just that.
"This is what it's all about," Meyer said. "Two great teams and great coaches we have a lot of respect for. Should be a fun matchup."
---
ELEVEN WARRIORS STAFF PREDICTION: Ohio State 31, Clemson 29