SCOTTSDALE, Ariz. — Urban Meyer, the Ohio State football boss with three national championship rings in his trophy case and nearly flawless 49-4 record in Columbus, took his turn behind a microphone at the table draped in black cloth Wednesday morning in the JW Marriott Camelback Resort.
Clad in his standard white long sleeved Ohio State shirt, Meyer spoke of the perseverance his team showed the last two seasons – one of which ended with a Big Ten, Sugar Bowl and finally national title.
"On behalf of a team I'm very proud of, a team, a group of seniors that have won 49 games in the last four years," Meyer started, "We're honored to be here to represent the Big Ten Conference and The Ohio State University in a great bowl game."
The 2015 season began with outlandish expectations, among them a belief the Buckeyes would wax any opposition put in front of them on their way to a second consecutive College Football Playoff National Championship. It ends with the team having a shot to secure its 12th victory in 13 tries, the lone blemish coming at the hands of Michigan State on Senior Day in late November.

NOTRE DAME FIGHTING IRISH
10-2
ROSTER / SCHEDULE
---
1:00 PM – FRIDAY, JAN. 1
UNIVERSITY OF PHOENIX STADIUM
GLENDALE, ARIZONA
---
ESPN
WATCHESPN
"I think 12-1 would be disappointing, but not a disappointment," Meyer said. "It'd be a good season."
Make no mistake — Meyer wants to win the New Year's Day bout against No. 8 Notre Dame in the Fiesta Bowl terribly. It represents a final chance for Ohio State to show it actually belongs among the nation's elite in 2015, despite the slip up against the Spartans that prevented it from playing for a Big Ten title.
And, it happens to come against a program Meyer once coached at and grew up idolizing.
"Of course I do appreciate the moment," Meyer said. "These are two schools that when I was (young), were it."
NOTRE DAME BREAKDOWN
The Fighting Irish enter Friday's matchup with a pair of losses by a combined four points, to top-ranked Clemson and Rose Bowl-bound Stanford. Like Ohio State, Notre Dame could be playing for the national championship had a few plays gone in their favor.
"Arguably, there are a number of teams that could say they are a play or two away," head coach Brian Kelly said. "We think our football team is as good as any team in the country, but we understand that you've got to win it on the field."
2015 Statistical Comparison
 
OFFENSE
35.0
29th
POINTS FOR
34.8
31st
241.9
12th
RUSHING OFFENSE
214.8
25th
187.0
104th
PASSING OFFENSE
256.7
37th
428.9
41st
TOTAL OFFENSE
471.5
25th
.390
73rd
3rd DOWNS
.429
37th
.800
89th
RED ZONE
.800
89th
DEFENSE
14.0
2nd
POINTS ALLOWED
22.4
34th
127.3
22nd
RUSH DEFENSE
166.5
65th
176.2
12th
PASS DEFENSE
195.9
28th
101.9
6th
PASS EFFICIENCY DEFENSE
124.1
61st
303.5
10th
TOTAL DEFENSE
362.4
38th
.347
32nd
3rd DOWNS
.329
18th
.786
32nd
RED ZONE
.765
22nd
SPECIAL TEAMS
12.3
25th
PUNT RETURN
8.0
68th
23.0
32nd
KICKOFF RETURN
23.2
30th
40.2
15th
NET PUNTING
38.8
35th
MISCELLANEOUS
+ 0.2
52nd
TURNOVER MARGIN
- 0.4
97th
6.0
59th
PENALTIES
5.3
32nd
11
EDGE
8
That aside, Kelly's had to shuffle his lineup on more than one occasion this season with injuries to key offensive starters quarterback Malik Zaire and running back C.J. Prosise. He expects the latter to contribute against Ohio State, but since the former went down, Toledo native DeShone Kizer blossomed into a more than worthy replacement.
Kizer threw for 19 touchdowns against nine interceptions in the regular season, tallying nearly 2,600 yards in the process.
"He's a big dude, that runs very well for them also," Meyer said. "He's done a very nice job for them."
Kizer picked up the slack when Prosise went down on the ground, and also has nine rushing touchdowns in 2015 – second on the team.
Freshman Josh Adams stepped in nicely in place of Prosise, a speedster who averages more than seven yards a tote. Despite the injuries to key guys on his offense, Kelly's team rode on and experienced success.
Kizer's favorite target is Will Fuller, another blazer who is among the top-15 in the country in yards per reception. He has a penchant for making big plays, and is arguably the best receiver Ohio State will face in 2015.
"They're going to take shots deep in empty. With all the film we watched, that's their guy," safety Vonn Bell said of Fuller. "We know wherever he's at, the ball is coming. We just have to be locked up and alert."
On the other side of the ball, Notre Dame is led by Butkus Award winner and stud linebacker Jaylon Smith, the brother of former Buckeye running back Rod Smith. He and the rest of the Irish defense—which is down a pair of starters in its defensive backfield—are tasked with stopping an Ohio State offense that appeared to get rolling in a dominant 42-13 victory at Michigan Nov. 28.
"Just recognizing their strengths, having a great run game. I think that sticks out the most," Smith said. "It's really just about playing great team defense."
Smith is sure to be counted on more than ever with the depletion behind him in the secondary, but whether or not the Buckeyes choose to challenge Notre Dame down the field in the passing game could go a long way to determining the outcome.
It is, however, unlikely.
"Really doesn't have an effect on us offensively," Ohio State starting quarterback J.T. Barrett said. "I think it's a little late coming close to the game as far as changing something up ... I don't think it's really going to change anything."
Kelly is as good an offensive mind as there in football, so it can be expected that he'll do his best to light up the scoreboard by using Kizer's arm and legs to try and keep pace with Ohio State. The Buckeyes are down two key defensive linemen in Adolphus Washington (suspension) and Tommy Schutt (injury), so a rushing attack that ranks 25th in the nation could see more chances than normal.
For Kizer, the matchup is personal. Meyer recruited him briefly, but he ended up at nearby Notre Dame despite growing up in Ohio.
"Obviously it's a game in which you want to win every big game that you have an opportunity to play in," he said. "But Ohio State is a team that I said if I had the opportunity to play, it would be one of the biggest games I would ever have the opportunity to be a part of."
BUCKEYE BREAKDOWN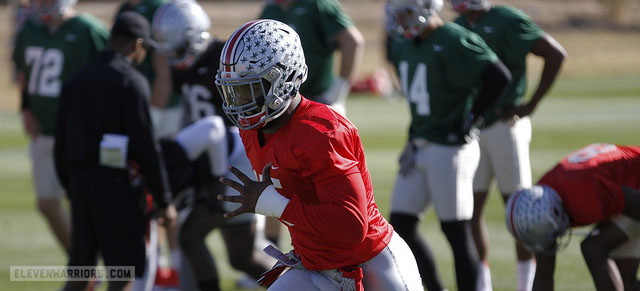 Meyer, equipped with a talented roster but a shift in coaching personnel, had to wade the waters of inconsistencies on offense early in the 2015 season. It still nearly resulted in an undefeated regular season, but the miss against Michigan State wasn't an endgame.
The resounding defeat of rival Michigan showed Ohio State at its best so far this season, and Meyer is confident his team knows what is at stake — one of the best four-year stretches the sport has ever seen.
"I think you know how the season went, we got hit with a bat in the second to last game against a very good team and lost," Meyer said. "But you saw the way we responded."
Meyer spoke of a moment when stud left tackle Taylor Decker talked to the team about a team's education coming from the coaches, but in reality the "real invested players are the teachers." Decker talked about wanting to make his dad proud, thanked Meyer and his teammates for what Ohio State's meant to him during his four years in Columbus.
His head coach won't soon forget that.
"That's when I felt a shot of energy go through me, our team, then obviously the way they performed on the road against a very good rival team shows you," Meyer said. "I anticipate this team, because of those players, to play very well and play very hard."
That might certainly be the case, but this week hasn't been without consternation off the field for the Buckeyes. Star tailback Ezekiel Elliott was in a car accident the day the team departed for Arizona, dealt three citations on the heels of driving with a suspended license.
His status remains unchanged for the Fiesta Bowl, but the incident adds to the list of Ohio State off-field issues in 2015. Adolphus Washington's college career is over because of a solicitation citation. Barrett missed the Minnesota game after driving impaired. The list goes on.
"Every team has distractions. We had distractions last year," Meyer said. "I think we've overcome our distractions very well."
The Buckeyes sit at 11-1 and a chance to finish the season in the top-5. The Fiesta Bowl is bound to be the final go-round for a huge piece of the roster, with such a decorated senior class set to move on and younger players like Bell, Elliott and Joey Bosa bound for the next level.
Before their exit, however, one final task remains, which Meyer said he stressed to his team.
"We had one goal in mind, and we didn't reach that goal," Bosa said. "But we have a great opportunity ahead of us. We can't let it slip away. I think that's what he was preaching."
Elliott figures to be a big piece in the offensive game plan Friday, with Ed Warinner set to coach his second game in as many outings from the press box to call plays instead of quarterbacks coach Tim Beck. That happened in Ann Arbor, and the Buckeyes roasted Jim Harbaugh's Wolverines for 369 rushing yards and five rushing scores.
"We definitely have momentum," Elliott said. "After Michigan, we need to surpass that effort that we put up after Thanksgiving."
How Ohio State comes out initially will determine if that is in the cards.
HOW IT PLAYS OUT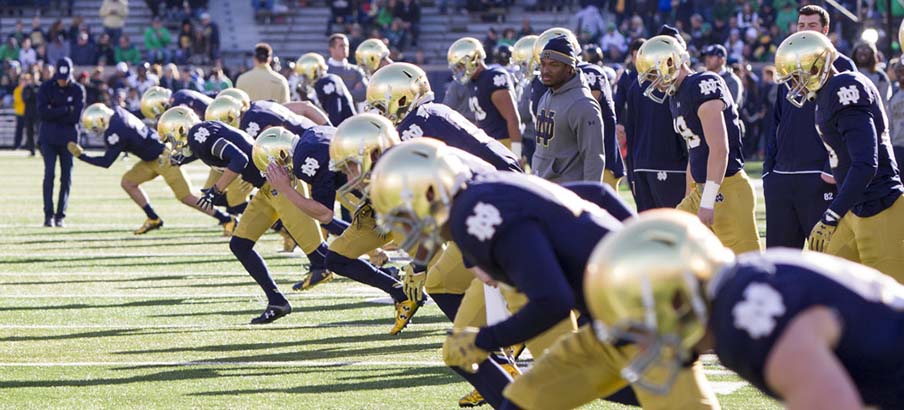 Ohio State's 2015 campaign centered on a battle against complacency, a middling offense (especially throwing the ball) and a championship defense. With many players having one foot out the door and headed to the NFL, Friday may come down to whether or not the Buckeyes will be motivated against a talented Irish team.
The Buckeyes say they are, and they better be with the amount of NFL talent on the other side of the ball. Smith, Fuller and offensive linemen Ronnie Stanley are just three of many Irish players who could play on Sundays.
Still, if Ohio State's offensive line plays like it did against Michigan and Barrett makes the correct reads at the line of scrimmage to put Elliott in position to rack up yards and move the chains, the Irish could be left grasping at a chance to beat a truly good team — like they did twice before this season.
Elliott wants to prove he's the best back in the country, and Meyer wants to prove his team is at or atop the same tier. It'll go a long way to get 2016 kicked off on the right foot and having the head coach pleased with how his team finished the season.
"We all know, just win the damn game," Meyer said. "You want a real smile? Win the damn game."
---
ELEVEN WARRIORS STAFF PREDICTION: Ohio State 38, Notre Dame 24