There will be no shortage of 2016 NFL Draft prospects playing in the Fiesta Bowl on Jan. 1. The matchup between Ohio State and Notre Dame will feature plenty of players who will be on the field on Sundays for years to come.
For example, in the latest mock draft by CBS Sports analyst Dane Brugler, there are a total of five players in the New Year's Day bowl game going in the first round — three for the Buckeyes and two from the Fighting Irish. Brugler has four of those five being selected in the top 10.
By comparison, ESPN's Todd McShay has seven players from either the Buckeyes or Irish going in the first round: four from Ohio State, three from Notre Dame.
That's just the first-round projections, of course, and there will still be many selected in the rounds following. A large part of how many, though, hinges on how many underclassmen — from each school — opt to declare for the NFL Draft. If as many decide to go pro as are expected, there will could be an absurd number of pro players on the field.
"You look at the College Football Playoffs, the two games, those two games are going to be great for NFL prospects, but the Fiesta Bowl, you could make an argument has more future pros on the field on both sides of the ball," Brugler told Eleven Warriors on Wednesday. "Obviously, Ohio State with what they're about to put into the NFL, but Notre Dame, too. There's going to be as many as seven, eight first-round picks on the field — and first-round picks this year, not just in the future. Definitely a must-see matchup for scouts."
Ohio State head coach Urban Meyer said recently on the Fiesta Bowl's teleconference he was unsure which of his players filed the paperwork necessary for an underclassman — the first step in a potential declaration for the NFL Draft.
"Our strength coach [Mickey Marotti] handles all that," Meyer said. "I can't tell you exactly who has done it so far."
Notre Dame head coach Brian Kelly said five of his players submitted their paperwork.
"Will [Fuller], C.J. Prosise, Jaylon [Smith]," Kelly said. "We had to put in Ronnie [Stanley] because he has another year left, and one other, KeiVarae Russell. Those are the five."
We've covered the Buckeyes' potential NFL Draft picks at length, but the following is a brief summary of who could be leaving: Junior running back Ezekiel Elliott already said he plans to turn pro come season's end; defensive end Joey Bosa strongly hinted at it, as well. Quarterback Cardale Jones announced on Twitter following the Michigan State game he had played his last game in Ohio Stadium — it's likely he goes pro rather than transfers.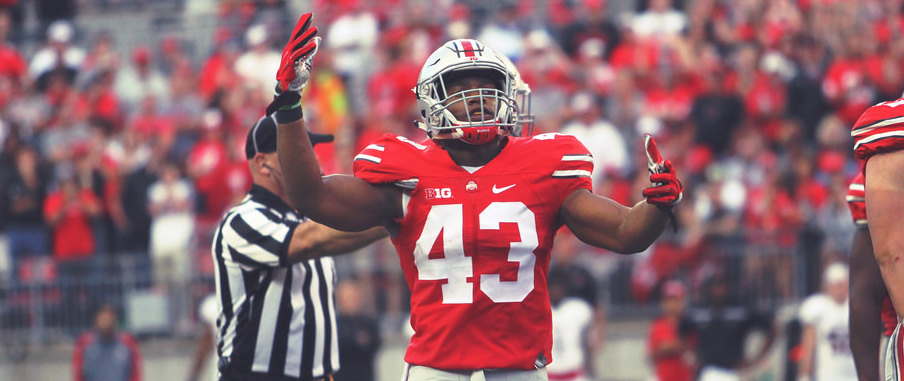 Linebacker Darron Lee, safeties Vonn Bell and Tyvis Powell, wide receivers Michael Thomas and Jalin Marshall, cornerback Eli Apple and offensive lineman Pat Elflein are all also early-entry options for the Buckeyes.
Elflein recently said he was planning on returning to Ohio State for his senior season, but he did not completely rule out jumping early. Ohio State is holding its on-campus media day Thursday for the Fiesta Bowl, where others are surely to be asked about their future plans.
"I'm planning on coming back," Elflein said, "but I'm still considering my options."
Senior offensive tackle Taylor Decker and linebacker Joshua Perry, are also sure-fire NFL Draft picks; tight end Nick Vannett and wide receiver Braxton Miller will be taken as well. Senior defensive tackle Adolphus Washington will also be selected, but will not play in the Fiesta Bowl due to a suspension stemming from a solicitation citation.
"You go position by position and you see traits that are not only successful at the college level, but that project well to the NFL," Brugler said of the Buckeyes. "You start with Zeke Elliott at running back and everything he does fits what NFL teams want to do at the NFL level. At wide receiver, at tight end, at offensive and on defense, some of these guys are talented college players, but you can see the traits, you see the coaching and it's more than just ability, more than just five-star athletes out there. ... This Ohio State team is just loaded from top to bottom."
"You go position by position and you see traits that are not only successful at the college level, but that project well to the NFL. This Ohio State team is just loaded from top to bottom."– Dane Brugler, CBS Sports NFL Draft Analyst
The Irish don't have as many players that will get drafted as Ohio State, but certainly they have a handful of guys who will hear their names called at some point over the weekend of the Draft.
It starts with Stanley and Smith, two elite prospects and two underclassmen who are both likely to leave early.
Smith, the 6-foot-3, 240-pound outside linebacker, is widely projected as a top-10 selection. Brugler has him going No. 9 overall to the Chicago Bears in his latest mock draft. Smith was on countless All-American lists this fall after leading Notre Dame with 113 tackles.
Stanley is also projected to be a top-10 selection; Brugler has him going fourth overall to the Baltimore Ravens. The towering 6-foot-6, 315-pound tackle, like Smith, was named to a number of All-American teams this season as the anchor of the Irish offensive line.
Fuller, a 6-foot, 184-pound wide receiver who is projected as an early-round pick, said recently he was unsure of whether or not he'd turn pro, according to CSN Chicago. Prosise, a redshirt junior running back, said the same.
"Ronnie Stanley, the left tackle, technically he's a redshirt junior and he almost came out last year as a redshirt sophomore. He's a dancing bear at that size and with that athleticism, the way he can move," Brugler said. "Jaylon Smith, the linebacker, he's a freak athlete. As good as he is as an athlete, he's almost as fast with his eyes and the way he can see things develop. He has the instincts that you want. He can anchor, he can play low, stays balanced, high competitive spirit, eyes always glued on the ball and he's always working to get free."
University of Phoenix Stadium will be flooded with NFL talent on New Year's Day when the Buckeyes and Irish meet. But if you're looking for any more NFL decisions to be made, publicly, before that day, it's unlikely you'll get one.
That doesn't really matter, though. The point is there will be NFL-caliber players all over the field Jan. 1, no matter when they decide to make that jump.