Ohio State's 2015 senior class has a chance to win its 50th game over a four-year period New Year's Day in the Fiesta Bowl against Notre Dame. Before kickoff in their final collegiate game, Eleven Warriors will take a brief look back at each player's time in Columbus.

Where he's From
Jacoby Boren was always a Buckeye. His last name is seared into the hallowed walls of the Woody Hayes Athletic Center, the third of three Boren brothers to earn multiple varsity letters at Ohio State.
Jacoby's father, Mike, played linebacker at Michigan, and wasn't the only Boren to don the maize and blue. The eldest of the three boys, Justin, played both center and guard for the Wolverines in 2006-07, but transferred back home and joined the Buckeyes upon Lloyd Carr's retirement. Zach played both fullback and linebacker for Jim Tressel and later Urban Meyer before Jacoby ended up at Ohio State.
"There's a standing commitment here ... if there's another Boren walking around on the streets we'll find a way to get him in here," Meyer said on his radio show last month.
From nearby Pickerington, Ohio, Boren led Pickerington Central to its first-ever state championship game appearance in 2011. He and his brothers have left quite a legacy at Ohio State, both in the rivalry with Michigan and just in overall victories.
"Hopefully I am not the last, hopefully we will have the next generation coming through," Boren said.
Top Moments
Just like any offensive lineman, Boren hardly hears his name on the field called unless he gets caught something wrong in the form of a penalty or missed assignment. He has, however, been the catalyst for Ohio State's offense the past two seasons, in that each play starts with his snap of the football.
Along with his teammates up front — the Slobs, as we know them — Boren manhandled Alabama's beastly defensive line in the Sugar Bowl last season to pave the way for an unheard of 281 rushing yards. The most rushing yards the Crimson Tide had allowed last season prior to that game was 183 to LSU, which came on a staggering 56 attempts (3.3 yards per carry). The Buckeyes needed 42 carries to reach their total (6.7 yards per carry). The contest was also the first time all season Alabama allowed more than one rushing touchdown in a game.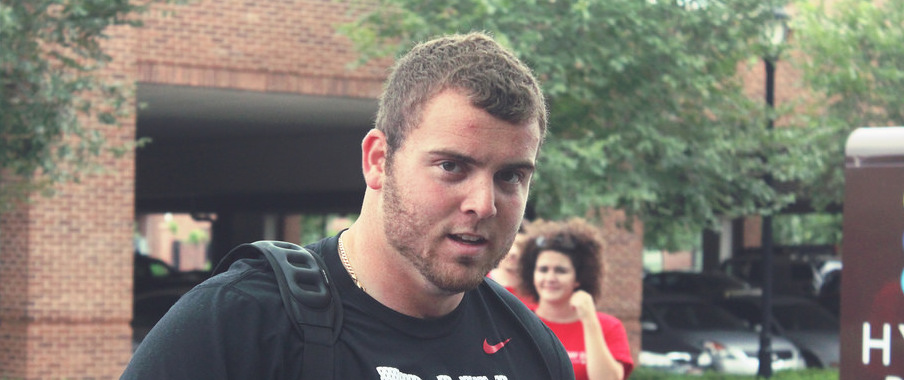 Boren and the rest of the line's ground assault continued in the national title game against Oregon, when Ezekiel Elliott ran for 246 yards and four touchdowns. That production spilled over into this season, as Elliott finished with more than 100 yards in 11 of 12 games and eclipsed the 200-yard mark twice on his way to Big Ten Offensive Player and Running Back of the Year honors. He also won the Silver Football.
That success starts with the offensive line and Boren, whose refusal to stay out of games with minor injuries defined his toughness.
"Every Boren I've ever met is like that. It's the way they were raised, Meyer said last year. "They're tough. They fight."
Overarching Contribution to Program
Boren is listed at 6-foot-2 and 285 pounds on Ohio State's official roster, but standing next to him makes it obvious see he isn't that tall. What he makes up for with his lack of size is a work ethic and a cerebral approach to the game.
"It was frustrating having things like that held against you," Boren said last year. "But I just went out and tried to prove myself, that I was good enough to be the center at Ohio State. That's my mindset every day."
Meyer mentioned the first time he met Boren he thought he might have been a blocking fullback, but he has instead turned into the latest chapter in a long line of family history of victories at Ohio State.
Boren is a two-time Big Ten Conference Distinguished Scholar, a two-time Academic All-Big Ten honoree, four-time OSU Scholar-Athlete and two-time Academic All-American. His 3.83 grade point average assisted in making him a finalist for the Walter V. Campbell Trophy, which recognizes the best football scholar-athlete in the nation. He majors in sustainable plant systems and is on pace to graduate this year.
Where he's headed
Boren is sure to try and make it in the NFL like his brothers before him, but his lack of size could make it tough moving forward for his football career.
The offensive line at times didn't play as well as it did last season, but put on a firm display of run blocking against Michigan Nov. 28. The Buckeyes racked up 369 rushing yards against the Wolverines' No. 2 ranked defense.
Who knows if Boren will get to continue playing at the next level? Regardless, he is set to hold a degree from Ohio State upon the conclusion of his Buckeye playing career which includes (right now) 49 wins, a Big Ten Championship, National Championship and 4-0 mark against Michigan.
"There are not many people that can say they have done that," Boren said.
More Jacoby Boren