After a two game roller coaster that saw Ohio State offense fail to show up against Michigan State only to come back and knock out the Wolverines in Ann Arbor, the Buckeyes, like the rest of us, must now sit back and root for chaos. 
Though the players will be taking some time off ahead of learning their postseason fate our crack staff at 11W never sleeps. 
As such, we welcome Johnny, Tim and Kevin to this week's roundtable to recap the regular season and talk about what lies ahead. 
---
I don't think too many of us saw the Buckeyes rolling Michigan after the offensive showing the previous week versus Michigan State. What did you take away as the biggest surprise from Ohio State's 42-13 spanking of the Wolverines?
Tim: I think it was just that, that the game was a rout. The way in which Ohio State won was unlike any Ohio State win this season, for the most part. The Buckeyes' offense looked as efficient as it had all season and, for the first time, looked like it was unstoppable. And it was against a good defense, too, which made it all the more impressive.
Johnny: The biggest surprise to me as far as Ohio State goes was the offense actually working and positive changes being made to give Zeke the ball on a regular basis. His first three carries went for three, three, and zero yards, which was followed up by a little flare type pass that went nowhere, so internally I was screaming at the coaches to not freak out about that and continue feeding him the ball. My psychic good vibes must of worked, because on the next play Elliott busted out a 66 yard run that turned the game on its head.
With that said, I'm pretty shocked at how poorly Michigan played, especially on defense. I mean, it was hilarious and I thoroughly enjoyed it, but I had to believe that a Jim Harbaugh coached team would've put up something resembling a fight on the last game of the season, at home, against a hated rival. Instead his big premiere in The Game ended up being a wet fart on a cold November day.
Kevin: I think the most surprising thing for me is they won by 29 without establishing a consistent passing game.
The stat-line from Saturday looks almost identical to that of the Penn State game.
Against PSU: 315 rushing yards, 114 passing. Won by 28.
Against Michigan: 369 rushing yards, 113 passing. Won by 29.
Many saw the victory over the Nittany Lions as the offense finally "clicking," but I left that game very concerned. Once J.T. Barrett came into the game, the offense basically turned into a read option team getting yards exclusively on runs from Barrett and Elliott. To me, it seemed like a quick fix that masked the problem instead of actually solving it. I thought a good defense and scheme would shut that offense down with very little issue.
The Michigan State game seemed to only confirm my suspicions. Ohio State couldn't move the ball through the air, ran the quarterback a lot and was dominated. I thought Michigan would do the same thing if the Buckeyes didn't develop a passing attack in a week.
I was wrong. The Wolverines looked like they'd never seen a veer-option before and were gutted over and over by Elliott and Barrett.
Sometimes, I'm happy to be wrong.
The pregame buzz centered on Urban's decision to move Ed Warinner upstairs as the primary play caller and it's hard to argue with the results. With such a green offensive line expected to lineup for OSU next year, can Meyer afford to employ the same strategy next year? Will Warinner even be here or might he bolt for Toledo or another head coaching gig? What does your crystal ball tell you about whether or not Tim Beck is coaching in Columbus next fall?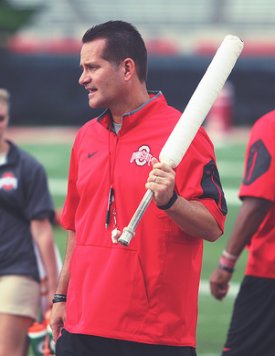 Johnny: Next year is a whole different ballgame. Once Meyer and company do a bit of a self-audit, hopefully they'll pitch whatever approach that they took towards running the offense right into the trash. This becomes even more interesting if Warinner does end up leaving; he's not just an incredible offensive line coach, he's also probably the last offensive mind on the staff who truly appreciates and can run an Urban Meyer offense. Tim Beck will probably stay on in some capacity if Warinner leaves, but certainly not as offensive coordinator (which brings up the question of what Beck even adds to this staff, period).
The truth about the offense is that Tom Herman afforded Urban Meyer with the luxury of not having to micromanage that side of the ball. He attempted to maintain the dynamic that Herman and Warinner had by bringing in Beck, but Beck isn't Herman, and after a season of trying to prove otherwise Meyer said screw it and let Warinner take over. It's not like Beck and Warinner can just switch roles, so if I'm Meyer I keep Beck at QBs (and on the field), give Warinner a big fat raise as de-facto offensive coordinator, and see if Jim Cordle and Tim Hinton can hack it on the field with the o-line.
If Warinner leaves... pray? Maybe? Just don't promote Beck.
Kevin: One game is a rather small sample-size, so I'm not going to pretend like I can answer all of these questions. I'm not sure what's going to happen. Every day it looks a little more like Warinner is going to remain at Ohio State, but it's tough to determine the fate of Beck. I don't think he'll be canned, but his role may be changed.
I also wonder about the effect of Warinner's move to the booth on the offensive line, but I can't really answer that either since I don't exactly know how much he coaches the offensive line from the sideline to begin with.
Since I've basically dodged every question here, I'll give you something: I think next season's offensive line will be better than this season's. I'm very excited about the futures of the young slobs, Isaiah Prince, Jamarco Jones and Matthew Burrell in particular.
Tim: I don't think Warinner or Chris Ash will be in Columbus next season. Both want to be head coaches and, frankly, deserve a shot to be one. I was actually surprised Warinner wasn't given an opportunity at the end of last season.
Beck, on the other hand, is a tricky one as it just seemed like something was a bit off all season with the offensive staff. No one truly knows what the root of those problems was, but I wouldn't be surprised to see Beck somewhere else next season.
A host of seniors finished their careers 4-0 against the Wolverines with varying degrees of impact on the field. Give me one offensive and one defensive senior player that Ohio State will most the most next year? Why these two?
Kevin: On defense, they'll miss Adolphus Washington. I think he's flown a little under the radar his entire career at Ohio State since the defensive line has featured guys like Joey Bosa, Noah Spence and Michael Bennett, but he's really been a bright spot on this Buckeye defense ever since he moved inside. With a lack of depth and promising youth on the interior defensive line, I think his departure will be felt a lot more than people realize now. I think finding his replacement will prove much more difficult than even replacing Bosa.
On offense, it's Taylor Decker. Not only was he named the league's best offensive lineman, but he's a captain and a leader off the field. On top of that, game experience matters more on the offensive line than perhaps any other unit in football. Jamarco Jones and/or Isaiah Prince are physically everything Decker is (and possibly more), but replacing a three-year starter won't be easy.
Tim: I think the offensive player here is easy and that's Taylor Decker. A three-year starter and leader of both the offensive line and the team as a whole, Ohio State has a big hole to fill next season at left tackle. On defense, it's between Joshua Perry and Adolphus Washington. Perry's leadership is invaluable, but he has a more talented group behind him so I'll say Washington, who had the best season of his career this year and is still somehow under appreciated for all that he does for the Buckeyes' defense.
Johnny: If Ohio State wins even four games without the calming, sustained excellence of future first round draftee longsnapper Bryce Haynes, I will be shocked. But aside from that football titan, on offense the loss of Taylor Decker will be hard to absorb. Maybe I just have a hard time buying into the idea that Ohio State will have a consistently excellent offensive line despite major attrition, but losing a talent like his worries me for 2016.
On defense, the loss of Adolphus Washington is going to matter a lot more than people think. He's easily one of the most underrated players in the Big Ten this year, and a loss of a fireplug in the interior of the defensive line could cause a lot of problems on the rest of the defense in general (especially with the "potential" losses of Joey Bosa and Vonn Bell).
Juniors Ezekiel Elliott and Cardale Jones have already stated they intend to leave early for the NFL. It's also a lock Joey Bosa will do the same. Out of the remaining juniors including names like Darron Lee, Vonn Bell, Mike Thomas and Pat Elflein and others, who will stay and who will go pro? Should any of them stay that you expect to go pro?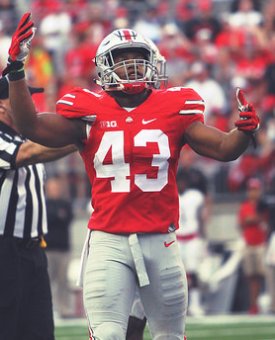 Johnny: Darron Lee and Fat Pat are probably staying put, as neither likely helped their draft stock with relatively subpar years. Vonn Bell is probably the only borderline player of the remaining players who might go pro, but Bosa, Zeke, and Thomas should absolutely be gone. Mike Thomas is one of the most NFL-ready wide receivers that Ohio State has seen in a long time. His numbers don't reflect it, but he is an absolute route running genius and has incredible body awareness. He's going to be a stealth star, and soon.
Tim: I'm not sure fans realize this yet, but there is a mass exodus coming from Ohio State after the season. I expect Lee, Bell and Thomas to all go. I think Elflein, even though he's an interior linemen and they usually don't leave early, will also leave (he's a fourth-year player, remember). Eli Apple and Jalin Marshall are also possibilities, as well. 
Kevin: All of them. All of them should go pro. As a junior in college myself, if I were in their position right now it wouldn't even require much deliberation. Risking injury, wasting a year of prime physical condition and putting your high draft stock at risk to play football for free is not up there on the list of great decisions. For most of these guys, returning to school is essentially gambling multi-millions of dollars. They should go to the NFL.
There are some, but not many reasons to return to school for a fourth year. Coming back to finish a degree isn't even a valid justification since the Big Ten Conference ensures student athletes can do that at any time after their pro career.
If you're looking for one guy that might stay, it's Pat Elflein. Offensive guard is not a terribly injury prone position, and it's not really a position that players leave early. 
On Monday night, Bosa earned B1G Defensive Lineman of the Year honors for the second straight season. Where does he rank in the pecking order of other great OSU defensive linemen? Give us your top two or three and why.
Tim: He's certainly up near the top; Bosa is one of the most dominant players I've seen in recent years. I'm relatively young, but I'd have a top three of Bosa, Mike Vrabel and Will Smith. Again, I'm not one for historical questions.
Kevin: This is not easy. Lineman are tough to compare across generations because stats are very misleading. For example, we've seen how many times Joey Bosa has been double and triple teamed this season, and how many times teams have intentionally schemed away from him. He doesn't always have glaring numbers, but that doesn't mean he isn't making an enormous impact.
On top of that, it's particularly difficult for me as I'm only 21 years old. I didn't see Mike Vrabel or Matt Finkes play, so I'm a little biased. Given that, my list would be (in no order), Joey Bosa, Mike Vrabel and Jim Stillwagon.
Johnny: This is a really interesting question, because people don't typically look at defensive line as a position of excellence for Ohio State historically. Maybe they should. Guys like Jim Stillwagon, Mike Vrabel, Dan Wilkinson, and even more recent players like Will Smith and Cam Heyward stack up pretty well against almost any college football program in the country.
I'm not sure that Bosa cracks my top three of Stillwagon, Vrabel, and Smith, but in terms of total ability and overall impact I think Joey should be in the top five of any fan. His hilarious interception near the end of the Michigan game is a perfect summation of his college football career; a terrifying, chaotic presence applying near constant pressure on the opposing quarterback that pays dividends at the perfect time.
On Tuesday the B1G announced its 2015 season offensive honors. Ezekiel Elliott won the league's Offensive Player of the Year award, Taylor Decker was tabbed the league's best lineman and Pat Elflein joined Zeke and Decker in scooping up first team honors. Meanwhile Mike Thomas, Jacoby Boren and Billy Price made the third team. Honorable mention went to Nick Vannett, Braxton Miller and Jalin Marshall. What are you thoughts in general? Anyone overrated or underrated by the coaches and media? Any huge surprises?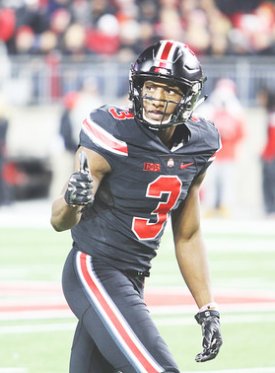 Kevin: Mike Thomas as a third-team selection is a joke. I can't even begin to wrap my head around that. There are five guys in the conference better than the one who's rated as the nation's top-rated receiver on most draft boards? And none of them were named Leonte Carroo? I have a tough time with that.
I get going by actual production instead of talent and NFL potential, but they didn't do that either. The coaches voted Jehu Chesson First Team All-Big Ten: a guy who isn't even the leading receiver on his team.
Aside from that blatantly obvious snub, it looked good to me. I didn't even have a problem with Carl Nassib getting the Defensive Player of the Year award over Joey Bosa. 
Johnny: How Mike Thomas isn't first team Big Ten makes no sense to me. Elflein is maybe a little overrated, as is Billy Price, but aside from Mike Thomas I'm not too upset. I do think that Braxton Miller not being at least second team shows a distinct failure on the part of the offensive coaching staff. Dude should've been able to make much more of an impact but was simply not given the opportunities to do so, and that's unfortunate for a guy who has played his guts out for the Buckeyes.
Tim: Think the big thing that jumped out to me was seeing Michael Thomas as a third-team wide receiver. If there were four receivers in the Big Ten better than Thomas this season, I didn't see them. His production wasn't astronomical because of Ohio State's offensive struggles, but to me, there's no question he's one of the top two wideouts in the league. So, that was probably the biggest surprise for me. Other than that, I think the list is probably fair.
Since everyone else with a pulse is talking about it, what kind of chance do you think the Buckeyes have of making the playoff? How many of the top teams will need to lose this weekend for Ohio State to even have a shot?
Johnny: Nah, we're out. It's technically possible, but I don't see Alabama, Clemson, Michigan State and probably Stanford losing to help Ohio State get into the playoff. It's not that the team has sustained a loss, it's that they sustained a loss at the worst possible time to a one of the worst possible opponents (as no one is going to want to put another potential OSU/MSU matchup on the table for the playoffs).
And that's okay! Look, not being in the playoff sucks, especially given the talent on the team, but they lost. At home. As heavy favorites. I'll take the Rose or Fiesta and be happy with it.
Tim: If you want a percentage I'll say it's a 10 percent chance. Alabama or Clemson have to lose and a Stanford loss might also be necessary. I don't see any way Florida upsets the Crimson Tide so it's going to come down to the Clemson-UNC game and even if the Tar Hells pull the upset, it's still not guaranteed Ohio State gets serious consideration. It will be in the conversation, though, at least and I guess that's all you can ask for on the selection day.
Kevin: A shockingly high chance, actually. I don't think North Carolina would get the nod over Ohio State, even with a win over No. 1 Clemson, and it's entirely possible either Clemson or Alabama lose this weekend (but only if Florida wins 2-0, because their offense ain't scoring against Bama).
The one wrinkle is, I believe Stanford will get in over Ohio State if it beats USC. They're only one spot below Ohio State currently and can drastically improve their resume this weekend by added a conference championship and a win against a top-25 team. The Buckeyes' resume is done. For the Buckeyes to get in, Stanford has to go down against USC, or two spots would have to open up in the top-4.
Personally, I'm rooting hard for the latter. Imagine the scene in Dixieland if the SEC were left out of the playoff entirely in favor of two Big Ten teams and a two-loss team from a conference that isn't God's Conference. "But PAWWWWWLLLLL!"
Who do you like to win the B1G championship game and why? How far will the winner go in the playoffs? Said differently, can Iowa or Michigan State realistically win it all?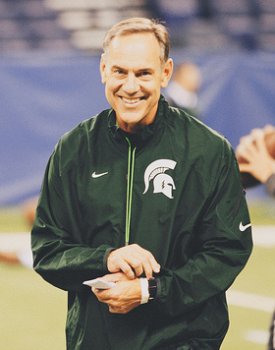 Tim: I think Michigan State wins the Big Ten title game, 34-24. I don't think the Spartans can win the national title, however. I think Clemson, Alabama and Oklahoma are all better so if those are the three other teams in the Playoff with Michigan State, I don't see a pair of victories there. MSU can win one game, but two seems like a stretch. 
Kevin: I think Michigan State will wax Iowa. I don't think it will be very close. They're better in just about every aspect of the game and Michigan State has been tested while Iowa has not. I just have a hard time seeing a scenario where Iowa puts up much of a fight. After that, I don't know. I don't like Sparty's chances against many of the other teams in the top-4, except maybe Alabama.
That being said, I would love nothing more than for Iowa to win the whole thing. It would be hilarious. I even said a few weeks ago that if Iowa rolled Ohio State in Indianapolis the way the Bucks rolled Wisconsin last year, I wouldn't be able to do anything but laugh. DJ agreed, and Jason threatened to fire us if it happened (shout-out to Sparty for the job security). Iowa winning the second College Football Playoff is what the world needs.
Johnny: I kind of want Iowa to win for the sheer hilarity of it. Think about it this way: a win for Iowa means that Kirk Ferentz, coach of the year in the Big Ten (meaning that he's won one before both Jim Tressel and Urban Meyer), a) gets another 20 year contract extension, b) will likely manage an inexplicable win against a marquee SEC opponent in the first round of the playoff before getting absolutely humiliated in the championship, and c) completely fail to follow up on that success the following season.
That's also the likely outcome if Michigan State wins, but I actually like and enjoy Mark Dantonio and would be forced to enjoy his success on a genuine level that would be satisfying but fleeting, whereas if noted swindler and general dingus Kirk Ferentz somehow ran the table on the Big Ten and made some playoff noise, the resulting baffling irony of it all would be something that I'd enjoy for a very, very, very long time.
And to answer your third question, no. Neither team is that great and have some pretty glaring holes that an Alabama or a Clemson would exploit easily.