Finally. 
After a 10 game slate in which Virginia Tech, Indiana and Minnesota served as the most formidable foes Ohio State's schedule officially turns legit as the Buckeyes get set to host Michigan State in prime time in the Shoe. 
On the big stage looking to keep their repeat national championship hopes alive, the Buckeye faithful will also salute a host of seniors putting on their last performance in Ohio Stadium including the one and only Braxton Miller. 
Might Miller be an x-factor in his Columbus swan song? How will Ohio State's offense fare in the face of Sparty's pass rush? What about the Buckeye pass defense's chances of slowing down Connor Cook?
For answers to those questions and more we welcome Ramzy, Kyle and Andrew to the 11W roundtable. Break bread, gentlemen. 
---
Sparty boasts the league's third-best passing attack (253.9 ypg) behind Connor Cook and a host of receiving threats while OSU' s pass defense is also ranked third in the conference. How confident are you Ohio State can win this matchup assuming Cook is healthy? Which Spartan receiver or potential matchup concerns you most and why?
Ramzy: Statistically Sparty is comparable to Western Michigan, Indiana and Illinois through the air this season. While my failing memory recalls Daniel Braverman having a field day it turns out his 123 receiving yards made up the majority of WMU's 169 total passing yards. Indiana, Minnesota and Illinois are the only three teams this year to throw for over 200 yards against the Buckeyes. 
I like Ohio State's chances with Apple on Aaron Burbridge. Their other primary receiving threats, R.J. Shelton and Macgarrett Kings Jr. get about as many opportunities combined as Burbridge does alone, but with Cook being as good as he is locking those guys up means he should still be able to find the underneath stuff. If the Buckeyes can keep them relatively quiet in the 1st half I like their chances to have them figured out for the final 30 minutes. Sparty has very much been a 1st half team this year.
Andrew: I think Ohio State can and will win this matchup primarily because the defensive line will be able to put pressure on Connor Cook. I do think he will accumulate some yardage (230 yards and a TD or two sounds about right), but I don't foresee him lighting up the Buckeyes' defense. 
As for the guy who concerns me the most, it has to be Aaron Burbridge. He's a veteran and he's one of the best in the conference. Again, I don't see him putting up huge numbers, but he's definitely the guy to watch.
Kyle: Cook will probably connect on some plays to Aaron Burbridge, who is leading the conference in receiving yards-per-game. But I'd be shocked if he's able to break any huge gains against Apple and Conley. With a beat up Spartan offensive line still trying to hit their stride, Joey Bosa and the OSU front should be able to get enough pressure to keep Cook from going off (healthy or not).
Conversely, Ohio State's aerial attack hasn't been all that impressive (10th in B1G) nor has Michigan State's pass defense (11th in B1G). That said, J.T. Barrett scorched Sparty with his arm last year to the tune of 300 yards and three touchdowns. How do you see this matchup playing out Saturday?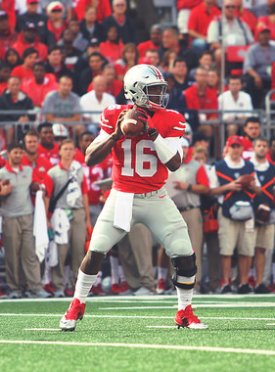 Andrew: Give me Barrett in this matchup. The Narduzzi-less secondary has looked completely lost for the majority of the season and I don't see those issues getting fixed anytime soon. I don't think J.T. will put up the yardage totals he did last year in East Lansing, but I think he will have an efficient outing with 250ish passing yards, 75 rushing yards, and a trio of scores. 
Kyle: Michael Thomas is primed for a big performance this week, following up on a 91-yard performance last year against MSU in which he turned a short catch into a long touchdown after breaking a tackle and out-running the competition. He was easily Barrett's top target last week against Illinois, and with a lot of solo coverage coming his way this week, I'd expect quite a few throws in his direction.
Ramzy: Barrett's two longest throws last year in East Lansing were the 3rd and 23 teardrop he put on Devin Smith's back shoulder and the TD bomb toward the end of the half. Dontre Wilson dropped a third long pass, but outside of those three balls - everything else was short and medium-range, with Michael Thomas making one man miss and taking a slant to the house. 
They kept the Spartans off balance all night by exploiting the whole field. I don't expect to see a much different offense than the one Barrett's been driving this season. If they go over the top even twice I'll be surprised.
In Monday's presser, Urban Meyer discussed his concerns with Ohio State's pass protection and in particular Chase Farris' struggles. What might the Buckeyes do differently, if anything, to slow down Shilique Calhoun and the rest of Sparty's pass rush?
Kyle: MSU will certainly look to get Calhoun in one-on-one matchups against Farris on that right side, but Barrett has shown an ability to throw on the run. We can expect OSU to move the pocket away from Calhoun on early downs, especially to the left behind Taylor Decker. However on third downs, Ezekiel Elliott will have to be involved in pass protection, yet another area where he excels.
Ramzy: More rushing plays that include the jet sweep motion to Jalin and Braxton, where they occasionally get the ball. Barrett was a pop-pass machine last year and got a lot of yards on quasi-handoffs. We've seen less of that through 10 games. The motion, jet sweep, QB draw, read-option and counter can keep the Spartan front off balance enough to knock its young, impressionable secondary off balance.
Pop passes are the devil's trick to making football statistics look balanced. Ohio State is very much a rushing team this season.
Andrew: I've gone back and forth on this one, but really it's probably too late to make any significant changes along the offensive line. There's no getting around it: Farris was not good last week. That being said, he really hadn't been a glaring liability up until that game against the Illini. Let's just chalk that one up as a bad outing and hope he rights the ship this week. If not, we could see some a bit more of Jamarco Jones. Calhoun and Malik McDowell are definitely concerns, so I would expect some double-teams from time to time and Zeke should have some opportunities to further demonstrate his A+ blocking skills.
Michigan State isn't as stout at stopping the run as we've seen in past years (5th in B1G, 121 ypg) while Ohio State leads the conference with nearly 245 rushing yards per game. Last year, Zeke hit them for 154 and a pair of touchdowns. What can we expect from OSU's ground attack? Does Zeke extend his streak of 100+ rushing games to 16?
Andrew: Yep, Zeke hits 100 again and finds the endzone. I expect the OSU ground game to fall just shy of its season average, but I'm really not all that fearful of the Sparty run defense. I'm feeling a Braxton Miller rushing touchdown as well.
Ramzy: You know what's cooler than rushing for over 100 yards? Rushing for over 200 yards. Prediction: The Slobs will be dining at Hyde Park again soon.
Kyle: They may only be fifth in the conference, but are still only 18th nationally. So while they're not quite as dominant as they've been, they're still very good. They've succeeded at containing OSU running backs in the past, which is why I'd expect to see a lot of Barrett early with Elliott acting as a lead-blocker. However once that threat is established, We can expect Zeke's role as the second half 'closer' to continue, keeping the streak alive.
Give us a potential x-factor player to watch for either Ohio State or Michigan State. Why should we keep an eye on this guy?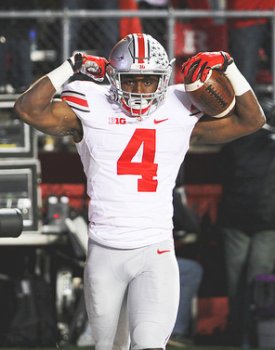 Ramzy: Everyone's waiting for Braxton to be put in position to Braxton again, right? It's his final game in Ohio Stadium too?  Okay, fine - my X-factor is still Curtis Samuel. I just can't shake the memories of Corey Smith last year. Half of his total season production came from the Michigan game onward. I'll guess that Samuel is the guy whose name gets said more often, starting Saturday.
Kyle: The interior of the MSU offensive line is still trying to click, so Adolphus Washington could make a huge impact on the game. If he is able to get penetration and slow down the Spartan run game as well as collapse the pocket regularly, it's hard to see a scenario where the Spartans come out ahead.
Andrew: I feel like Nick Vannett could be the x-factor on Saturday. We haven't really been targeting the tight ends too often, but the awfulness of Michigan State's pass defense could open things up a bit for the senior. I'm hoping he can find the endzone in his final game at the Shoe.
College Gameday is here. Who should be the guest picker? I'm going Halle Berry but what say you and why?
Kyle: My Cleveland bias is showing here, but given that he's the only person on the walls of the WHAC that didn't actually play football at Ohio State, and that he could easily be back in Cleveland in time for that night's game, I have to believe it's LeBron. There is no bigger name to have as a celebrity fan (especially as far as recruits are concerned), and given OSU's style of trying to be the biggest and best at everything, he more than fits the bill.
Andrew: Jared Foley couldn't handle Cardale on the Xbox, but I'd love to see him as the guest picker. He seems like a great kid and that would be pretty awesome to see.
Halle Berry's best role was when she played the tutor in "The Program" – the GOAT football movie.
Ramzy: Chris, as exciting as it would be for Ohio State to have a 50-year old thrice-married former model who last lived in Ohio when Eldon Miller coached the basketball team, my choices in order would be Lebron, Bob Knight, Jack Nicklaus or Dwight Yoakum, all of whom either graduated from Ohio State, went there briefly, have a locker there currently or have a museum of themselves on campus.
Ohio State opened as a 13-point favorite which I felt was a little bloated. Do the Buckeyes cover? Give us a final score prediction and game MVP.
Ramzy: Buckeyes 31, Spartans 20. Zeke accelerates his Heisman candidacy with a Heisman-ish performance against a Spartan team that fights like hell but comes up short.
Andrew: I've got the Buckeyes winning 38-24. I know they've been saying Connor Cook is fine, but I have a bit of a hard time believing that. Watching last week's game and seeing him writhing in pain as they removed his pads, I honestly thought his season may have been over. I see Jalin Marshall making a big play on special teams en route to being named MVP.
Kyle: Thirteen feels like a lot, even at home. I expect a close game in the first half before OSU really starts flexing in the second half, but not enough to cover. OSU wins 31-20.