You've almost made it. 
Today serves as your 235th straight day void of an Ohio State football game but now just three days separate you from the return of Urban Meyer's Buckeyes. 
Of course, the offseason was a little less annoying this time around thanks to the squad's magical run to the College Football Playoff title. As an added bonus, the Buckeyes won't start their bid to repeat against a cupcake. Instead, they get a chance to exact revenge for the only blemish on last year's record, a sobering 35-21 loss at home to Virginia Tech. 
With four players suspended, Noah Brown on the shelf, Braxton Miller's position change and the starting quarterback still not official, storylines are plentiful. With all that as the backdrop, we kick off our weekly roundtable with the trio of D.J. Byrnes, Eric Seger and Michael Citro. 
Take it away boys...
What do you see as the biggest key to the game and why?
Michael: There are two, but they are both related to Ohio State's passing game. The first is the ability of the Slobs to give time to J.T. Barrett (or Cardale Jones, but probably J.T. Barrett) in the pocket—something they struggled with last year. If they can keep the quarterback clean, the Buckeyes should prevail. However, the other part of that is the replacements for the suspended Dontre Wilson, Jalin Marshall and Corey Smith must get open and must make plays against Virginia Tech's press coverage. These guys will be inside your shirt all night, so it's on the "next man up" to earn their schollies.
Eric: Many will turn to how Ohio State can move the ball through the air during this game as being it's most important aspect, but I think the biggest key is what happens up front. Regardless who plays quarterback for Ohio State and despite the injury to Noah Brown and suspensions to Jalin Marshall, Dontre Wilson and Corey Smith, if the Buckeyes have success running the ball with Ezekiel Elliott, they're going to win.
Ed Warinner and Urban Meyer have both said many times how they're going to do whatever is needed in order to move the ball and score points, so if Elliott's that answer, they'll do that. And it all comes down to if Ohio State's offensive line can open up lanes for the Heisman Trophy candidate.
DJ: Ohio State's ability to run the ball between the tackles. For all Urban Meyer's offensive pyrotechnics, it's still an offense based on the ability to smash opponents in the face. If Ohio State can't run the ball effectively, it can still win but it will be a tight affair. If Ohio State can run the ball then it will be a rout. 
Frank Beamer's Hokies have been known for their special teams for years (4 blocked punt/kick LY) but Urban Meyer's Buckeyes have also done work in this facet especially in controlling field position. How big a factor will the special units be in this game? Care to make a wild prediction?
Eric: Special teams are going to be huge in this game, and I say that because they were huge last year. Ohio State missed a pair of field goals when they trailed early in the game. Even though making them wouldn't have given the Buckeyes the lead, it was a huge momentum shift in the wrong direction for a team struggling to move the ball.
Beamer's made a career out of having stellar defenses and even better special teams play, but my wild prediction will be that Ohio State will block a field goal attempt.
Michael: Special teams will be big, as always. Cameron Johnston has to flip the field when the Buckeye offense stalls and whoever ends up returning punts with both Marshall and Wilson out has to be aware of ball security. And whoever kicks for Ohio State has to make field goals if and when they're called upon. I expect the Buckeyes to get one or two real chances to get a block, as they seem to do every game. If they can make the most of those opportunities and out-Beamer-Ball the Hokies, all signs point to 1-0 for Ohio State.
DJ: *in my Jim Tressel voice* Special teams play a factory in every game. My "wild" prediction is that Ohio State blocks a punt.
We still don't have official word on who the Buckeyes will roll with at quarterback. Will it be J.T. Barrett or Cardale Jones? Will the backup play? What kind of game do you envision for your starter?
DJ: I'm cheering for Cardale, obviously, but I'm confident J.T. Barrett will be the opening night starter. Virginia Tech's defense bamboozled him last year, but I'd be shocked if he didn't play with a cool hand all night. J.T.'s development is why Ohio State can still win the game without running the ball effectively.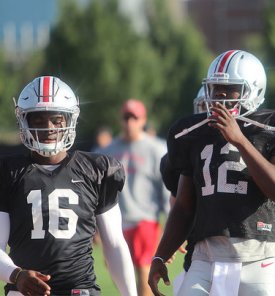 Eric: I think J.T. Barrett wins the job. I've thought it since he was given a clean bill of health in July, simply because he gives Ohio State more options at quarterback. I do not think Cardale Jones will play unless Barrett suffers an injury — the vibe from the coaching staff just doesn't yield a platoon system to be in the realm of possibility, despite what Meyer said Monday. I think Barrett won't throw the ball a ton, because I think Ezekiel Elliott is going to get a lion's share of the work when Ohio State's on offense. Meyer will want to slowly wear down the Hokie defense if possible, so expect passes only at the most opportune moments.
Michael: I expect both to play because Urban Meyer loves to utilize the talent he has, and these two quarterbacks give a completely different look to the opposition. Bud Foster likes to show opponents something they're not ready for, but how ready will Foster's troops be for a two-headed monster of Barrett and Jones? I like Barrett to win the starting job but I think Jones has probably shown enough in camp and last year in the postseason to warrant a series or two per game. Barrett will be his usual self, reading the game well and distributing to the appropriate player to maximize each play's potential. He's good at it. I also think he'll play with a bit of a chip on his shoulder because of last year's meeting and the way his 2014 season ended.
What kind of night can we expect from Mike Thomas knowing the Buckeyes are thin on proven talent at wide receiver and Bud Foster will no doubt leverage All-American Kendall Fuller as much as possible in coverage?
Eric: Thomas told reporters Monday to "wait and see" how things go against the Hokies for him and the other wide receivers, an interesting statement, but not really. Thomas always has been very confident in his abilities and he's always shown up in primetime (seen the Michigan State, Alabama, Oregon and even Virginia Tech game from 2014). I expect a light night for him, though, somewhere in the realm of four or five catches and maybe a touchdown if he's able to get away from Fuller.
DJ: Mike Thomas' night: Over 100 yards and a touchdown or under 100 yards and two touchdowns. I expect big things from him this year.
Michael: I don't expect a big night from Thomas, quite honestly. Foster will make Thomas a focal point for his defense, knowing that the Buckeyes will lack experience on the other side. I'd like to see Nick Vannett and Braxton Miller play a prominent role in loosening up the outside coverage a bit and giving whoever is opposite Thomas more space to work with.
Along the same lines, with the loss Noah Brown to injury and one-game suspensions being served by Jalin Marshall, Corey Smith and Dontre Wilson, what do you expect to see from Ohio State in the passing game overall knowing last year the WR's were dominated by the Hokie secondary? What kind of factor will Braxton Miller be in game one as a non-quarterback?
DJ: I expect Ohio State's passing game to start slow and finish strong. It's the first game of the season and Tech's secondary is tough, but I think once some of the younger guys find their footing the Buckeyes will be fine.
Michael: It's going to be tough to pass on Virginia Tech in that crazy atmosphere with inexperienced guys in the lineup instead of the veterans. If Braxton Miller can make a play or two early, it would certainly help.I expect the Buckeyes to do their usual thing of trying to throw short and set up a big play downfield, because that's typically what they do. But in this game, perhaps it's best to take the top off the defense first and open things up underneath later.
Eric: I think Miller's going to be a huge factor in this game, provided he stays healthy. On Monday, Meyer and Warinner both raved about his progress in recent practices and how they are anxious to see what he can do in a live game setting. I think Miller will get the ball on sweeps and maybe even screen passes more than down the field. As far as the rest of the Ohio State passing game, outside of Miller and Thomas, it's hard to say. Young blood like Parris Campbell, Terry McLaurin, Johnnie Dixon, James Clark and even K.J. Hill are relative unknowns at this level. Expect a lot of touches for Nick Vannett.
In last year's stunner, albeit with a young and still inefficient line, Ezekiel Elliott rushed the ball just eight times for 32 yards (Barrett 24/70). This year, both the line and Elliott are seasoned and loaded with confidence. What type of impact will EZE have on the game Monday night?
Eric: As I touched on a little bit above, this game is going to be about how Elliott and the Ohio State offensive line perform against Virginia Tech's experienced front. I think Elliott has a big night, provided he can get to the second level relatively untouched like he did in the postseason last year. It's just hard to say anything else considering the way the guy ran wild in his team's three biggest games of 2014.
DJ: If the Slobs can handle the expected Bear front, then Ezekiel Elliott will eat. All there is to that.
Michael: He (and the rest of the OSU running game) has to have a big impact for Ohio State to win. The passing game will be a bit limited with inexperienced guys in the lineup aside from Mike Thomas. Elliott will get more than eight carries, guaranteed, even if he can't find success early. The Slobs and Zeke have both proven to get stronger as the game goes on, so it's important to stay the course early and keep pounding the rock, even if it's getting bottled up initially. Those two- and three-yard runs turn into 10+ plays in the late third and fourth quarters.
The Silver Bullets will feature some ammunition playing larger roles this year, specifically Tommy Schutt at nose guard, Raekwon McMillan the mike, Tyquan Lewis at defensive end and Gareon Conley at corner. Which one of those guys will make the biggest impact Monday night? Which one, if any, creates some anxiety?
DJ: It's hard for me to feel any anxiety about this team at this point. All the listed players have been gunning for this PT since the final whistle of the championship game. There may be growing pains, but I expect them all to perform at a high level until their play proves me wrong. That's a testament to their work and my faith in the coaching staff.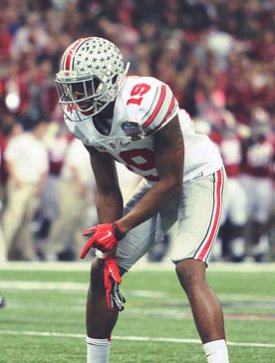 Michael: The way Brewer played last year has me thinking Conley must have the biggest impact. Virginia Tech converted something like 450% (or so, I'm bad at math) of their third downs in last year's meetings. Conley has to play well. Lewis creates the most anxiety for me because of Joey Bosa's absence. If the Buckeyes don't get heat on Brewer, it'll make things even tougher for the secondary and linebackers. I loved our defense in the final three games last year, but they were not a great unit throughout the regular season.
Eric: I'll start with the biggest impact and go with Lewis. McMillan will have plenty of opportunities to make plays at middle linebacker, of which I think he will alongside Darron Lee and Joshua Perry. Lewis is a bit more of an unknown, but I think he'll slide in and provide good pressure on Hokie quarterback Michael Brewer — even getting a sack or two. Larry Johnson's always mentioned him first when he's spoken about his unit this spring and summer, so I think that goes to show where his confidence in the redshirt sophomore.
As far as the one who creates anxiety, I think it's gotta be Gareon Conley. He earned the starting cornerback job during spring practice, but the lasting image I have of him is how he performed at Michigan State last year. Until that changes, he's my biggest potential hole on Ohio State's defense.
Statistically speaking, what kind of night can we expect from the Buckeye defense?
Eric: Well, for one, I think they'll be better on third down than they were last year against Virginia Tech. After, all it can't get much worse. The Hokies were 9/17 on third down in their 35-21 victory at Ohio Stadium, a number that was much worse early in the game. During a few stretches of the game it felt like Ohio State couldn't get off the field. Another year of experience under it's belt, I think the defense performs better in that area.
Outside of that, I think Tyvis Powell and Vonn Bell will shut down the downfield passing game, if Virginia Tech even makes an attempt to throw it there. Bucky Hodges is a matchup problem, so he could have a big night, but it's going to be interesting to see how the Ohio State defensive line performs and if it can stop the Hokie rushing attack.
Michael: I think Virginia Tech rushes for just over 100 yards as a team. They are patient with their running game and are willing to take some short gains to eventually pop one. I'll be happy if they can keep Brewer under 175 yards passing. I have no idea how many sacks they might have. Brewer seems to move well and get rid of the ball quickly, and the outside rushers will be raw, meaning it might be up to Darron Lee and Raekwon McMillan to get to the quarterback. The other unknown is takeaways and that's an area where I'm worried about after losing Michael Bennett and Doran Grant from last year's team, as well as having Bosa out.
DJ: I expect the Bullets to give Virginia Tech a little bit of their own medicine. I expect a lot of blitzes and mixed coverages in attempt to rattle Michael Brewer. I don't think the Hokies will score over 17.
Finally, the Buckeyes are an 11 point favorite as they enter Blacksburg. Do they cover? What's your final score? Who's your game MVP?
Michael: I don't think they'll cover. Virginia Tech is extremely tough at home against ranked opponents, regardless of how they finish the season. I might go as high as eight points and say 29-21 for the Buckeyes. Barrett is your MVP, hopefully with another "runaway lawnmower" run like he had at Minnesota last year. 
Eric: I think Ohio State's going to win, but I think they'll barely miss covering. This game has felt like a two-score victory for me ever since the end of last year, and I think they'll get out of Blacksburg 34-24 winners. My game MVP is Elliott — he'll tote the rock at least 25 times and score a couple touchdowns on the way to helping Ohio State release the demons of last year's loss.
DJ: Buckeyes cover. 32-17. J.T. Barrett is the game's MVP.