"If you know the enemy and know yourself, you need not fear the result of a hundred battles." – Sun Tzu
---
Over the last several years, the East Coast recruiting scene has featured an influx of prominent national prospects. With assistant coaches Zach Smith and Larry Johnson, Sr. leading the charge, the Buckeyes have made their presence felt up and down the Atlantic coast. Naturally, this has led to some recruiting showdowns with the Beamer-led Hokies. 
HOKIE RECRUITING RUNDOWN: 2010-2015
One of the most consistent complaints regarding the Frank Beamer regime – especially in more recent years – has swirled around his inability to land some of the top talent along the Eastern Seaboard, specifically within the state of Virginia. Many seem to speculate that the now 68-year-old head coach is having a difficult time connecting with the 16-to-18-year-old recruiting demographic. Whether that speculation is accurate or not, the Hokies have remained fairly consistent when it comes to the 247Sports.com national recruiting rankings.
| year | national ranking |
| --- | --- |
| 2010 | 34th |
| 2011 | 36th |
| 2012 | 21st |
| 2013 | 21st |
| 2014 | 27th |
| 2015 | 30th |
While the 2010 class has come and gone, there are a few things to look at. In a class of nineteen signees, the Hokies brought in three (3) four-star prospects and sixteen (16) three-stars. Baltimore's Kyle Fuller, a three-star cornerback, turned out to be the biggest prize of the class. Fuller was taken fourteenth overall in the 2014 NFL Draft and is a starter in the Chicago Bears' secondary; a prime example of coach Bud Foster's defensive back wizardry. The Dallas Cowboys selected offensive tackle Laurence Gibson in the seventh round of the 2015 Draft. 
The biggest in-state misses were wide receiver Justin Hunter and quarterback Phillip Sims. Hunter, who signed with the Tennessee Volunteers, now suits up for the Tennessee Titans. Sims signed with the Crimson Tide and is currently fighting for a spot on the Arizona Cardinals' roster. 
The 2011 haul featured several players that will be suiting up for the Hokies on Monday night. The class of nineteen saw four signees rated as four-stars, ten (10) three-stars, and five players that checked in with two stars or less. Pennsylvania defensive back Kyshoen Jarrett, the class's highest rated prospect, was selected by the Washington Redskins in the sixth round of the 2015 NFL Draft. Defensive linemen Dadi Nicolas, Corey Marshall, and Luther Maddy will look to crack the Buckeyes' stout offensive line while Ryan Malleck will be lining up at tight end. Ronny Vandyke, a former three-star safety, is currently listed as the team's starting whip (weakside linebacker). 
Frank Beamer was only able to nab one of Virginia's top ten players in 2011, the aforementioned Corey Marshall. Hermitage (Richmond) linebacker Curtis Grant spurned his home-state schools and signed with Jim Tressel and the Buckeyes.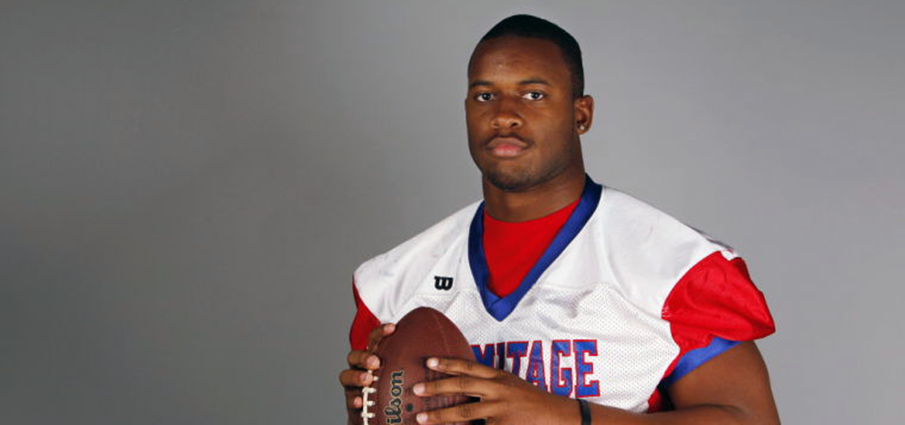 The 2012 and 2013 Hokie classes both checked in at 21st nationally. Twenty-eight new Hokies signed on in 2012; a class consisting of six (6) four-stars, sixteen (16) three-stars, and a handful of other signees. Frank Beamer fended off the Buckeyes for four-star wide receiver Joel Caleb (Midlothian, VA). Caleb was seriously considering a move to Columbus before ultimately picking the in-state school on signing day. After struggling to find the field at wide receiver, he made the switch to running back where he saw limited action. The redshirt junior is now back at wideout, though he has struggled to find his way up the depth chart.
Fellow 2012 signee and Hokie starter, defensive end Ken Ekanem (Clifton, VA), was named to the 2015 Lombardi Award watch list. Chesterfield's (VA) Deon Clarke will be manning one of the outside linebacker spots and JC Coleman (Chesapeake, VA) was recently named starting running back for the Labor Day matchup. In 2012, half of the state's top ten elected to play their college ball in Blacksburg. 
In 2013, Virginia Tech landed one of the crown jewels of the Beamer Era when five-star defensive back Kendall Fuller (Olney, MD) signed with the Hokies. The 6-foot-tall, 175 pound corner could have played at any school in America, but he elected to follow his family footsteps to Blacksburg.
Older brothers Vincent, Corey, and the aforementioned Kyle all suited up for the Hokies. Kendall was a 2014 All-ACC selection and is a preseason All-American for 2015. Ohio State wide receiver Michael Thomas will be seeing a lot of him on Monday. Fellow 2013 signees Wyatt Teller and Brandon Facyson will be lining up at offensive guard and defensive back. In a class that saw 21 new signees, only Fuller and Teller were rated at four-stars or higher. Some key in-state misses included Hermitage running back Derrick Green (Michigan) and Woodbridge linebacker EJ Levenberry (Florida State). 
In the months leading up to 2014's national signing day, the Beamer critics were out in full force. While the Hokies did bring in ten (10) four-star prospects – including quarterback Chris Durkin from Youngstown – they also missed out on a tremendous amount of Virginia talent. Four-star Lake Taylor defensive end Jalyn Holmes signed with Ohio State and is currently battling for a spot on the Buckeye defensive line. Da'Shawn Hand, the nation's top-ranked defensive end, signed with the Crimson Tide. Defensive tackle Derrick Nnadi, who signed with Florida State, is now a starter for the Seminoles.
As if losing top talent to some of the nation's premier programs wasn't enough, things were made worse as Mike London and the University of Virginia snagged three of the state's top six players: Safety Quin Blanding, defensive tackle Andrew Brown, and wide receiver Jamil Kamara.
The Buckeyes and Hokies again did battle with the 2015 class. Virginia Tech landed a trio of one-time Ohio State targets in defensive tackle Tim Settle, offensive lineman Austin Clark, and defensive end Darius Fullwood. The Buckeyes brought in a pair from the state of Virginia with offensive lineman Matthew Burrell and athlete AJ Alexander, though the latter didn't hold a Hokie offer.
The state's biggest recruiting contest in the 2015 class was ultimately won by Florida State. The Seminoles swooped in and stole Chesapeake's Josh Sweat, the nation's top-ranked defensive end, from Virginia Tech, Ohio State and others. After a remarkably-speedy recovery from a torn ACL and dislocated knee, Sweat is expected to see the field in FSU's opener against Texas State. The Hokies would ultimately miss out on nine of the state's top ten prospects. 
---
With the amount of talent along the East Coast, the Buckeyes and Hokies can expect their fair share of battles for the foreseeable future. 2016 defensive back Kareem Felder (Reisterstown, Maryland) was committed to the Hokies before Ohio State came calling. Wayne Davis, the seventh-ranked prospect in Virginia, committed to Ohio State in July. 
In the college football world, there are teams that excel on the recruiting front, teams that excel with player development, and some that are great at both. Frank Beamer definitely has his share of critics when it comes to his recruiting aptitude, but it's impossible to ignore some of the players the Hokies have churned out over the years – especially the Bud Foster-led defenses.
While "Beamer Ball" may have lost some of its luster as of late, it doesn't look like he's ready to leave the building just yet.