Ezekiel Elliott's blossomed into one of the faces of the Ohio State football program. As a Heisman Trophy candidate and the team's running back, it's hard for him to avoid the spotlight.
And that's not even mentioning what he did to Wisconsin, Alabama and the Oregon in the 2014 postseason to help put him in this position, as the odds-on favorite to win the most prestigious award in college football (along with TCU quarterback Trevone Boykin). He's taking steps to become the next Ohio State legend and eighth Buckeye to win the award.
When asked Monday if knew who held the school's single season record for rushing, Elliott didn't hesitate. He knew the exact number, too.
"Eddie George," the running back said after practice. "Nineteen twenty-seven."
That's 1,927 yards, from George's magical 1995 season when he averaged nearly 6.0 yards per carry and scored 24 rushing touchdowns. George finished with more than 2,300 yards from scrimmage in 13 games and led the Buckeyes to an 11-2 record. Troy Smith became the next Buckeye to win the award in 2006, but 2015 marks 20 years since a running back captured it.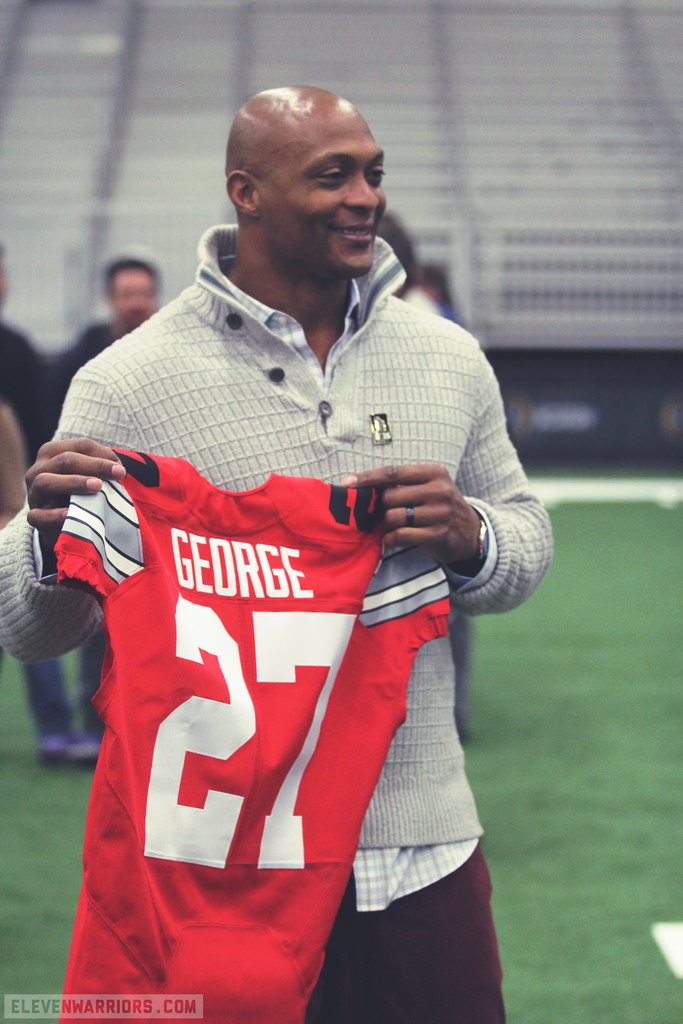 Ellliott is keen to the number, and how close he was to it in 2014, finishing with 1,878 yards in 15 games as the Buckeyes won the first national championship in the College Football Playoff era. If he stays healthy and the Buckeyes make it back to the Big Ten Championship and beyond in 2015, eclipsing George's mark is certainly in reach, but it's not high on Elliott's list of priorities.
"That would definitely be lovely," Elliott said. "But like I said, we're focusing on these team oriented goals and like I said our goal is to get back to the Big Ten Championship."
Elliott's reiterated this fact often to reporters during the summer and into fall camp, doing his best to shove the attention from him to the rest of the defending national champions.
The attention the junior continues to swirl, though, proving difficult to avoid after he scourged the Badgers, Crimson Tide and Ducks for 696 yards and eight touchdowns in addition to a loaded roster alongside him in Columbus. On top of that, Elliott was unable to use his left hand much last season because of a broken wrist.
He's had that repaired and says he's back at 100 percent, though the flexibility isn't quite to where he would like it. Still, his stiff arm is set to be back in his arsenal in 2015 along with becoming more of a threat in the passing game.
Adding all that to his game could make Elliott even better this fall.
"We'll find out soon," running backs coach Tony Alford said with a smile Monday. "He's had a good camp. A really good training camp."
Urban Meyer agrees, though because of how much Elliott played last year he hasn't been tackled to the ground yet in training camp. Meyer even went as far as to say he thinks the fact that Elliott only had one good wrist last year helped him.
"That would definitely be lovely. But like I said, we're focusing on these team oriented goals and like I said our goal is to get back to the Big Ten Championship."– Ezekiel Elliott
"He's one of our best guys I've ever seen with pad level and because he always had it in his right he really learned how to protect himself," Meyer said.
"As far as stiff arms and straight arms to get guys off of his body," Alford added, "hitting guys in the right places to get their head turned, he's skilled at it."
Elliott is a vicious, hard-nosed and smash-mouth runner, yet fast enough to be a perfect fit for Meyer's power spread attack. He's a few inches shorter than George, but similar in a sense that he doesn't mind running through people in order to eventually run past them.
He added Monday that he used the stiff arm "a lot" in high school, but called it a "blessing" that he couldn't use it last year. It made him better.
"Have you ever tried to do something with one hand? Imagine playing basketball with one hand," Elliott said. "You have to find out different ways to different things."
He did that, scoring 18 touchdowns and averaging 6.9 yards per carry in 2014. George's 1,927 yards is certainly in reach as long as Elliott stays healthy and gets his touches in Ohio State's offense (he will). But if that mark — and possibly a Heisman Trophy — comes, it comes.
"We have a lot of Heisman-caliber players. If all things go well for us as a team, maybe one of us will be lucky enough to be up there in New York at the end of the year," Elliott said. "I've been asked this maybe 700 times. That's really not what we're focused on. We're focused on getting to the Big Ten Championship."