When Torrance Gibson signed his National Letter of Intent to attend Ohio State, only one thing was on his mind.
Blessed with outstanding athleticism and a strong arm, Gibson intended to enter an already loaded quarterback room in Columbus. It was all he knew how to do and do well, but it didn't take long before he came to a realization and approached head coach Urban Meyer.
"He has skills that most human beings should not have. His size and speed is very, very unique. And he can throw the heck out of the ball."– Zach Smith on Torrance Gibson
"I told him I want to get on the field. I feel like if I sat on the bench I wouldn't be helping this team, I'd be selfish," Gibson said Sunday at Ohio State Media Day. "That's not the type of guy I am."
Gibson, the magnificently gifted 6-foot-5, 205-pound true freshman with a rocket left arm, terrorized opposing high school defenses in South Florida. He loved being the guy who called the shots, ran the offense and directed his troops.
Friday, though, he decided the needs of his team outweighed his need to line up in Ohio State's quarterback derby. He didn't want to waste a year behind Cardale Jones, J.T. Barrett and Stephen Collier all while competing with fellow true freshman Joe Burrow.
"I thought about it, talked to my family. And they just said, 'Just get on the field. Don't be selfish. It's not all about you, it's about the team,'" Gibson said. "That's what I'm trying to do, help them win games."
That prompted Gibson's decision to approach Meyer and wide receivers coach Zach Smith to play on the outside and join the "Zone 6" club of skilled athletes who make plays for the Buckeyes on the edge.
"He said, 'I want to play.' I said, 'Well, here's your options,'" Meyer recalled Sunday. "'Wildcat quarterback, we'll see what your skill set is at receiver, catching the ball a little bit.' He's a very good athlete."
Smith went as far as to call what Gibson can do on the field "phenomenal."
"He has skills that most human beings should not have," Smith said Sunday. "His size and speed is very, very unique. And he can throw the heck out of the ball."
Because of how easy and smooth Gibson's throwing motion is, the move is not permanent. At least not for now.
"I think he'll fulfill a role for us this year and then move back to quarterback after the year," Smith said. "Torrance came in as a quarterback, we recruited him as a quarterback and everyone wants to publicly say we lied to him. The kid doesn't want to redshirt — period. He's a great athlete, he loves to compete, loves to play and he wants to get on the field."
Smith added that if Gibson excels at wide receiver in 2015 he might choose to stay there for the rest of his career, but "it's up to him."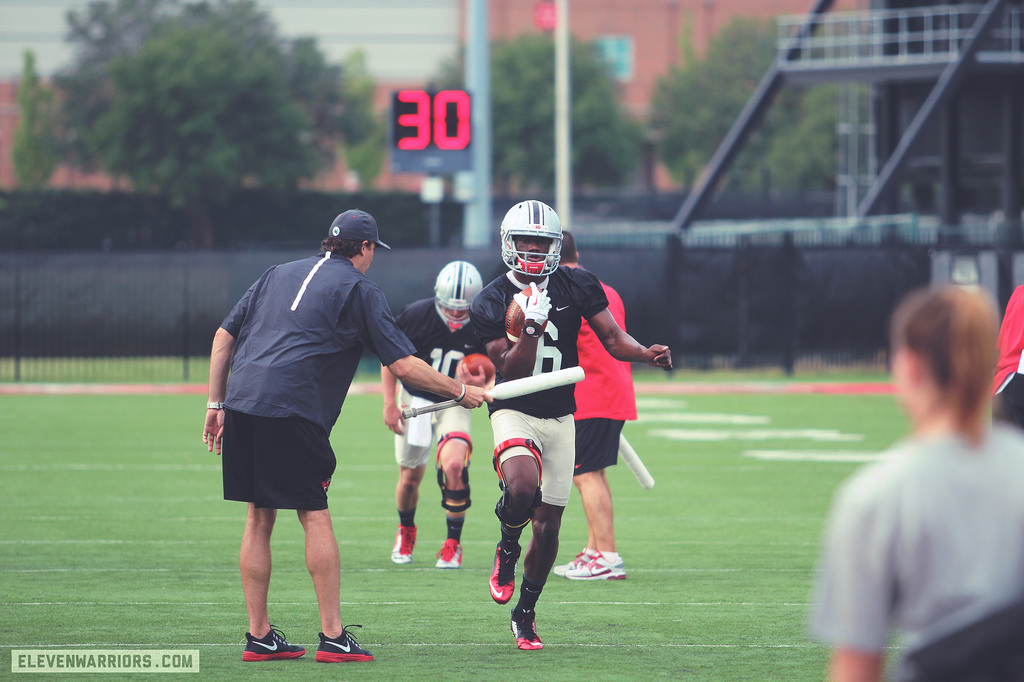 "I think he can be one of the best quarterbacks in the country. That's a pretty important position," Smith said. "So if that's true, I don't know how you don't do that. But I know this: From what I've seen he can be a ridiculous receiver."
Gibson donned a black non-contact jersey for Friday's practice, despite working with the wideouts the entire time. That has changed, though, and he's swapped it out for the traditional red of the offensive players.
"Zone 6. The whole thing," Gibson said. "That's it."
That's the plan for 2015, at least. Gibson said he's fulling taking snaps at just wide receiver now during practice, but smiled from ear to ear when told Meyer mentioned his possibility as a wildcat quarterback who could potentially throw the ball down the field.
"That'll be interesting, going back to QB and throwing the rock a little bit," Gibson said. "But we haven't even put that in, so I don't know what's going to happen."
All he knows is he wants to contribute for Ohio State in 2015, no matter what it takes.
"If I didn't approach them, I wouldn't feel right about myself just sitting out a year," Gibson said. "Not helping the team, being selfish. It's not always about me. It's about the team. I just want to come out here and help the team win games any way I can so that's what I did."