It's amazing Ohio State even achieved darling status at all.
Everyone was so thoroughly distracted by its 3rd-string quarterback not being terrible they were able to ignore that he played for the 5th-winningest program of all time. A college football blueblood, as Ohio State is labeled, coming out of nowhere for a title run after winning only 35 of its previous 38 games.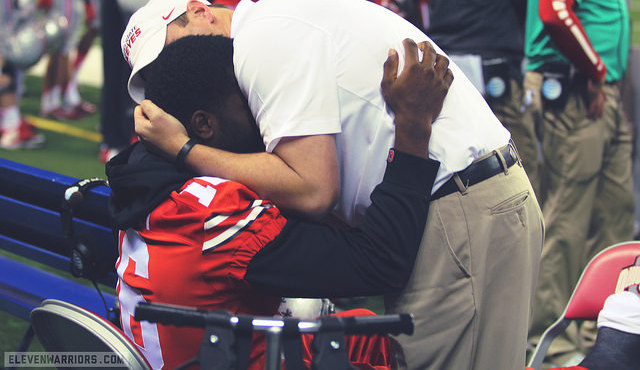 The Buckeyes have no right to be national darlings under any circumstances, yet there they were in a final four contrasting favorably against a Florida State team that makes everyone outside of Tallahassee feel unclean, an Oregon team that is still perceived to be too gimmicky and soft and Alabama, which was college football's last inexplicable darling itself back in 2008, one season removed from losing at home to Louisiana-Monroe.
That's part of what made the Buckeyes' title run so enjoyable. They were so good, so young and inspiring, coming out of nowhere in that they delivered what was optimistically expected to be a possibility next year one year ahead of schedule. In doing so, they've altered the course for 2015. 
If you're already thinking of this season as the triumphant continuation of 2014 you're going to be disappointed. 2014 is dead. Oh sure, the destination could end up being the same; the Buckeyes might run the table (or not - we now know that isn't always necessary) and successfully defend their title, but it won't be like last time.
Last time was a perfect, self-contained miracle. It was the Grand Subjugator of Narratives; the Conquistador of Resilience and the Vanquisher of Evil. The ceiling for 2015 is Repeat National Champions, which sounds great but carries none of the romance that poured out of its predecessor.
The cruel fate of all reigning champions is being forced to reemerge as the bad guys.
A darling will emerge in 2015 but it won't be the Buckeyes. Tallahassee is still a proud cesspool, Alabama unapologetically returns as goliath and Oregon remains a shiny blur that's squishy soft whenever it matters most - but suddenly Ohio State is now everything it sought to kill last season.
It is the philosophical embodiment of every triumphant protagonist that has ever existed, nicely summarized by Harvey Dent in The Dark Knight: You either die a hero or live long enough to see yourself become the villain. 
That's the fate of all reigning champions. They're forced to reemerge as the bad guys.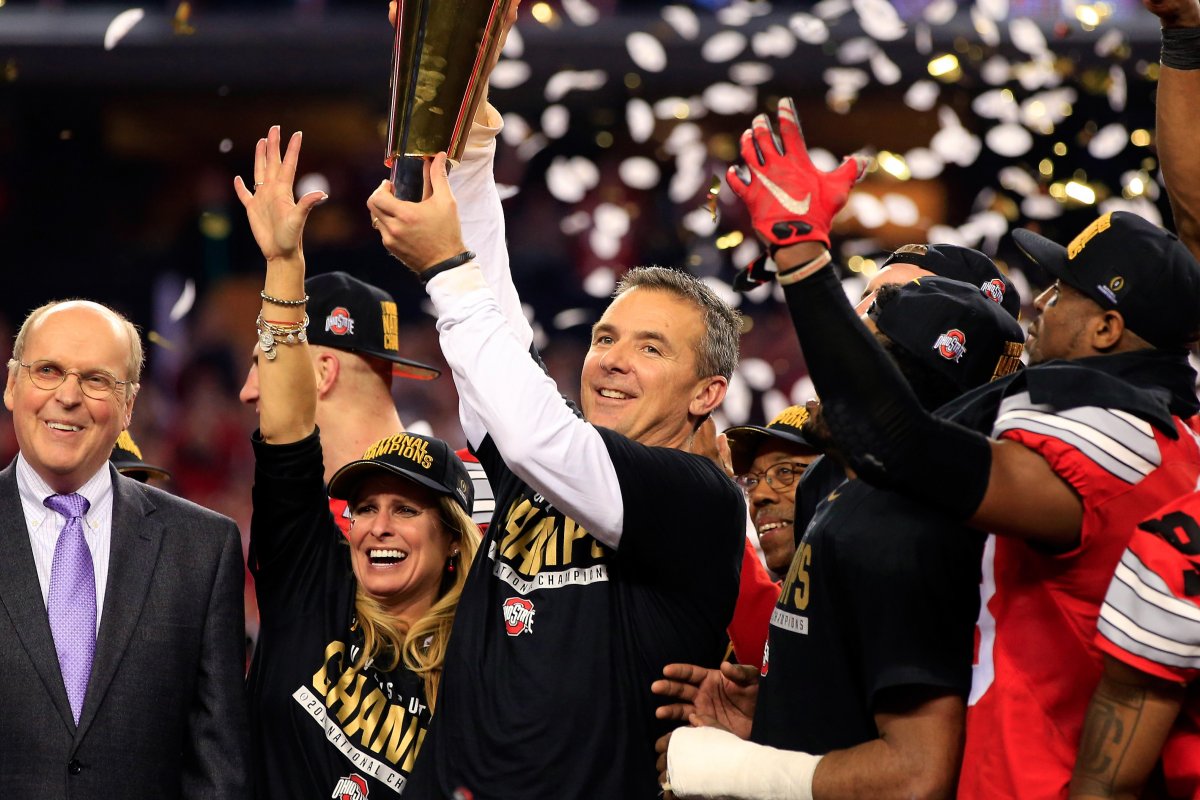 Our beloved villains will be double-digit favorites in every single game they're scheduled to play this season; a threat in and of itself so severe it once sent Urban Meyer into the broadcast booth. The only bad thing about that postseason run which began with Ohio State grinding Wisconsin into a fine paste is that celebrated annihilation is now, unfairly, an expectation. 
This is precisely how the thrill of victory is transformed into a joyless burden.
It's already reality for present-day Alabama football with its completely humorless coach who is allegedly still alive yet already has a statue of himself erected outside his office. Alabama enters all of its football games with no paper deficiencies to exploit. Its seasons now have two possible outcomes: Sterile Revelry or Shocking Disappointment. 
There's no such thing as a solid B for the Crimson Tide. They can only get As or Fs on Saturdays. That's the cruel fate of being a dynasty.
In 2009 Alabama was an underdog against Meyer's Florida Gators in the SEC championship game. That was 68 games ago and the most recent time the Crimson Tide weren't favored to win. The Buckeyes were underdogs in four of their final seven games of 2014 and the final three in a row. The last time Alabama played the underdog card that many times consecutively Joe Kines was in charge.
OHIO STATE was the Grand Subjugator of Narratives; the Conquistador of Resilience and the Vanquisher of Evil.
We've been here before, but not like this - no one has. Not after going 0-6 recovering fumbles in the national title game and still winning by 22 points. Not after covering the spread in conference title game as an underdog by 63 points, or throttling goliath in a game that was only close on account of welcome mat turnovers and red zone brain farts. Not after being so thoroughly distracted by a 3rd-string quarterback who somehow wasn't terrible.
Those are butterfly kisses reserved for darlings. When they land on villains they don't make a smooching sound; they sizzle.
They become evidence of Satan's hand in determining the outcomes of sporting events. If Ohio State wins a title game in 2015 in which all six fumbles are recovered by the other team rivers will bleed and the earth will tremble. When it happened back in January to a three-time underdog, we cooed and marveled.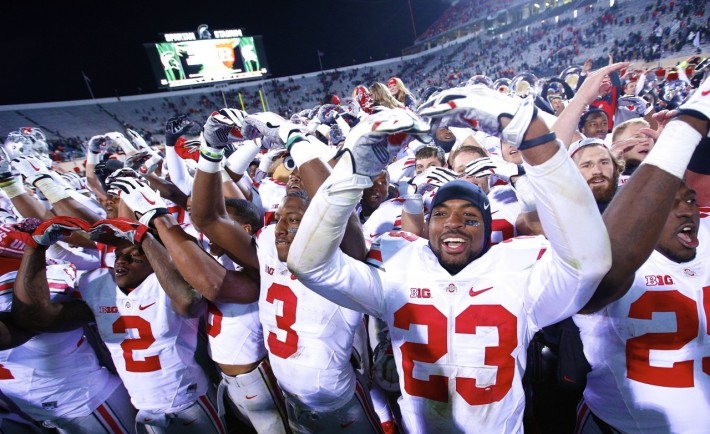 Yeah, we've been perched here before. When Jim Tressel openly talked about Buckeye fans being miserable people this is what he referred to. When John Cooper said Ohio State fans support him win or tie he was talking about that joyless burden of winning. It's a very real threat and the alert level is never higher than when coming off a championship or a near-championship.
Last season the Buckeyes were the danger. This year that's unchanged, but the darling of the first College Football Playoff is now also equipped with abundant potential to victimize itself with agonized victories as it plays the role of villain. To combat this, Meyer - a grizzled, apologetic veteran of the joyless burden himself - has already had his team introspectively bury its championship season and is preparing it to come out of nowhere once again. The Grind has replaced The Chase, and that shift represents far more than just an update to the practice field signage.
It formally marks the death of 2014, as a hero. This allows 2015 to become one too.