Urban Meyer knows better than anyone the importance to recruit the fruitful ground of the state of Ohio into his college football program. Due to this perception, Eleven Warriors will look at the 12 Ohio high school programs who produced Buckeyes in 2015.

HUBER HEIGHTS, Ohio — It barely takes half a step into Jay Minton's office to realize who is the most popular athlete to hail from Wayne High School.
The athletic director and head football coach of the Warriors has posters and other memorabilia plastered all over from colleges where former athletes took their talents in his tenure.
Notre Dame, Miami (Ohio), Boston College, Ohio State and others don the walls that slide to a point and become the corner of Minton's office where his desk and computer sit.
Photos of particular athletes who've left Huber Heights, Ohio, to thrive at the next level after either playing for Minton during what is now a 17-year career as the head coach at Wayne join those posters and seals of big-time programs, but one supersedes all.
The Landers File
Size: 6-2/295
Postion: DT
Class: 2015
School: Wayne (Huber Heights)
Composite Rank: 71 (DT)
Composite Rating: ★★★
Braxton Miller, once the most sought after high school quarterback in Ohio who led the Warriors to the Division I State Championship Game in 2010, finds himself tacked up right next to the whiteboard in Minton's office.
"That kid is just special, he's a competitor and he even gets better with competition," Minton told Eleven Warriors May 12 regarding Miller. "When there's competition around him and in front of him, whatever, he's even better."
Miller is 28-8 as the starter at quarterback for Ohio State, the last player from Wayne to represent the Scarlet and Gray prior to defensive tackle Robert Landers, a late addition to the team's 2015 recruiting class.
"Ohio State has always been my dream school, no matter what," Landers told Eleven Warriors. "Growing up watching the Buckeyes from Troy Smith to Terrelle Pryor to even when I was a lot younger, watching Beanie Wells, Maurice Clarett. All those guys — I was always a Buckeye."
Landers committed to Ohio State Dec. 16, two months after pledging to West Virginia. Turning back the Mountaineers for his beloved Buckeyes was hard, because as Minton said, Landers is as faithful as they come.
"It was hard for him because he's such a loyal guy, such a committed guy," Minton said. "I truly believe Ohio State's the only school in the country that could have pulled him away from West Virginia at that time because of his commitment to people, because that's what kind of man he is."
Landers is another example of the kind of people Minton hopes to mold at Wayne.
---
Admittedly, Landers knew he had a long way to go to achieve his dream of earning an Ohio State offer.
"Honestly, I'll say this: Before the state game I didn't honestly think that I would get that opportunity to get offered from Ohio State," Landers said. "At the same time too I wasn't really thinking about it. I was thinking about my team at the time trying to win a state game."
The Warriors didn't, falling to Lakewood St. Edward, 31-21, in the final. Landers, though, did his part with four total tackles including two for loss. He even returned a fumble 13 yards early in the fourth quarter for a score to cut the lead to three.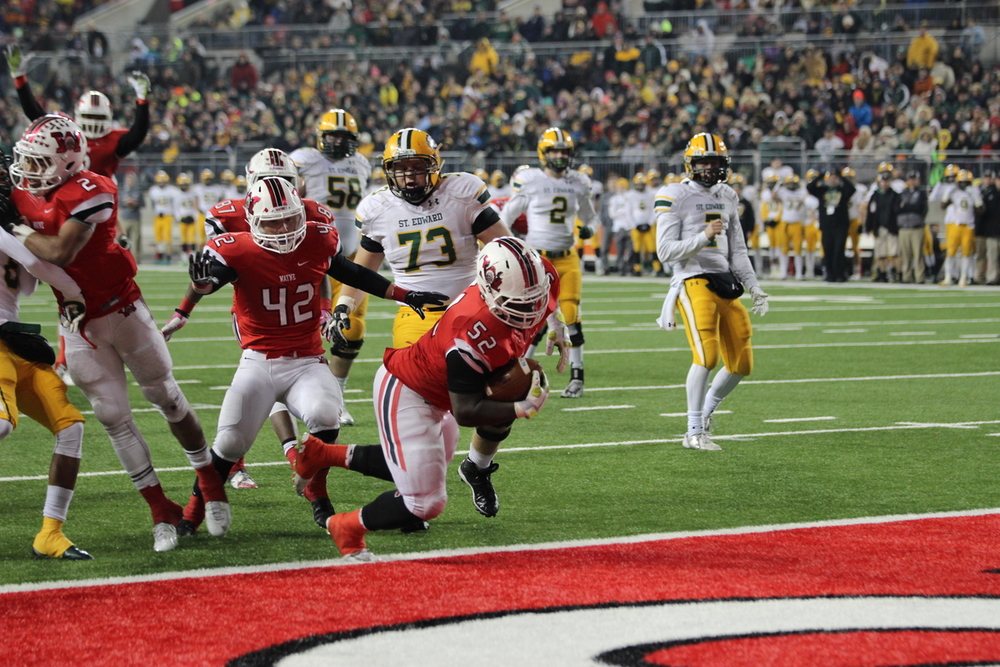 During his entire senior season, Ohio State — in the form of assistant coaches Tim Hinton and Luke Fickell — kept its eye on Landers, but it was his performance in the state playoffs that really caused his recruitment to ramp up.
"Then when you see him go up against the guys he went up against in the playoffs, the Moellers, the St. Ed's. Then you hear those comments from their coaches, 'We can't run certain plays because of that kid,' certain things like that," Minton said. "That's a great bonus to have and all those things play out in the recruiting process."
It's those performances against other titans in the realm of Ohio High School football that impress places like Ohio State — because it's hard to find better prep gridiron action than in the Buckeye State.
"Ohio High School, honestly there's nothing like it. I'll say this: Especially from our school in particular, I can honestly say our coaches prepare us like a college team," Landers said. "The rough two-a-days, like they have the week where they're going to test and see if you truly love playing football. If you don't, you will not last. Talking to some of the kids up at Ohio State, they say the same thing."
Minton uses motivational tactics similar to Ohio State's coaches as well. The Event + Response = Outcome (or E+R=O) formula was plastered largely on the white board of his office for all to see.
"Coach has something new every week. We got that one and then one in particular is 'See a little, see a lot, see a lot, you see nothing,'" Landers said. "Which in perspective is if you pay attention to little details ... your game progresses in a big way."
As summer bleeds into fall, high school programs don't have a choice but to make the most of the time they have before kicking off another season. They have to get their players to pay attention to the intricacies of the game that will go a long way towards success.
"I think Ohio coaches do it, it's so neat, because they do it and they send these guys to these programs and stuff without the same benefits a Florida coach would have, or a Texas coach would have, a California coach — don't have spring ball," Minton said. "Spring ball, just telling you, I know they've talked about bits and pieces of it, it adds to a young man's recruiting considerably."
The weather in the north along with an OHSAA rule hinders programs like Minton's at Wayne from hitting the practice field for spring drills like those in other parts of the country.
When it is time to get on the field, though, the high school coaches at programs in Ohio mold players into top college prospects like Landers.
"Honestly, I feel like me as an individual, I am cut out for Ohio State football just my mentality that I've always had and on top of the mentality my coaches have bestowed upon me," Landers said. "Just year after year my freshman year coming from eighth grade to senior year, they always find some way to try to break me down, to test me. To see, if you're going to be a captain and a leader of this team, we're going to put your in every situation, every scenario you could be in that any other average player would crumble and break. Will you?"
---
Landers, who won the the Division I state championship in the shot put as a junior in 2014 and qualified for the state meet this spring, might not find himself in the same tier of Buckeyes from Wayne High School as Miller simply due to his position. Quarterbacks get all the headlines in newspapers, while defensive tackles are typically reserved for an inside fold.
MORE ON ROBERT LANDERS
Read up on how Landers caught Ohio State's eye,
his recruiting process and more here.
So while Miller's photo is sure to stay on the wall in Minton's office, the head coach is bound to place one near it of his newest Buckeye. The one who's set to live out his dream of playing for the school he's always held close to his heart — another piece to the never ending Ohio High School direct port into Ohio State.
"You gotta keep working hard and if God blesses you with that opportunity then he blesses you with it. If not and he blesses you with something else, then that's what you're going to go with," Landers said. "But he was fortunate enough to bless with me Ohio State and it's a dream coming a reality."