When Urban Meyer took over the Buckeye football program after the 2011 season, many in the great state of Ohio were excited to see implement his successful 'power spread' offense in Columbus. After relying on defense and special teams to win football games for more than a decade, many fans clamored for a philosophy that generated wins by putting up huge point totals.
But Meyer also brought a focus on special teams that didn't just echo the mantra of Tressel-Ball, but effectively doubled down on it. Throughout his head coaching career, Meyer has heavily stressed the importance of the third phase, and his teams at Bowling Green, Utah, and Florida all saw units that ranked among the nation's finest.
While these units are often defined by returners with electric quickness or kickers that thrive under pressure, the contributions of the other ten players on the field are often overlooked in these situations. 2014's national champions didn't have a single specialist earn all-conference honors, but had perhaps the best special teams in country by forcing their opponents to start with the worst average starting field position in the nation.
Perhaps no such unit is ignored more though than the 'piranhas,' better known as the kickoff coverage team to those outside the walls of the Woody Hayes Athletic Center. Made up of young defensive backs, running backs, wide receivers, and linebackers, the Buckeye kickoff team have gone from middle-of-the-road to the eighth-ranked squad in just two seasons.
Ohio State Kickoff Coverage

 

Year
YArds-per-return
national rank
2012
20.77
#52
2013
18.39
#12
2014
17.24
#8
But this success isn't just the result of hustle or luck. OSU's kickoff philosophy can trace it's roots back to those teams in Salt Lake City and Gainesville, but has a unique identity of it's own; an identity that fans don't always appreciate. Long focused on going deep and to the left, Meyer's coverage team now operates exclusively on that side, shrinking the field and keeping opponents from getting outside the right hashmark. 
Six Buckeyes line up in the target zone between the sideline and where the ball is placed on the left hash, while the four remaining coverage players start in the middle of the field.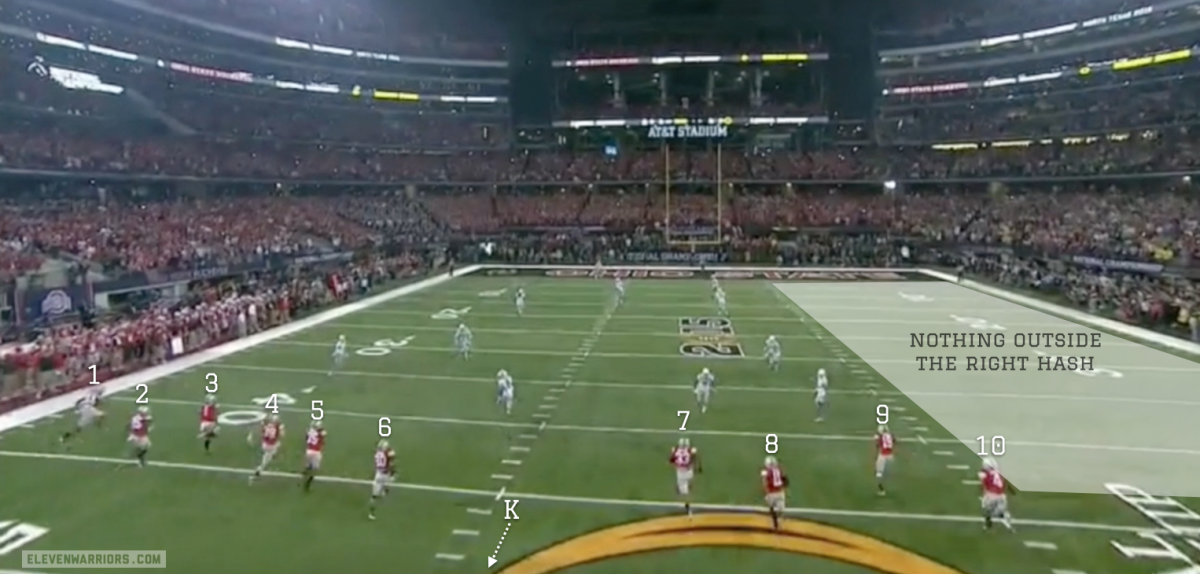 While video games have led many fans to believe that all ten players simply run straight to the returner, the reality is that there are a number of different roles that must be carried out to properly cover a kick, just as there are on any other play during a game.
Missiles: The first down field with opportunity to make the first hit, three players at this spot come from the left, middle, and right on each kickoff. These are not 'wedge-busters' looking to blow up blocking schemes, but rather looking to make a play or keep leverage on the ball carrier until a teammate shows up to finish the play. 
Contain: These assigned players must be disciplined to maintain their course and be sure nothing gets outside them, turning the ball carrier back inside towards his teammates. 
Safeties: Sprint up field through lane and come to balance at 40-yard line, acting as last line of defense. This role was often played by Kicker Kyle Clinton.
Who played the missile and contain roles changed throughout the game based on the scouting report of their opponent, as well as to keep the opponents from trying to attack a specific contain player and get to the outside. The remaining five Buckeyes are 'force' players, assigned to cover specific 'lanes' much in the same way a defensive front is responsible for specific gaps in the running game.
With 53 yards of width to cover on a football field, those lanes can normally be rather large. By shrinking the field and keeping the action from the left sideline to the right hash, the Buckeyes eliminate 20 yards of area that must be covered. Now those players responsible for a lane only need to account for an area roughly 20 feet wide, down from 32 feet each had they looked to defend the entire field.
Those lanes aren't necessarily straight lines either, as players will curl off one another and dart inside or out as they head down the field, looking to confuse blockers that may be anticipating their movement. However the most important job of these lane runners is to keep inside leverage at all times, meaning they must try to keep their inside shoulder free from blockers so they can assist with a tackle should the ball carrier come their way. Staying in your lane does no one any good if there is a blocker between you and the ball carrier.
TV angles rarely allow us to get a good view of who plays what role on each kick, and replays usually only come when there has been a breakdown leading to a big return. But once one becomes familiar with the philosophy, the subtle differences between the assignments begin to emerge.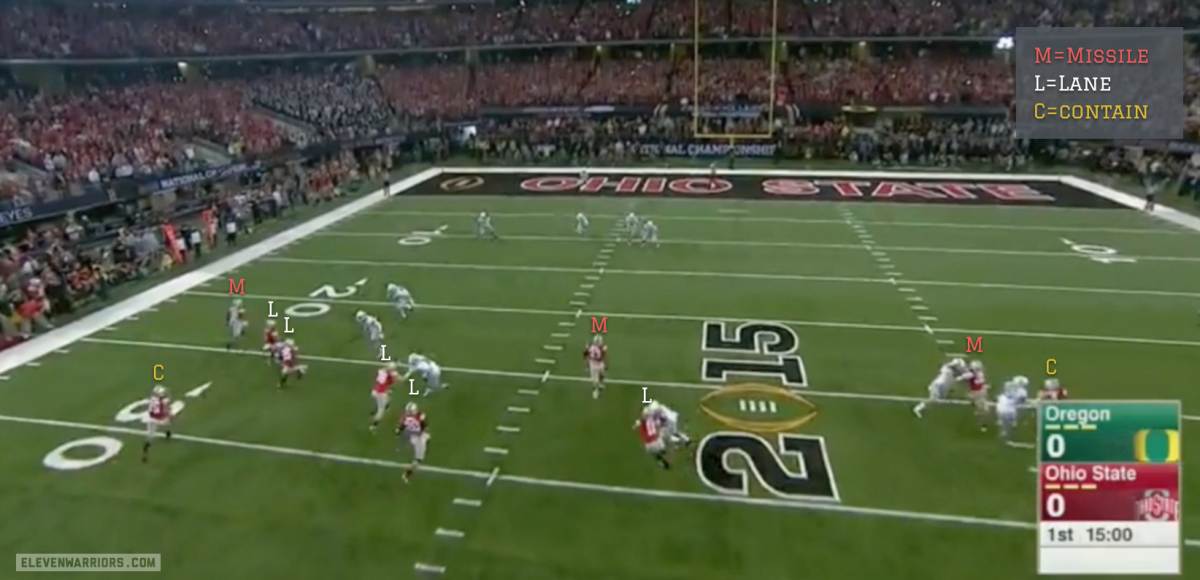 As soon as the ball is kicked, three players appear to be flying at a clip faster than their teammates: Corey Smith (#84) on the left, Dante Booker (#33) in the middle, and Gareon Conley (#19) on the right. These three missiles have eyes on the returner at all times, even though Conley is picked up quickly by two Oregon blockers.
But since Smith is lined up at the spot furthest to the left someone much slide over to play the "contain" role along the left sideline. Insert Chris Worley (#35), who we can see ease up about halfway downfield before peeling off to the outside. Meanwhile, Curtis Samuel (#4) keeps outside leverage at all times along the right edge, tasked with the important job of turning all plays back inside as the right-side contain man.
Clinton's aiming point for each kick is typically where the 'O' in Ohio State lies on this end zone, directly between the sideline and left hash mark. But with the Buckeyes betting on covering only two thirds of the field, Clinton must miss to the left, not to the right. 
Unfortunately, this led to Clinton kicking seven balls out of bounds, the second-highest total in the country. But while this often frustrates fans, it's a much better result than kicking too far right and allowing a returner to escape for a touchdown, something that hasn't happened since October, 2012 when Purdue brought one back against the Buckeyes.
Since then, the Buckeyes have successfully covered 161 consecutive returns (not including touchbacks) without allowing a return for touchdown. While some programs are happy to hand over the ball at the 25 yard-line with a touchback, Meyer looks to pin his opponents deeper.
As Bill Connelly pointed out in his book, Study Hall, a difference of 10 yards or more in field position leads to a massive difference a team's chances of winning.
"A team's average starting field position was worse than 24.0 (i.e. the team's 24-yard line) in just 14.1 percent of the 2012 FBS vs. FBS games. It was better than 36.0 just 15.7 percent of the time. In most games, teams were trying to average in the 32-36 range (win percentage in this range: 66 percent) instead of the 24-28 range (win percentage: 32 percent).

"These aren't huge numbers. On average, a team got 13 possessions in a given game; the total difference between an average start of 26.0 and an average start of 34.0 is just 104 yards (13 possessions times 8.0 yards). One turnover could mean a difference of about 40 yards. One field-flipping punt that bounces past the punt returner and rolls a while could mean 25 yards. One huge stop on a kick return could mean 15 yards."
Thanks to an explosive offense that consistently ended drives with points, the piranhas were the second-busiest kickoff unit in the country. When they're only allowing 17 yards per return, handing over an extra eight yards every time by booting a touchback past the end line would be the equivalent of giving up an additional eight yards of field position. The Buckeye defense certainly wouldn't call for a scheme that would knowingly give up eight extra yards on a play up to ten times per game, so why should the special teams?
To ensure that this unit takes this job seriously, Meyer ensures that they get the credit they deserve, both on the field by rewarding effort with extra playing time at their natural positions, as well as off of it.
The film of the best kickoff unit running down the field last weekend making plays was the best I've ever seen pic.twitter.com/R7KnrN985K

— Urban Meyer (@OSUCoachMeyer) October 7, 2014
As the piranhas prepare to take the field for the first in Blacksburg this fall, they'll be welcoming a new member as they look to replace the departed senior kicker Kyle Clinton. But that doesn't mean that other members of the scarlet and gray won't be fighting to join their ranks.
According to linebacker and piranha member, Craig Fada, "We put a big emphasis on special teams and it gives younger guys a place to make an impact on the game. All the younger guys always wanna get on those and even the guys that aren't fully equipped to get on defense yet want to get on to special teams and that's just a way to help."