Last month, Ohio State defied the odds to capture the first-ever College Football Playoff National Championship. In the process, the Buckeyes put together one of the most memorable seasons perhaps in school history. 
As such, we've come up with a fine list of superlative awards ranging from the best rushing performance of the year to those with a much more personal touch. 
Below is a smattering of those honors. Enjoy.
---
The El Guapo 11W Nickname of the Year Award: "Dolodale"
According to his roommate, Cardale Jones is a man of many nicknames: 12, 12 Gauge, and Airdale are just a few examples. But Dolodale (whatever that means) just rolls off the tongue better than any of them. And for the record, Powell's nickname for Pat Elflein, "Fat Pat," is a pretty good choice for honorable mention. 
Give the Ball to Hyde Award (best running outing of year): Ezekiel Elliott's obliteration of Oregon in the National Championship Game.
Elliott ran for a career-high 246 yards and four touchdowns on 36 carries against the Ducks. The performance, the final encore of a strong postseason showing, has made the sophomore running back a preseason Heisman Trophy favorite. 
The Slob of the Year Award: Taylor Decker
Considering the transformation Ohio State's offensive line made throughout the course of the season, It's hard to single any particular member out. Yet out of "The Slobs," the unit's self-prescribed nickname, Decker stands out as the leader  
The Anthony Schlegel Award: Anthony Schlegel
This is duly awarded to Anthony Schlegel, the assistant strength and conditioning coach and former linebacker, for his takedown of a student who decided to rush the field all by himself during Ohio State's game against Cincinnati in September.
Here's a video of it, courtesy of Lantern TV: 
The Golden Buckeye Award (top senior): Michael Bennett 
On the field, Bennett emerged as one of Ohio State's best defensive linemen. In the locker room, he became one of the team's biggest leaders. On Twitter, he became a fan favorite that won't be soon forgotten. 
The Shruggie Award (best Joey Bosa play): Bosa's walk-off sack against Penn State
In his sophomore season, Bosa became a sort of human-highlight reel as far as defensive linemen go. Above all, however, his sack of Christian Hackenberg to seal a double-overtime win against the Nittany Lions stands out above the rest. In a way, it was a microcosm of the kind of play that earned Bosa unanimous All-American honors. 
The King of 140 (Tweeter of the Year): Michael Bennett
With so many candidates (looking at you Cardale Jones, Tyvis Powell, Darron Lee and Joey Bosa), this one was hard. But I think Michael Bennett's Twitter account (@mike63bennett) was the best combination of thoughtfulness and entertainment. 
Mirror lake jump will always be a tradition at ohio state. Only dangerous when fences are there. We are ohio state. We are legion. Expect us

— Mike (@mike63bennett) November 24, 2014
Some of us are champions in all aspects. pic.twitter.com/7N68eYMPwf

— Mike (@mike63bennett) February 8, 2015
I don't know why but all these North Korea threats seem like a joke. What can they really do to us. Let's be honest. Send a nuke. I dare you

— Mike (@mike63bennett) December 18, 2014
All I know is every big black guy I know is scared to look a cop in the eye because we know it'll be seen as a threat. That's no way to live

— Mike (@mike63bennett) November 25, 2014
The Kenny Guiton Golden Bench of Excellence (best backup on the team): J.T. Barrett and Cardale Jones
There's no way you were getting us to choose one or the other. Barrett and Jones put together legendary performances as far as backup-to-starter stories go. One might say they went 0-100 real quick.
The "DAMMIT TYVIS" Award: Tyvis Powell
Powell, who's arguably the most entertaining member of the Buckeyes, had one of his more memorable moments at the end of the Sugar Bowl. After intercepting Alabama quarterback Blake Sims' last-second Hail Mary pass, Powell, instead of taking a knee and ending the game, tried to return the ball for a touchdown. In the process, he was nearly tackled by his teammates. After the contest, Powell clung onto the game ball like it was a newborn child.
My Two Dads Award: Cardale Jones and Tyvis Powell
Jones and Powell have the kind of banter that's worthy of their own reality TV show. Here's why: 
The Eleven Warriors-Aware Award: Pat Elflein 
Let's show some love to Pat Elfein, who is perhaps the biggest Eleven Warriors savant on the team. Whether it's his Twitter pictures or tweets themselves, Elflein appears to be #Team11W. 
Out here giving @11W a bunch of nuggets

— Patrick Elflein (@elflein65) January 10, 2015
The Biggest Nut Award: Kerry Coombs for his choice of short sleeves at Minnesota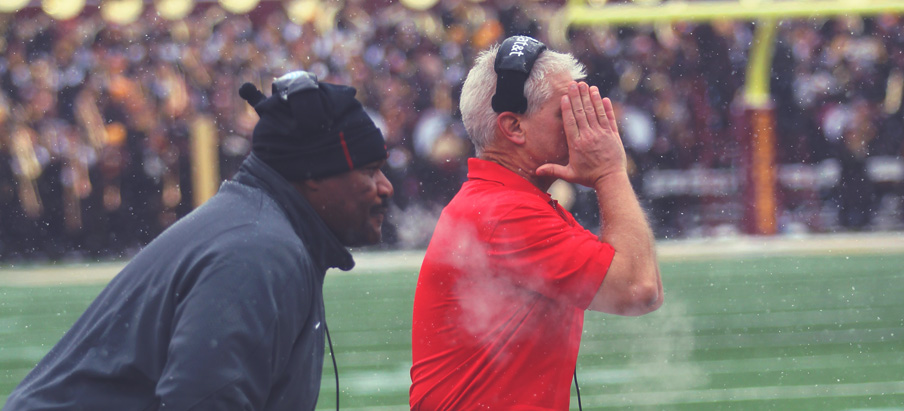 In what's the coldest game in the history of TCF Bank Stadium, you could find Kerry Coombs, Ohio State's fiery and loud cornerbacks coach, wearing nothing but a polo. No sleeves. No jacket. It was around 20 degrees, windy and snowing. Bravo, sir. You are a better man than me. 
The Omar Little Award: Darron Lee 
Lee became one of Ohio State's biggest playmakers and, in the process, became somewhat of his own brand (call it confident or cocky if you want to). He also gave some of the best/most candid interviews in recent memory. Typically, they were characterized by brutally honest assessments. 
The FWIW FYI Awards: Hottest (And Wrong) Media #Take of the Year
We leave you with this.
No, Ohio State, you don't get to be in the College Football Playoff. Not if you win the rest of your games by 100.

— Kyle Tucker (@KyleTucker_CJ) October 24, 2014