It's hard to believe, but we're just 10 days away from Ohio State's season opener for the 2015 season. The Buckeyes are heavy favorites to repeat as national champions and the first team in their way is the lone one that beat them a year ago: Virginia Tech.
But before you get too excited for that one, though, we've come up with 11 burning questions about this 2015 season. The best way to answer them? Well, that, of course, would be in a roundtable format with answers by the staff of Eleven Warriors.
Enjoy.
What are your realistic expectations for Braxton Miller at his new position this season?
Mike: I'm trying to temper my expectations for Braxton because of how difficult the transition is. Plenty of guys have switched from quarterback to wide receiver before, but I'm not sure any have done it successfully within a month. He didn't have spring practice to work on it and he hasn't been completely healthy in fall camp. I expect the offense to complete some easy passes and get him the ball in open space a few times per game, but anything else is a stretch, I think, at this point. 
Kyle: I think he'll be heavily involved in the run game as a threat on the edges, and by motioning into the backfield. Depending on how comfortable he becomes catching the ball, I can see him playing a big part in the screen game, as well. Any expectations of immediately making an impact as a downfield receiving threat seem unrealistic at this point, though.
Birm: When you're dealing with a guy like Braxton, if he's healthy, then the only expectation that is realistic is for him to do something borderline unbelievable. He's the premier athlete in the Big Ten and maybe the country and if he can learn the offensive system and handle the physical impact, I'd expect 25-30 catches, 750+ total yards and 7-8 touchdowns. I think he's a guy that should get 10-12 touches a game. 
Who is the one player Ohio State can least afford to lose this year?
Ramzy: Taylor Decker. I don't want to be callous about injuries, but Ohio State could lose a receiver, running back or quarterback and would have another extremely capable guy or three anxious to make his mark. Decker is the glue, the anchor and the mentor for the guys coming up behind him. They're not all there yet. The leadership hit would be enormous.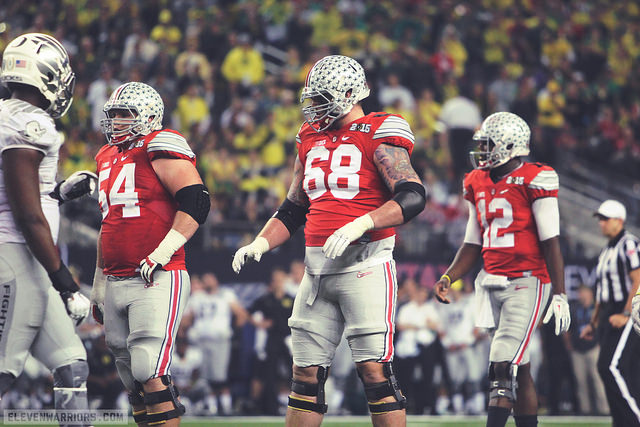 Vico: Interesting question. I'm inclined to answer Joey Bosa. Ohio State will be without him for the season-opener, but extended absences against other opponents in league play compromises the rest of the defensive line and puts the linebackers in a more difficult spot. Five-star, consensus-All-American, early-first-round NFL draft picks are not exactly a dime a dozen.
Johnny: Losing Ezekiel Elliott would mean losing the linchpin of what makes the Ohio State offense so dangerous. It's one thing to account for a wide-open passing/option attack, it's another thing entirely to account for a wide-open passing/option attack with a bruising running back who can make you pay for worrying too much about skill players on the edge. The inside/outside nature of the Ohio State offense means it's incredibly hard to defend, and losing Zeke would take a lot of that away.
Who is the one player from the 2014 team that will be missed the most on this year's team?
Eric: The loss of Michael Bennett is bigger than I think a lot of people realize. I almost went with Doran or Curtis Grant in this answer, but have faith in Gareon Conley and Raekwon McMillan. The other interior defensive linemen? Not so much. Plus, Bennett was the unquestioned leader of the unit and really took his game to the next level late in the season when it mattered most. His impact will be sorely missed.
Michael: Doran Grant gets my vote here. Having a leader at the cornerback position who can play at a high level and effectively cut the field in half is invaluable. Ohio State has all kinds of talent in the defensive backfield, but it lacks experience and most players (even Grant himself) go through an adjustment period in their first year as a starter. Obviously Michael Bennett is another guy who will be missed.
Mike: Devin Smith, purely because I'm not entirely sure anyone can be the same type of vertical threat. I'm hoping Michael Thomas or Johnnie Dixon can be that guy, but Smith led the country in average yards per reception. I don't see anyone repeating that feat. That's OK, the run game will open up some big plays vertically. I just don't think it will be as consistently available as when Smith was around.
Which freshman (true or redshirt) will have the biggest impact on the field this year?
Kevin: Torrance Gibson. For most freshmen, meaningful reps will be few and far between. This will not be the case with Gibson. He's a freak athlete and has already turned heads in camp. It also works to his advantage that the receiver position sees frequent substitutions throughout the game. He will get in the game, and he will make plays.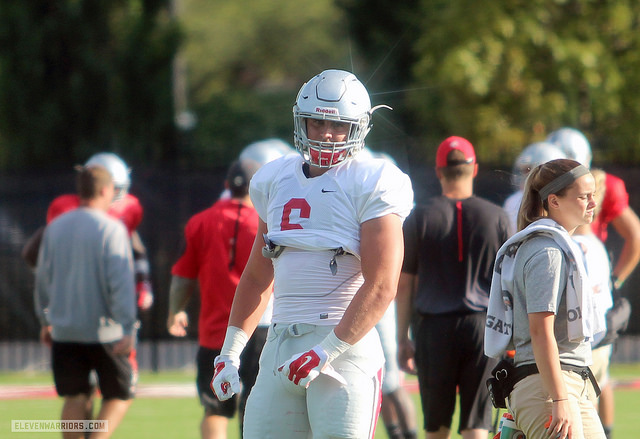 Chris: On a team loaded with returning contributors, it's going to be mighty tough, barring injury, for a true or redshirt freshman to be a legit factor. I don't feel super confident in my pick here but it's between Torrance Gibson and Sam Hubbard. With a glut of receivers and only one football it's tough to go with Gibson so I guess I'll take Hubbard as he might very well work his way into a rotation at defensive end if he has a strong showing in Bosa's place at Virginia Tech.
Birm: Because I can't follow instructions, I'll give you two. On offense, I think eventually it becomes Mike Weber, who was quickly establishing himself as a solid backup tailback before he injured his knee. On defense, Sam Hubbard at defensive end is going to one of a very limited number of freshman/redshirt freshman getting a chance at early playing time. 
Would a two-quarterback system of both Cardale Jones and J.T. Barrett work on this year's team?
Eric: No. J.T. Barrett and Cardale Jones are the best of friends and will support each other, whoever wins the job, but neither guy wants to be part of a platoon or two-quarterback system. Plus, their skills don't really allow for that type of scheme to be implemented unlike in 2006 when Meyer was at Florida with Tim Tebow and Chris Leak. It'd be hard for either Jones and Barrett to get in a rhythm because whoever is in the game will have the full playbook at their disposal, unlike the Tebow/Leak battery in Gainesville, Fla.
Michael: As much as people hate a two-quarterback system and the principals involved don't want one, I know Urban Meyer could pull it off. Forcing defenses to prepare for both Barrett's zone-read prowess and Cardale's big arm would be a huge advantage. I'd at least give Jones some snaps in the fourth quarter when the defense is tired of running after J.T. all day because trying to tackle him is like trying to bring down an SUV.
Johnny: Maybe! It's important to keep in mind that the Leak/Tebow situation was nothing like what Ohio State has now (as Tebow was basically just a glorified fullback), but I can see a platoon system being attempted by Meyer simply due to his aversion toward keeping talent on the bench.
Which H has the best season: Jalin Marshall, Dontre Wilson, Braxton Miller or Curtis Samuel?
Vico: Jalin Marshall (when he returns for [probably not from] Hawaii). Marshall showed the most promise at the position last year, though I will express a polite interest in what Curtis Samuel does as a follow-up act.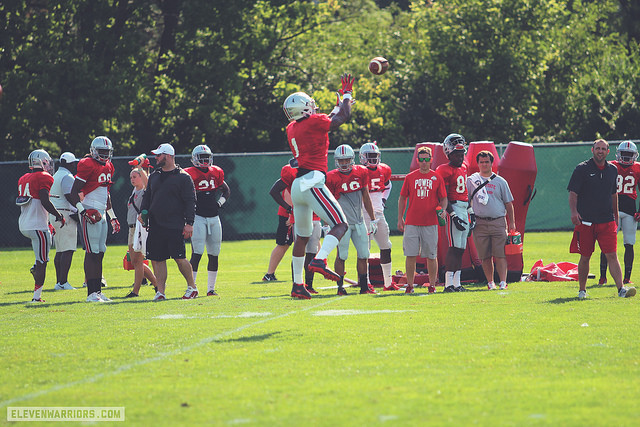 Johnny: Braxton. I'm not chugging the Kool Aid quite yet, but I am daintily sipping it and enjoying the vintage. He is the most dynamic and elusive football player I've seen suit up for Ohio State in my 30 years of life and now they're letting him match up against defenders one on one? Have fun with that, every defensive coordinator in the universe.
Mike: Given more opportunities, it's going to be Jalin Marshall. It took a while — and an injury to Dontre Wilson — for him to get the necessary touches, but he was pretty spectacular given the smaller sample size. Plus, his ability in the return game makes him a more valuable piece than the other three guys.
Expectations are high, is anything less than 15-0 and a national title considered a disappointment this year?
Ramzy: Urban has never run the table and won a national title in the same season and he's really good at what he does. He (now) has a healthy approach to what the standard for a season should be: Nine units strong. Win the Big Ten. I'll go with his standard. The rest is gravy. Delicious, fattening gravy.
Kevin: Absolutely. This team is without doubt the best team in college football, and its backups aren't much worse. It's dangerous when fans start expecting perfection, but in this case I think that expectation is more than reasonable. This team is absolutely stacked.
Kyle: Yes. Now excuse me while I go curse about Lee Evans some more.
Who is a player you're expecting to have a breakout season, whether it be on offense or defense?
Michael: I'm looking for Eli Apple to get to the next level and become another in a long line of outstanding Ohio State corners. He's got all the tools, and it's fun to say his name, so I hope this happens. On offense, I hope it's Chase Farris.
Birm: I'm eager to see which wide receiver, from the group of James Clark, Johnnie Dixon, Parris Campbell, and Terry McLaurin, take their opportunity and don't let it get away from them. The Buckeyes' depth at the position means limited touches so who is going to make the most of it?
Kyle: I expect Tyquan Lewis to make some plays this year, given how he's seemingly owned the starting spot at weakside DE. He wasn't a huge, blue chip recruit like Bosa or Noah Spence, and I think he has slipped a little under the radar for a lot of fans. Meanwhile, everyone is excited for Holmes at Hubbard, yet Lewis has his name engraved on the starting lineup card.
Who leads this team in interceptions?
Chris: Vonn Bell. I think he backs up last year's six picks with another half-dozen this season. Bosa may be the best NFL prospect but I think Darron Lee and Vonn Bell will be the two most productive playmakers on defense.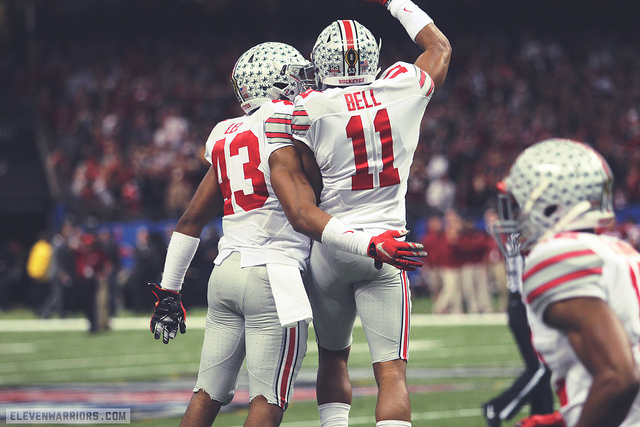 Ramzy: Vonn Bell will lead the team in interceptions in large part because he says give it here and don't say nothin' to quarterbacks. And somehow it works. Weird.
Kevin: Vonn Bell. He was a ball hawk last season, leading the team in interceptions with 6. Under Chris Ash's scheme, the safeties, more than the corners, usually see opportunities for interceptions. With him and Tyvis seeing most of the meaningful minutes at safety, I expect him to come close to that mark again.
Outside of Michael Thomas, who has the biggest year amongst the wide receivers?
Vico: I think the answer here was clearly Noah Brown before his recent injury. Without him, I think it's Jalin Marshall. Ohio State needs a deep threat to replace Devin Smith and he's probably the best option on the roster from what we know, read, or have seen so far.
Chris: Since Braxton is an H-back and therefore not a wide receiver, I had Noah Brown all day before Wednesday night's practice injury. Now, I think the injury makes Jalin Marshall more of a wide receiver than a dual WR/H and he'll be the guy to emerge alongside Thomas as a full-time wide receiver.
Eric: My initial answer was Noah Brown, but his devastating leg injury has him out for the entirety of 2015. I'll go with Corey Smith. He's being pushed for playing time by young guys already because of his suspension for the Virginia Tech game, but as a redshirt senior he must be a guy Zach Smith and Urban Meyer can key on to make plays on the outside. Or just be consistent enough to catch the ball and help Ohio State move the sticks. He should get plenty of opportunities. 
Finally, who takes the first snap at quarterback for Ohio State on Sept. 7 against Virginia Tech?
Eric: I go back and forth on this every day for different reasons, but I'll go with J.T. Barrett. Why? Because he already beat out Cardale Jones once for the backup job last year. Who's to say he won't do it again? Jones did lead the Buckeyes to the national championship in Barrett's absence, a perfect storm for the postseason in the sense that defenses didn't have much film to go off in their preparations for the once third-stringer. Barrett's statistics last year were ridiculous, the offense seems to move better when him there and I think he's a better leader than Jones. I can see the reasons behind going with Jones at the position, but there are more and better arguments for Barrett.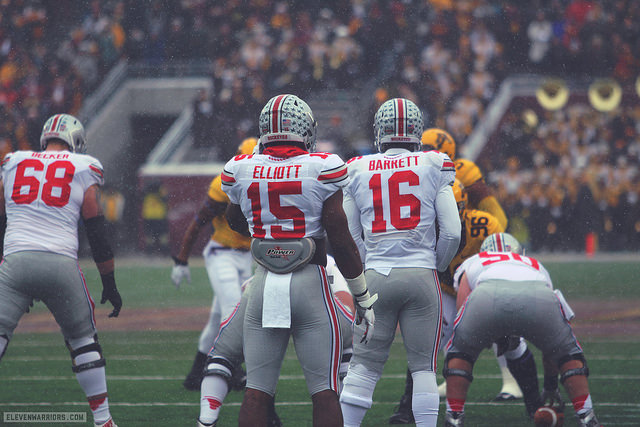 Kyle: After close examination of what both players bring to the table, I think J.T. Barrett will be the starting QB in Blacksburg. To me, he allows Meyer to use more of his playbook, specifically the read-option. The short and intermediate passing game was much better with Barrett, yet he did make a number of throws downfield late in the year (see: Michigan State) that should still force defenses to respect that part of his game, which is really the best thing Cardale brings to the table. Knowing the focus Meyer puts on making the QB part of the running game, Barrett has the edge.
Ramzy: It will be J.T. because Virginia Tech will run the most complicated defense the Buckeyes see until October 17 and he'll be able to react to it better. That said, I think you'll see plenty of Cardale — and Stephen Collier this season. Especially five days later at the home opener.