WOW. That was fun, huh? Two weeks ago this Buckeye team has as bad a week as any in recent memory. Losing a teammate for the season...then losing one forever is never how the script should have been written. Overcoming all of it while trying to win a B1G Championship game seemed almost unachievable...almost.
In what can only be described as the finest big game Buckeye performance I've ever witnessed with my own eyeballs, the Scarlet and Gray eviscerated Wisconsin, crowned a new leader of the offense and grabbed a coveted spot in the first ever College Football Playoff (all in one weekend). It's was one hell of a moment in Buckeye history but it took a full season to get here. To break it all down we've got Johnny and Nicholas. Fire away fellers.
If you can...try and sum up this season in one sentence.
Johnny: George R.R. Martin already wrote it for me: "What is dead may never die, but rises again, harder and stronger"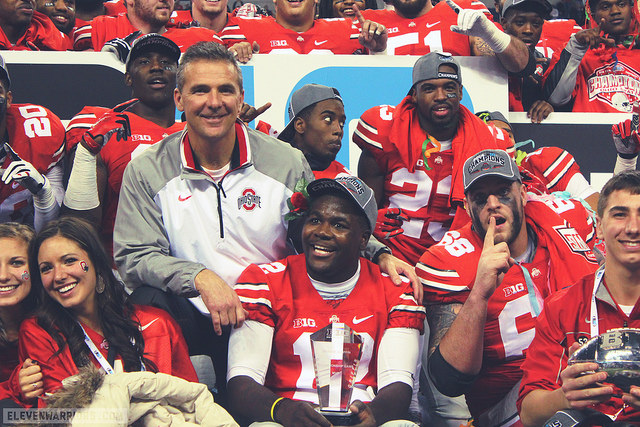 Nicholas: Urban Meyer angers the football gods, who destroy his beloved starting quarterback; he must complete 12 Herculean wins for redemption, and does.
DJ: Being an Ohio State fan is a real, real good time.
Is what we saw in the B1G title game the new and improved defense we've all been waiting for? 
Nicholas: It's exactly what we've been waiting for. Ohio State's front seven has the talent to destroy all comers, but they had been weaker against the run than you might think. They finally displayed the discipline that it takes to be an elite defense, and they dominated Wisconsin's run game. It was shades of the 2002 Penn State game, when the Buckeyes held Heisman finalist Larry Johnson, Jr. to 66 yards rushing.
Johnny: Not necessarily. Joel Stave and the Badger receivers didn't help out Melvin Gordon at all; some of that is due to the defensive line doing a great job of both bottling up the inside run game and creating pressure on passing downs, but in any case it is not a balanced offense that Ohio State shut down. "Shut down," however, remains the operative phrase.
DJ: The pass defense has been improving all season, and they ooze swagger. I couldn't be happier about the "Amari Cooper is going to torch Ohio State" storyline. Make no mistake, Amari Cooper is a boss, but I think the country is about to meet a fella by the name of Doran Grant. Remember: Grant took Tony Lippett one-on-one in East Lansing and smothered him. Cooper is a different kinda beast, but he's still human.
As for the rush D: if they did against Wisconsin... Ohio State won't be touched. Those dudes answered the call their last time out, so how could you not feel good about the frontline going forward?
Is that the most dominant performance by a Buckeye team you've ever seen? 
Johnny: The most dominant performance I ever saw by an Ohio State team was last year when Florida A&M somehow blundered into Columbus, Ohio like a poor lil' wood mouse coming out of hibernation and then promptly got stomped on by a big fat foot like in Monty Python or something. Ohio State scored 76 points without either Braxton Miller or Carlos Hyde, including 34 in the first quarter. That was pretty bad, and someone probably should've called the cops.
But if we're talking teams that Ohio State was on roughly equal footing with, then yes. Pretty much.
Nicholas: Ohio State's win over Florida A&M last year was more dominant, but consider the level of competition. By one measure it was the best single game performance in the country in 2014.
DJ: I've been scouring my brain the since Sunday... maybe Troy Smith and Ted Ginn's explosion against Notre Dame (and AJ Hawk almost killing Brady Quinn) in the Fiesta Bowl a few years back.
What was the best play of the year? 
Johnny: Cam Johnston's 50 yard punt that traveled 49 yards in the air and then straight up died at the one yard line. No bounce, airtime, hits the ground, then pfft stone dead. Like, I get that Nick will probably give you something a lot cooler or whatever, but that punt was probably the most physically impossible thing I've seen all year and no one will ever be able to convince me that Cam didn't do that on purpose.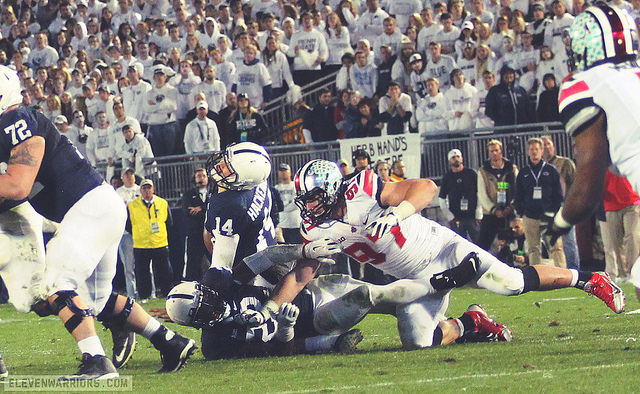 Nicholas: Joey Bosa's sack to end the Penn State game, because putting an undersized running back between Bosa and the quarterback is like trying to stop Niagara Falls with a jar of cotton balls.
DJ: Mike Thomas' second quarter, 79-yard catch and dip against Michigan State. Ohio State was down 21-14 at the time, and a large swath of Buckeye Nation was on tilt. Mike Thomas let the country know regardless of the final outcome, Ohio State was in for the entire fight.
What was the worst play of the year? 
Nicholas: ESPN.com's play-by-play has a rather nice summary of the play: "J.T. Barrett run for no gain to the Ohio State 33 (Barrett injured on the play, carted off)".
Johnny: *Rewinds Virginia Tech game, watches offensive line count to three Mississippi before deciding to block, turns off tape*
...No comment.
DJ: The entire Virginia Tech game. (I bet somebody else has used this joke). 
Who is your offensive MVP? 
Johnny: J.T. Barrett, for... everything he's ever done in his life? I mean, what the hell? Who in a million years would think that he would even play a tenth as well as he did? Prior to this year, Ohio State quarterbacks had thrown for 300 or more yards six times in the 2000s. Well now it's 10, because Barrett did it four times in this, his first season of football in two damn years. With like a week to prepare to be the starter. Holy crap.
Just kidding it's Cameron Johnston (45.1 yards per punt).
Nicholas: J.T. Barrett played better this year than Johnny Manziel did in 2012, and better than Jameis Winston last year in his 11 non-Virginia Tech games. His decision making was impeccable, and that's why a backup quarterback is going to finish in the top 10 of this year's Heisman voting.
DJ: The offensive line. They took a lot of heat after the Tech game, but it's not a coincidence they've improved with Ohio State's fortunes.
Who is your defensive MVP? 
Johnny: Joey Bosa has been amazing, but I actually think this defense hinges on Doran Grant completely shutting down his side of the field with very little fanfare. This safety net has allowed a really, really young secondary to grow up quickly, and guys like Vonn Bell and Eli Apple are starting to become stars in their own right as the defense improves. Grant's ultimate test will come in January, but for my money he's done more to solidify the defense than any other individual player.
Nicholas: Oh, I dunno. ¯\_(ツ)_/¯
DJ: Michael Bennett. Ever since he had that "big players make big plays" (or something like that) Tweet before the Michigan State game, he's been a world-eater. No coincidence the entire defense took it up a step when he elevated his game.
Who is your most improved player? 
Nicholas: The Buckeye secondary struggled against Virginia Tech and was burnt crispy by Cincinnati on some coverage breakdowns. Since then, cornerback Doran Grant has been much better limiting other teams' number one receivers. He had a tour de force performance against Michigan State, shutting down Tony Lippett. If Ohio State is going to beat Alabama, he'll have to be the defensive MVP.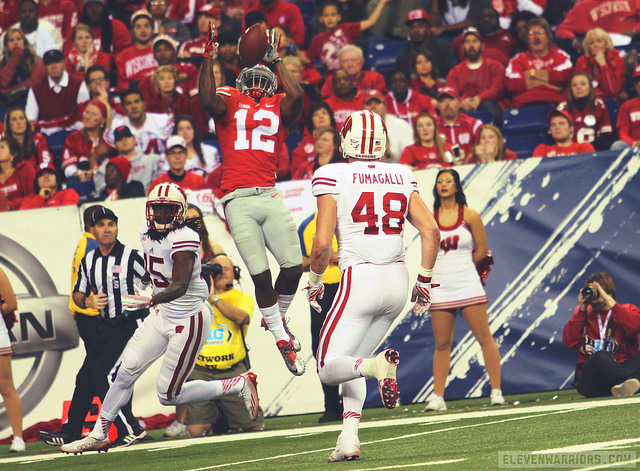 Johnny: Pick an offensive lineman. Barrett doesn't impress us throughout the season unless this mostly nameless group completely bulldozes their way through the Big Ten. Their pass protection is often even better than their run blocking, and that could be said for most of the skill players on offense, too. The blocking on this team on the whole is phenomenal. 
DJ: Devin Smith. He turned in explosive straight line speed into being one of the most dangerous deep threats in the country.
When you heard the Buckeyes were in (and have to play Alabama) what was your immediate reaction?
Johnny: I laughed really hard. My conscience forces me to admit that Baylor probably has cause to complain about getting screwed, but my conscience is also unsurprisingly easy to ignore if there's an opportunity in play to beat Nick Saban. Anyway then I had a snack and went to the gym.
Nicholas: First thought: "Yay!" Second thought: "Well, that's not good."
As good as Doran Grant has been, he cannot cover Amari Cooper by himself. The Buckeyes will have to bracket Cooper, which means they'll have to be softer against other vertical threats like DeAndrew White and Christion Jones. Blake Sims is a threat as a runner or a passer, and the Alabama rushing game is as good as if not better than Wisconsin's. Alabama's offense poses a unique challenge for the Buckeyes, one I don't think they will overcome.
DJ: I was 98% sure Ohio State was going to be in, so I kinda did a fist-pump "hell yeah" thing when Birm told me (I was driving back from Indianapolis). I've wanted Ohio State to draw 'Bama for a long, long time.
Coach Urban Meyer did not receive B1G COY honors but is up for the National COY award. How is this possible?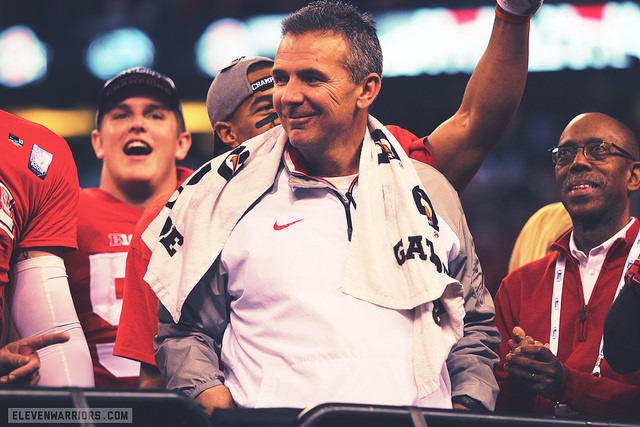 Johnny: Because the B1G COY award was cursed by Lloyd Carr who bathed the trophy in an elixir made from the blood of a wolverine and whatever the nonfictional equivalent of a Nittany Lion is. The first Ohio State coach to win that award will be severing the very threads of time and space that hold our universe together.
Nicholas: Since 2000, Big Ten COY winners have a regular season winning percentage of .831, second-worst among P5 conferences. Kirk Ferentz has won three COYs, and no Ohio State coach in 35 years has. The Big Ten would rather reward deviations from mediocrity than bona fide excellence, and that in a nutshell is why the coaching situation is so bad.
DJ: People assume anybody can succeed at Ohio State due to its resources, prestige, etc. etc. Plus, whoever votes for that thing loves the storyline of some plucky coach pulling Minnesota out of the muck. In the end, I can't hate on Jerry Kill. In the end, however, Urban Meyer is the Coach of the Year in my heart, and I suppose that's all that matters, right?