On its third-string quarterback and coming off an emotional week following the death of Kosta Karageorge, Ohio State let out all its frustrations against Wisconsin, smoking the Badgers 59-0 to claim the program's first ever B1G championship game victory. 
The game was undoubtedly the finest performance since Urban Meyer's arrival in Columbus and sent a strong statement to the College Football Playoff committee as the Buckeye offense didn't skip a beat under Cardale Jones while the defense snuffed out any chance Badger running back Melvin Gordon had of winning the Heisman, holding him to 76 yards on a pedestrian 2.9 yards per carry. 
Now, it's up to the Committee to correctly determine Ohio State belongs in the playoff as one of the top four teams in the land. 
While we wait for that announcement, here are five things from a special night in Indianapolis. 
jONESING FOR A CHANCE
Some fans will say they called it even if it was at least partially wishful thinking while Urban, Tom Herman and the players proclaimed ultimate confidence but I don't think too many people inside or outside of the program had Cardale Jones completing 12/17 for 257 yards and three touchdowns while leading the Buckeye offense to 52 points in his first collegiate start. 
After completing 14/31 passes in the Spring Game, losing his chance four months later to be the opening day starter following Braxton Miller's season-ending surgery and then throwing 17 measly passes over the course of a three-month regular season, Jones was more than ready for prime time. 
On a night in which his highlights were plentiful, his most important play of the night came on Ohio State's sixth snap as he found Devin Smith for a 39-yard scoring strike a mere 119 seconds into the game giving Ohio State a 7-0 lead. 
The drive showed Wisconsin, and the nation for that matter, Ohio State wasn't going to sit back and hope the Badgers made mistakes. Instead, the Buckeyes were going to take the fight to the Badgers with Jones leading the charge. 
Three possessions later, Jones was again showing off his arm as he found Michael Thomas for a 23-yard catch and run before delivering a rocket to Jalin Marshall for 32 yards setting up a Sean Nuernberger field goal to put Ohio State in front 17-0. 
After a 3-and-out by the defense, Jones flicked a 44-yard teardrop to Devin Smith for another touchdown and a 24-0 lead just four minutes into the 2nd quarter. The defense promptly forced another 3-and-out and Jones turned in some of his finest, if not as remembered work, as he went 3/3 on a scoring drive capped by Ezekiel Elliott to make it 31-0 good guys.
Jones was spectacular on the possession as he hit Evan Spencer with an absolute laser for 14 yards on an out route, made a nice read and showed good touch on a 21-yard connection with Corey Smith on a crossing route and found Devin Smith again, this time for 12 yards. After an eight yard keeper, Elliott did the rest on a 14-yard run as Ohio State took a 31-0 lead with 6:36 left in the 2nd quarter. 
For the half, Jones finished 10/13 for 211 yards and two touchdowns to essentially turn the lights out on the Badgers. 
The confidence Jones showed, the preparation he put in throughout the week, the on-field performance itself and his humble nature afterward have already cemented his place in Buckeye history. 
As someone who had serious concerns as to whether he could lead Ohio State to victory with what little we had seen and such little playing time over the course of the season, I bow down to the greatness that is Cardale Jones. 
D-STROYED
Melvin Gordon is a damn fine running back. He's easily the best running back in the country but after Ohio State had their problems slowing down the likes of Jeremy Langford, David Cobb and Tevin Coleman in recent weeks, the Buckeye defense truly looked like the Silver Bullets for the first time all season.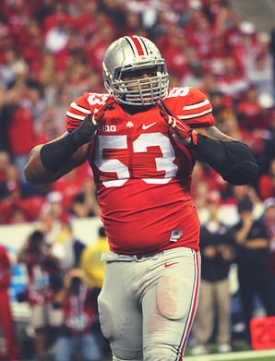 The performance is a huge credit to Larry Johnson, Luke Fickell, Chris Ash and the rest of the defensive staff and what can you say about the players? They turned in a dominating effort from start to finish. 
Coming into the championship tilt, Gordon had rushed for at least 151 yards in 10 straight games but was held to 76 yards last night on a meager 2.9 per carry and the former Heisman hopeful was kept out of the end zone for the first time all season. Not only did the Buckeyes shut down Gordon but they also turned him over as Michael Bennett punched the ball from him late in the half and Joey Bosa scooped it up for a touchdown to make it 38-zip. 
Not only did the Bullets shut down Gordon, they also suffocated quarterback Joel Stave holding him to 17/43 through the air for 187 yards with three interceptions. The secondary was solid to be sure as Doran Grant recorded two picks (B1G title game record) and Vonn Bell one in addition to the Buckeyes breaking up six passes and a hat tip also goes to the d-line who gave Stave little time to throw. 
Overall, the Badgers totaled only 258 yards, were turned over four times and averaged just 1.9 yards per carry. 
Excluding their two meaningless possessions at the end of each half, Wisconsin went 3-and-out on seven of 13 possessions with turnovers on four others. 
Bennett, sporting Kosta's #53, was sensational with four TFL to go with two forced fumbles (both B1G title game records), Darron Lee balled out with seven stops and a forced fumble, and Bell added seven tackles to go along with his pick to tie Lee for the team lead. Special mention goes to Rashad Frazier who played behind Steve Miller and sometime Tyquan Lewis this year. The 5th-year senior applied pressure and filled gaps all night long. 
Beyond Cardale, whether or not Ohio State could contain Gordon was the biggest question heading into the game and those guys delivered in a big way. Incredible performance from top to bottom on the defensive side of the ball. 
EZE DUZ IT
Coming into the game, only one running back was being talked about and his name wasn't Ezekiel Elliott. After the game, it was crystal clear which team's running back had the finer performance. 
Supplementing Cardale's big night, Elliott rushed for a career high 220 yards and two touchdowns on just 11 carries to break Gordon's own B1G championship game rushing record of 216 yards set back in 2012. 
After going the first eight games of the season without a rush over 28 yards, Elliott discovered his big play ability over the last five games registering runs of 47, 44 and 65 yards in recent weeks. Of course, none of those can match his 81-yard jaunt last night.
Already on their heels following the opening salvo from Jones and finding it tough to move on the OSU defense, Wisconsin had to know they were in trouble when Elliott burst through a seam created by Jacoby Boren, Daryl Baldwin and Jeff Heuerman before outracing the secondary to give the Buckeyes a 14-0 lead and a huge mental edge. 
The quick strike was also gigantic in that Bucky had backed up the Buckeyes to their own 7-yard line to start the drive. The punt turned out to be nothing more than a stat padder for EZE who ran 12 yards on 1st down to set up his home run. 
Elliott's clutch performance gives him 1,402 yards on the season and he's been spectacular down the stretch rushing for over 100 yards in four of his last five outings, totaling 693 yards on 7.6 yards per carry with seven touchdowns. 
CAM YOU DIG IT?
It fees a little weird to talk about the punter in a game Ohio State won by 59 points but Cameron Johnston was a beast last night. 
The Aussie set a B1G championship game record averaging 53.0 yards on four punts, dropping two of those inside Wisconsin's 5-yard line. 
Johnston's first punt came after Ohio State's 2nd possession of the night leading 7-0. With the possession featuring two penalties and going for -9 yards, the Buckeyes were forced to punt from their own 25. Instead of potentially giving Wisconsin decent field position, Johnston ripped a career-long 73 yard punt that rolled to the Badger 2-yard line. 
The punt allowed Ohio State to keep momentum which can't be understated considering it was just a one score game at the time. Further, Wisconsin actually moved the ball on their possession, churning out 34 yards, but since Johnston backed them up so far, they only reached their own 36-yard line. 
Late in the 2nd quarter with Ohio State leading 31-0, Johnston went back to work booming a 58-yarder that landed just inside the 1-yard line and bounced directly backward where the Buckeyes downed it at the 5-yard line. Leading by such a big margin, this play might seem trivial but with the Buckeyes needing to make a statement and hoping to keep Wisconsin from generating any confidence or points heading into halftime, the field position changer was huge. 
The importance of the punt would be magnified four plays later as Bennett forced Gordon's fumble that Bosa promptly turned into a touchdown and a 38-0 lead with 1:40 left in the half. 
It's a crime Johnston wasn't recognized as the league's best punter this season but at least now the cat is out of the bag. 
JERRY KILL IS YOUR B1G COY
We all know it's a joke Urban Meyer wasn't the B1G coach of the year. Hell, we know it's a joke no Buckeye coach has won the award since Earle in 1979. Frankly, I see it as a testament to the Ohio State football machine that the league views the award as a consolation prize to whatever coach during a given year wasn't even qualified to be Ohio State's head coach save for Bo Schembechler and Joe Paterno over that span. 
Anyhoo, this Thing isn't about that, it's about Urban Frank Meyer being a boss. 
Ohio State comes into this game a week after losing their Heisman candidate quarterback who just happened to replace a Heisman candidate 12 days before the season started and all of this gives him and his staff a week to prepare a third-string kid who had thrown 17 passes on the season.
And they have to get him ready to face the nation's 2nd-ranked total defense.
And they have to do it during the same week in which the squad is mourning the sudden death of a teammate. 
And beyond no Braxton and no Barrett, they were down Dontre Wilson. And Jalin was a bit hobbled. And Corey Smith was ejected early on a bad call. 
And a sometimes leaky rush defense was facing the best back in the land. 
And they win 59-0 in the most dominating football performance I've ever seen from Ohio State in a "big game", posting what I believe I heard is the first shutout in the history of FBS conference championship games?! Insane. 
Yes, player's make plays but they take their cues from their head coach and in a week when Ohio State had multiple valid reasons to come out flat and lose, they came out and stepped on the neck of the country's best running back and unleashed fire and brimstone via a wide-open playbook directed by a guy who hadn't even seen the field in three of the previous four games and hadn't attempted more than nine passes in any one game. 
I am rewatching the game as I type and I still can't believe just how impressive this team played. And it's full of freshman and sophomore contributors. 
Urban Frank Meyer is indeed a boss.