After downing two top 25 teams on their own turf, the Buckeyes are headed home to face their last two foes in Columbus. Everything is still at stake, as a B1G championship and potential College Football Playoff berth are within sniffing distance. This is the home stretch ladies and gents. Buckle up. Ramzy, Tim, Patrick...take it away.
What did you like most about the game against Minnesota? 
Ramzy: I thought Tom Herman called a great game. The slip screen to Evan Spencer on 3rd and long was especially arousing. I still have anxiety about how the Buckeyes turtle-shelled the end of last year's Wisconsin game that indirectly resulted in Christian Bryant's ankle being shattered, as well as the Sparty and Clemson games when they overthought everything and didn't just give the ball to Hyde. The offense this year - and in that Minnesota game especially - doesn't appear to be overthinking things and I love that.
Tim: There certainly were no signs of Ohio State having a "letdown" game against Minnesota. They came out ready to play and that was evident by the early 14-0 lead. The fact the score was so close wasn't because Ohio State overlooked Minnesota or anything, it was just because of some miscues.
Patrick: Part of me wants to say J.T. Barrett (because it's true), but I think the offensive line was really impressive. The growth of that unit is rather remarkable when you think about how it looked in the Virginia Tech game. Last week, Ezekiel Elliott called them the heartbeat of the team and, as they go, so goes the offense. That's as real as it gets.
What did you like least? 
Tim: Think the obvious answer here is the turnovers allowed Minnesota to hang in the game. I think Ohio State was able to get away with some turnovers because it dominated the game, but you can't get away with that against better teams. Minnesota isn't a slouch, but Ohio State's miscues allowed the Gophers to stay in the game and kept the score close even though the game wasn't really competitive.
Patrick: Turnovers. Pretty obvious answer. Just sloppy/silly errors that'll probably get remedied within the next week. 
Ramzy: The inability to step on Minnesota's neck and bury them reminded me of the 2012 Indiana game, which needlessly ended at 52-49. That had less to do with offensive play calling and more to do with unforced errors and defensive breakdowns. 
Help put what J.T. Barrett is currently doing into perspective. Has there ever been a Buckeye come out of nowhere like this with this much success?
Patrick: When Braxton Miller went down in August, I remember a billboard over Olentangy River Road read "Get Better No. 5." I went back a couple nights later and the same billboard read, "Go Get Em No. 16." I'll probably never forget that because it's emblematic of a community that went from mourning the loss of Miller to embracing Barrett, who went from the wide-eyed freshman making his first start against Navy to the kid who got put on his behind against Virginia Tech to a legitimate Heisman candidate. That's ridiculous.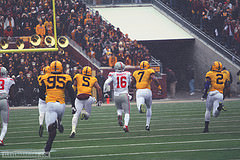 Ramzy: Joe Germaine comes to mind, but [dusts off shoulder] I said as much back in Week 3. This is what happens when a highly-functioning, teachable quarterback trust-falls into the system he's given. 
Tim: I was actually thinking about this the other day. Ohio State's offense lost four starters on the offensive line — three of which are starting in the NFL. It lost Carlos Hyde, who is having a solid rookie season in the NFL and it lost its best wide receiver in Philly Brown, whose role is expanding each week for the Carolina Panthers. That's a ton of talent to replace and Barrett has stepped in for a two-time Big Ten Player of the Year and kept Ohio State's offense going at an incredibly high level. It's kind of mind-blowing what he's done and what the offense has done as a whole to this point given what it lost.
Will Barrett be invited to New York for the Heisman ceremony? Will he earn more than an invite when he's there? 
Ramzy: He's going to absolutely torch Indiana. Then he's got Michigan and the B1G CG, so if he's functioning anywhere between admirable and spectacular in those games he's going to see Manhattan at Christmastime, which is absolutely lovely. Ohio State having a Heisman finalist is good for healthy Heisman presentation ratings, and as with the postseason that's really what college football is all about now. Unless the wheels fall off in these next three games, December should be #JT4NYC.
Let's add that Barrett would be the most wholesome and refreshing surprise freshman to crash the Heisman ceremony in history, not that JFF and James Winston set the bar terribly high. America is thirsting for a freshman QB sensation that doesn't make them feel gross inside.
Tim: I think he'll be invited and deservedly so. His numbers are off-the-charts good and certainly worthy, right now, of an invitation. I think he's still a longshot to win the award, but right now I think he should be a finalist and get that experience.
Patrick: I think so. Ohio State's rolling with momentum and so is Barrett's campaign. While he's much of the reason why the Buckeyes are playing so well, he's also a byproduct of a team that's surged back into the national spotlight. And, statistically, he deserves to be there. Whether he wins? I'm not so sure. Ask me in three weeks. 
Indiana's Tevin Coleman is one hell of a running back, averaging 7.8 yards a carry. The Buckeye D didn't exactly throw up a wall against Minnesota's David Cobb. What must change Saturday to contain Coleman?
Tim: To me, this is a concern. Not because Indiana has a chance to beat Ohio State because I think that's asking a bit much, but the Buckeyes have had trouble the last two weeks stopping the run against Michigan State's Jeremy Langford and Minnesota's David Cobb. The game against Langford doesn't hold as much because the Spartans are a well-balanced offense but all Cobb and the Gophers do is run the ball and Ohio State still had trouble stopping it. There's some guy named Melvin Gordon waiting for the Buckeyes in Indianapolis, so I think it'll be big mentally for Ohio State if they can stop Coleman this weekend.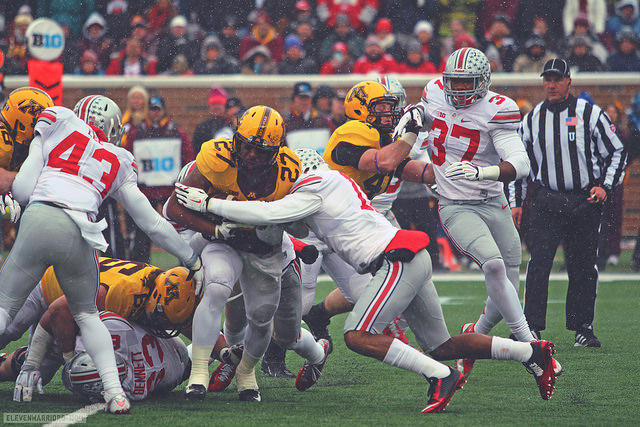 Patrick: If the Buckeyes don't blow their gaps, they should be fine. After watching the film, Meyer said the defensive front seven played better on film than he anticipated after the contest. Coleman's good, but, like Cobb, not good enough to singlehandedly beat Ohio State. 
Ramzy: Tevin Coleman, like Antwaan Randle-El before him, is a human cheat code who will tragically fail to play in a bowl game. He would start on any team in the conference including Wisconsin, Minnesota, Michigan State and Nebraska - he is that good and Indiana is that bad. The Buckeyes had no gap integrity against the Gophers which allowed Cobb to get to the second level far too many times. I expect this to be corrected for a team like Indiana that features a back like Coleman and a whole bunch of lesser threats.
What is your final score prediction?
Patrick: Ohio State wins, 55-17. Mismatch in every way. Indiana will score some in garbage time. Buckeyes clinch second-straight trip to Indianapolis. 
Ramzy: 63-10 Buckeyes. And I'm excited to hear Urban talk after the game about "that team we just played beat the SEC East champions at their house" in front of every microphone in Columbus. Hopefully he says it two or three times. Perhaps four times. Okay, fine - five.
Tim: This will probably get ugly pretty early. I'll say Ohio State 55, Indiana 14.
Assuming the Buckeyes make the B1G championship game, who would you most like to see them face? 
Ramzy: If the goal is the College Football Playoff, then Ohio State needs to face the most formidable opponent possible to make up for the Big Ten's reputation. That opponent, at the current moment, is Wisconsin. 
Tim: Think from a resume standpoint it's gotta be Wisconsin. Ohio State will likely need a big win in that game to make a lasting impression on the committee and it won't get that opportunity if it plays a team it already beat (Minnesota) or a team that looked awful Saturday night (Nebraska).
Patrick: Wisconsin. Ohio State needs as many quality wins as it can get.
TCU and Baylor's quality wins are looking worse and worse by the week. Will a one-loss Ohio State team jump a one loss TCU?
Tim: I think if Ohio State wins out it will be in pretty good shape. The Buckeyes jumped Baylor on Tuesday night and can still pick up a quality win in the Big Ten championship game. TCU has a bye week already and has somewhat peaked with no shot at another quality win on the schedule.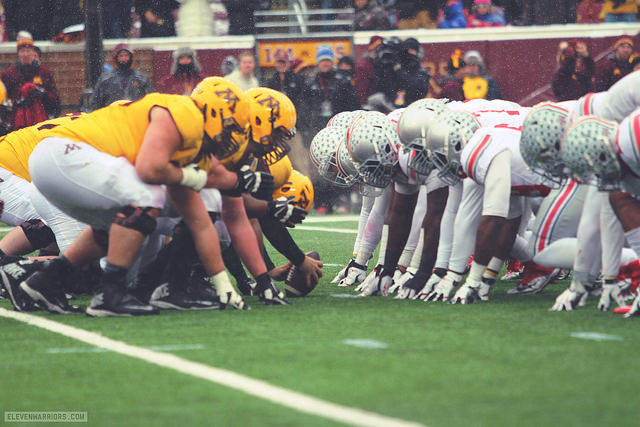 Patrick: I think so, but it has less to do with TCU's quality wins and more about Ohio State's momentum. Turn on the TV and people are talking about the Buckeyes. A lot. They're the "it" team right now. 
Ramzy: The tiebreaker with the committee is going to go to the team that garners the most eyeballs and television sets, and Ohio State dominates that tiebreaker with less than a handful of exceptions, none of which are Baylor or TCU. The Big XII championship game has been the great eliminator of Big XII title threats, and it no longer exists. The irony is its absence could end up doing the same. 
Is Ohio State one of the best four teams in the country right now? 
Patrick: No, but it doesn't matter. Ohio State's one of the hottest teams in the country, and that might count for more. The Buckeyes have gotten better each week. 
Ramzy: No. Still not a championship defense or special teams. I get that doesn't matter for teams like Baylor who consciously try not to play defense, but I'm a stickler for silly old fashioned principles like "championship teams don't allow 58 points at home or lose to West Virginia." Yeah yeah shut up they'll end up with as many losses as Virginia Tech and I hate you for making me play the transitive game.
Tim: They're playing like one of the top-four teams in the country, but I'm not sure the resume is worthy of being in the top four just yet. The loss to Virginia Tech can't be overlooked, but with that said if Ohio State picks up a win over Wisconsin in the Big Ten title game, that'll give it two really solid wins on the season and they'll be right in the discussion as they should be.
Thus far, has this Buckeye team been more fun to watch than last years? 
Ramzy: Barrett and the youngsters growing up so quickly has been a joy to watch, as has been the emergence of -gasp - wide receivers, but Braxton and El Guapo lined up behind that offensive line last year that's now starting in the NFL was a dream-shredding death machine. It's still unconscionable that the blades were sheathed like they were in the waning moments of the Sparty and Clemson games.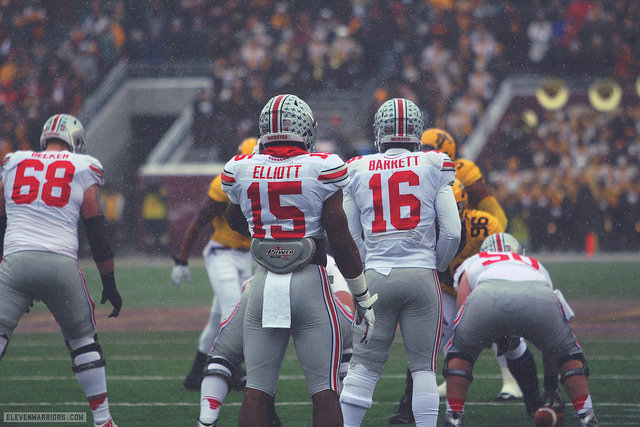 That being said, when the Buckeyes are barreling into late November with all of the high honors still in play, it's impossible not to be simultaneously filled with anxiety and euphoria. That's when watching Ohio State is at it's best: You want to cheer and vomit at the same time.
Tim: It's probably more entertaining from the standpoint of there were so many unknowns coming into the season and it's nice to see a young team grow up. I can't say I expected the offense to just come in and put up similar numbers to last year with all the new pieces, so that's certainly something that's exciting for Ohio State fans.
Patrick: Yes. I figured Ohio State was in for an unexpectedly turbulent season after the Virginia Tech loss. Urban Meyer had to get these guys to buy in and I'm sure it wasn't easy. This might be one of the coach's finest jobs.