Well the Buckeyes welcomed the Scarlet Knights to the B1G with a 56-17 whoopin' and now they're headed to Happy Valley looking to keep things moving. The offense is starting to look unstoppable, while the defense continues to improve every week. Still, a hostile crowd of 110k awaits young J.T. Barrett and the Ohio State Buckeyes in Happy Valley. So, I've tapped Ramzy, Tim and Mike to give you their #hottakes. Wont you join us?
What did you like from the Rutgers game last week?
Ramzy: I liked Doran Grant's interception in the end zone. I liked Rashad Frazier forcing a fumble and Eli Apple running it in for a touchdown. It was the return of the defense making game-changing plays - not just sacks or TFLs, both of which are great - but scoreboard-affecting plays.  
Tim: I think if you're an Ohio State fan you've got to continue to like that games they should win are turning into blowouts. In year's past, Ohio State has won but won ugly at times. That doesn't seem to be the case at least so far. They've looked impressive in every game since Virginia Tech and that's encouraging.
Mike: I liked everything Urban Meyer didn't like. Obviously it's his job to be hyper-critical, and I don't mind. JT Barrett left a few throws out there, sure, but so does every quarterback. I can't say he was flawless, but he continues to be nearly that in conducting this offense and even made some wise decisions running the football, which led to a 107 yard day on the ground. His growth in reading defenses amazes me, not that I didn't think he was capable of it but that it happened so quickly. Plus, the improved play of the offensive line helps – considering they just shut out the leading sack unit in the B1G.
What is still bothering you about this team, if anything?
Tim: I'm still not sure how good this team is. The way Ohio State has played since Week 2 and the way Virginia Tech has played makes that game seem more flukey to me. But even still, I'm not sure you can definitively say how good Ohio State is until after it plays Michigan State.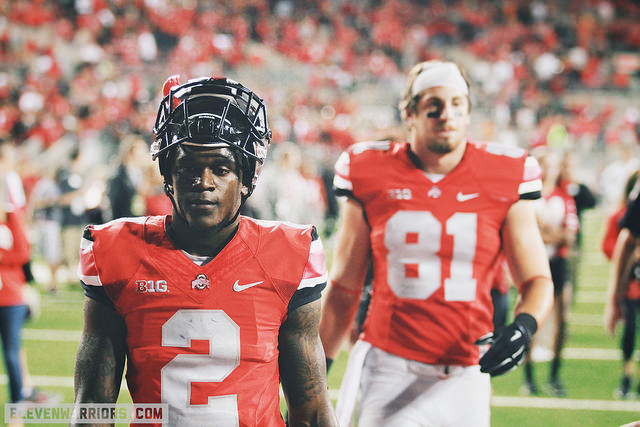 Mike: The way they're playing right now, I don't see much wrong. Yet, no matter how well they've played since Virginia Tech and continue to play in the next month, the loss to the Hokies will still bother me. It's not so much the game itself as much as the lasting impact from the game. Players and coaches have evidently moved on, but for them to have any chance at the playoff  they'll still need a significant amount of help. It's a horrendous loss on paper, not even one a win over Michigan State can erase. 
Ramzy: I'm still bothered by that stupid Virginia Tech game, which is the herpes of this season that refuses to go away. I'm bothered that Rutgers had zero penalties last Saturday and Maryland had only two the game before that - that's just complete and utter nonsense and I don't like how that trends for Ohio State and the schedule gets tougher. 
Sounds like Meyer is taking issue with some players on the D-line. What's going on?
Mike: Meyer mentioned his desire to see 10 players in the rotation at defensive line. Certainly Rashad Frazier's injury doesn't help in that respect, which is exactly why he wants more quality depth. Hopefully Frazier can go this week, as his position is already weakened by the loss of Noah Spence. I don't know if Meyer is more concerned about a rash of injuries depleting the unit or getting guys meaningful snaps for the future. Either way, with Bosa and Bennett healthy, I have no worries about the defensive line.
Ramzy: I don't want to undermine anything Urban's doing with the team, but I believe it to be a motivational tactic. They're 15th nationally in total defense, 24th in scoring defense, 34th in TFLs and 36th in sacks. He's just trying to get them from good to great when it matters most.
Tim: He's specifically mentioned guys like Chris Carter, Tommy Schutt, Donovan Munger and Mike Hill as players who need to contribute. It's especially surprising that Schutt isn't seeing more playing time considering he was listed as a co-starter Week 1, but hasn't seen much time since. I think depth on D-line is definitely a concern going forward. Any player could go down with an injury on any play, so it's important to keep as many bodies playing at a high level as possible.
This seems to be an entirely different team than the one that played Va Tech. Is that due to the level of recent competition, the actual improvement of the squad or a little bit of both?
Ramzy: Virginia Tech exposed a flaw that went inexplicably unaddressed that night. I'd say it's due to an improvement of the coaching staff more than anything else. 
Tim: It's definitely both, but there is an added swagger this team seems to have picked up, especially offensively. I really feel like they believe they're unstoppable right now. Defensively, they've also shown strides. I think the most impressive defensive performance was against a pretty solid Maryland team.
Mike: A significant amount of it has to do with the mental maturity of Barrett and the play of the offensive line. Sure, no one has the personnel to run the "bear" front against Ohio State quite like Virginia Tech. With the way they've played and how Barrett instantly recognizes what play he needs to audible to in order to beat it, he's making teams look ridiculous attempting that concept. Within four games, a major weakness is turning into a strength. Rutgers' talent along their defensive front further cements this offensive line's recent play is the real deal, not an aberration. 
J.T. Barrett currently looks unstoppable. It's the topic no OSU fan wants to talk about...but is there a QB controversy next year?
Tim: Still no controversy to me. Barrett has been exceptional so far, but I still need to see more than six games, I'm sorry. I think this weekend against Penn State in a hostile environment will tell us a lot more about Barrett, but I still think if Miller does come back next year, he's got to be the starter. My opinion could change over the next six weeks, but right now Braxton is still the better option.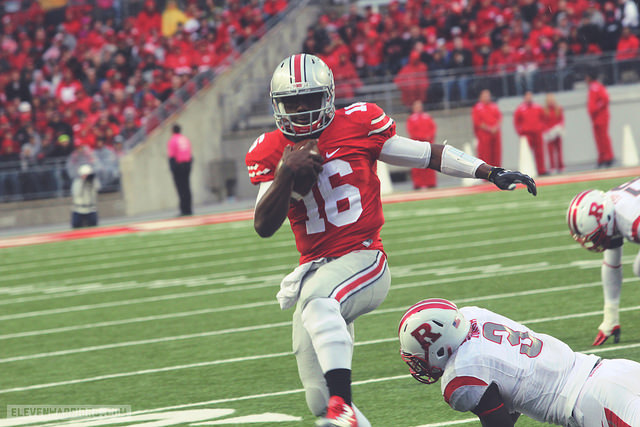 Mike: At this rate, Barrett is going to smash all the major single-season passing records at Ohio State and put himself into Heisman consideration. If that's the case come December, there will be no controversy next season. I can already see he has better command of this offense than Braxton Miller ever did. Barrett is also growing with a young offense around him and a significant amount of these guys don't have game experience with Miller. The true test will be against Michigan State or, possibly, in a bowl game where Barrett will need to prove his efficiency. 
Ramzy: It's only a QB controversy after Braxton Miller can pass a physical and look like he's supposed to look in practice. 
What concerns you most about Penn State this Saturday?
Mike: Christian Hackenberg is going to have to uncontrollably ball out in order to win this game. He has the arm talent, assuming Joey Bosa doesn't tear off that arm. Penn State can't protect Hackenberg against anyone and they don't have the run game to take the pressure off.
Not that Barrett and this offense have been prone to doing so, but maybe the only concern is turning the ball over, simply because of the atmosphere. Barrett hasn't dealt with this kind of intensity from an opposing crowd before. The stadium will be full of the weird, unmitigated hate Penn State fans have for Ohio State, despite Buckeye fans caring less about this rivalry.
Ramzy: Penn State doing something novel defensively that Ohio State's coaches don't react to until the following week, as was the case with those stupid Hokies.
Tim: I've gotta go with the atmosphere here. Ohio State has had recent success in Happy Valley (it hasn't lost there since 2005), but this is a particularly young team playing its first road game in a big-time environment. Like Urban said Monday, playing in front of 110,000 is different than 50,000 like they did against Maryland. If Ohio State can open strong, it'll be fine because talent-wise I think the Buckeyes have a significant advantage.
The Nittany Lions have the nation's No. 1 ranked rush defense but it's come against some suspect competition. What do you expect the Buckeyes to do on the ground this weekend?
Ramzy: A solid 250 yards rushing, right around their average. 
Tim: I think they'll rely on the ground game a little bit more than the pass game this week. I think that's how they can neutralize a hostile crowd. Ohio State should be fine running the ball and I expect them to get around 250 yards on the ground Saturday.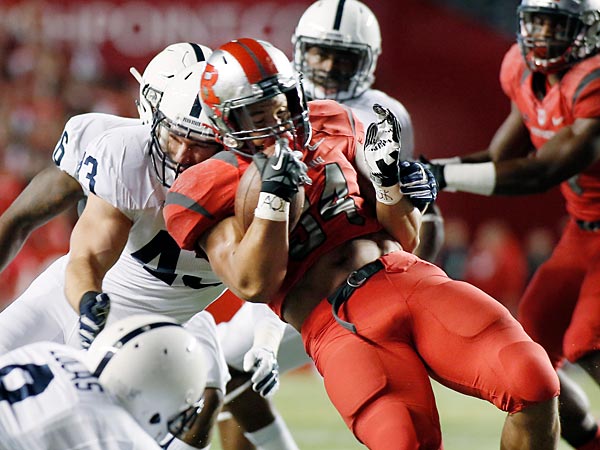 Mike: After the way they treated Rutgers, I am now starting to believe Ohio State can run the ball on anyone. Penn State is no exception to that. Yes, let's consider PSU's "suspect competition" and where they rank in rushing: UCF (119), Akron (107), Rutgers (74), UMass (115), Northwestern (105) and Michigan – who just lost their leading rusher (66). It's fairly obvious to point out Ohio State is on a completely different level and, even if Penn State sells out to stop the run, they'll get burned by Barrett.
The firepower on this team looks young and limitless. When was the last time you felt this good about the offense? 
Tim: Honestly, last year, but it was different. I felt last year Ohio State could run the ball whenever it wanted and it get five yards at least. And it did for the most part. This year's offense definitely has more weapons, though, and in the next year or two could turn into the one Troy Smith led with Ted Ginn, Anthony Gonzalez, etc.
Mike: Well, last year. I'm not quite as confident in their ability to run the ball because the offensive line is just starting to gel and it's not quite as talented as last year's. Even if the run game is contained, and I don't see that happening any time soon, there are an incredible amount of weapons for Barrett to throw to. Another week of dominance up front and I'll soon get to the point where I'm just as confident in this year's offense as I was in last year's – and that's no easy feat. 
Ramzy: 2006. It's like Joe Germaine and Troy Smith had a baby and he wears #16. He's just super chill and poised and throws an unremarkable RIGHT ON DAMN TARGET spiral after he makes all of his reads. There's speed everywhere and if the receivers don't start dropping balls again they'll keep racking up touchdowns.
Give me your final score prediction?
Mike: 42-13, Ohio State. The Buckeyes haven't lost in State College in nearly a decade and the last three games in Happy Valley haven't been particularly close, either. I went to the last two games there and, although it was as intense an atmosphere as I've ever experienced, OSU never got ruffled. Maybe it's because the aura of intimidation is lost when you look across the field and see the depleted talent on the other sideline.
Ramzy: 49-10 Ohio State. They fully realize just winning games isn't enough. 
Tim: I think Ohio State may start a little bit slow, but I think they're just better than Penn State. I'll say Ohio State wins, 38-17.
Who is the best team in the country right now?
Ramzy: It's in Mississippi currently. I'm not sure which one though. Man, that's so weird. 
Tim: Honestly, I have no idea. Every team I've watched has its flaws and there isn't a dominant team in college football this year. Gun to my head, I'll pick Florida State. Not really sure why other than they are the defending national champs and until someone beats them they should remain on top.
Mike: Mississippi State, not only because of the quality of their victories but the way they've played in those games has them worthy of their No. 1 ranking. I believe Florida State has the most talent but the Seminoles continually play down to the level of their competition. The Bulldogs have the most impressive win of the season, beating Auburn at home, and jumped all over the Tigers at the outset of the game. You can question the talent they have at wideout but Dak Prescott and Josh Robinson are extremely tough to contain on the ground.