Seven days removed from the disaster against a Virginia Tech – a loss that only looks worse after the Hokies were upset at home by East Carolina – the Buckeyes got back on the horse and dismantled a terrible Kent State team, 66-0, yesterday afternoon in the Shoe. 
The blowout pushed Ohio State's winning streak to 39 against in-state foes dating back to a 7-6 loss to Oberlin in 1921. With a bye week on the horizon, the Buckeyes have two weeks to get Jeff Heuerman healthy and continue development at key positions such as offensive line. Further, with Cincinnati coming to town sporting a legit gunslinger in Gunner Kiel, the defensive staff must get the back seven ready for a busy night. 
Alas, before we begin breaking down the matchup with the Bearcats, we take a final look at Five Things that stood out in Ohio State's yawner over Kent State. 
GRIN AND BARRETT
You have to keep in the mind the level of competition but J.T. Barrett was simply spectacular. The redshirt freshman completed 23/30 passes for 312 yards and his six touchdown tosses tied the school record held by Kenny Guiton. Even better, the half-dozen scoring strikes set the school record for most touchdown passes by an OSU quarterback against an FBS opponent, besting Bobby Hoying's five against Pitt back in 1995. His 312 passing yards marked the most by an Ohio State quarterback since Troy Smith abused Michigan for 316 in 2006. 
Beyond the stats, Barrett is clearly responding to coaching and film work as evidenced by his improved effort to avoid holding the ball too long in the pocket and intermittently staring down receivers. If anything, he may have overreacted to that criticism as he youthfully left the pocket too quickly on a few occasions in the opening half although he did an outstanding job running throw his progressions in the rare instances his primary receiver wasn't wide open. 
His second-strongest trait to this point, only outdone by his remarkable poise and leadership, remains touch and accuracy on his throws. Barrett didn't make a legit bad throw until the fifth possession of the day on his 19th attempt. On 1st and 10 from the Kent State 13, Barrett locked in on Evan Spencer, failing to notice an outside linebacker who easily tipped the pass incomplete. Otherwise, he consistently hit receivers on time an in stride allowing for a ton of yards after catch. His lone interception on the day could have just as easily been a touchdown had Michael Thomas made a better effort to make the grab on a slant route near the goal line. 
WALKING THE WALK
Late last season, wide receiver Michael Thomas took some not-so-veiled shots at the rest of the receiving corps as he suffered through what became a redshirt season. The incident, clearly born out of frustrated immaturity, put Thomas in a position to put up or shut up this year and through three games, he's easily been Ohio State's best receiver. 
Yesterday, albeit against an outclassed secondary, Thomas caught two balls for 77 yards and a pair of touchdowns. Of course, as noted, he also cost Ohio State a potential touchdown when he failed to haul in Barrett's slant pass midway through the 1st quarter. Even with that wart, having already converted a crossing route into Ohio State's first touchdown of the day, Thomas sought retribution in the form of a hitch and go that started as a modest six-yard completion before he eluded a would-be tackler and used a block from Devin Smith to race 63 yards to the end zone. The score put the Buckeyes up 31-0 early in the 2nd quarter and gave Thomas four touchdowns on the young season. 
With at least one touchdown reception in all three games, Thomas is the first Buckeye since Ted Ginn in 2006 to do so and is clearly backing up his bark. 
Considering Smith has done little to indicate he can be more than a homerun threat (5 rec, 211 yards) and fellow vet Evan Spencer has just three grabs for 36 yards, the production from Thomas (11 rec, 214 yards) has been huge for Barrett and the offense. Absent a proven track record, it remains to be seen if he can keep it up but hats off to Thomas for his fast start. 
THE HERMAN/MEYER TROLL GAME IS STRONG
Through the first two games and especially after the loss to Tech, an army of armchair offensive coordinators lamented Tom Herman and Urban Meyer failing to utilize the tight ends and running backs/H-backs in the passing game.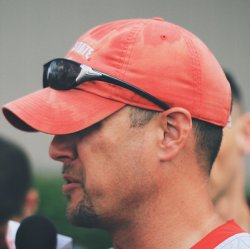 Using the tight ends wasn't particularly feasible versus the Hokies but the fact remained Ohio State had not completed a pass to the tight end over the first two games Further, the running backs and H-backs registered just six combined receptions with five of those coming against Navy. 
Yesterday, Herman/Meyer got their troll game tight as Ohio State completed no less than 13 passes to RB/H-Backs for 132 yards and another five balls found the tight end combo of Nick Vannett (4/40) and Marcus Baugh (1/2, TD). 
Barrett was right on time with nearly all of his throws to these groups, leading backs perfectly on swing passes and finding tight ends with lasers in windows between linebackers.
It remains to be seen if the strategy will continue against stiffer competition but it was great to see seven different players from these position groups afforded the ball in space especially since the plays themselves were quick hitters taking pressure off the offensive line in pass pro. 
KWON DA TRUTH
Ohio State fans finally got their first extended look at freshman middle linebacker Raekwon McMillan and the kid did not disappoint. 
Alternating series with starter Curtis Grant for much of the afternoon, McMillan posted team highs in tackles (7), tackles for loss (3) and sacks (2), looking extremely comfortable in the process. His speed from sideline to sideline is impossible not to notice and listening to his words post game, it's clear he "gets it" and deserves his share of playing time weekly going forward. 
The grounded superstar-in-the-making talked evenly about just making sure he's prepared when his number is called and while many of us have piled on his teammate Grant for shortcomings such as an ability to defend the pass, it's easy to see why he's a captain:
"There's no tension between me and Curt. Me and Curt have the utmost love for each other. Ever since I got here, people were expecting us to be going at it. But it's the utmost love for Curt. Everything that he did for me is truly a blessing. I couldn't ask for a better big brother here at Ohio State."
That relationship should bode well for both players – and the coaches – as McMillan continues to get better in a way that potentially eats into Grant's snaps. 
THE GRAND PECKING ORDER
Much has been made about Ohio State replacing Carlos Hyde with a committee approach, and that's fine, but despite Ezekiel Elliott's hold on the starting tailback spot, my eyes say the best running back on the team is true freshman Curtis Samuel. 
That's not to take anything away from EZE because he's a stud that deserves carries (his yards per rush / rec were better than Curtis yesterday) but Samuel's deceptive power and shifty speed make him a homerun threat on every touch. 
Yesterday, Samuel became the first Buckeye this season to rack up 100 yards rushing (15/100, 2 TD) while adding another 40 through the air on four receptions. Through three games, EZE and Samuel share the team lead in carries (27) though Samuel is the team leader is yards per carry (6.3) by more than a yard.
Going forward, with Rod Smith likely getting just a few carries here and there to keep him engaged and Bri'onte Dunn assuredly stapled to the bench after yesterday's fumble, the bulk of the carries will be for Elliott and Samuel. At this point, Samuel has earned the right to be fed the most.