Every football critic in America was prepared to properly appraise J.T. Barrett's first collegiate performance.
His carefully-distilled background information was distributed widely for everyone to assess in order to extract the optimal amount of context: Did you know he was Urban's first hand-picked QB recruit at Ohio State? Top-ranked dual-threat quarterback in his class, or like fourth depending on whose rankings you use. He's smart and calm. He's a distributor. He's a competitor. He's just not Braxton Miller.
Every judge and pundit whether professional-grade or armchair-certified was now equipped with an offensive game preview: Barrett was to do only everything he was asked of and nothing beyond that. His receivers were rangy, speedy, dangerous but largely unproven.
His deluge of non-Carlos Hyde running backs were furnished with the ability to violate sound barriers as well as second-level tacklers. His offensive line, um, had access to proficient coaching and ample vitamin supplements.
On the other side of the ball, the Buckeye defense had the Best Line in the Country™ and its back seven rebuilt, though the latter mostly just needed to contain Navy's rushing attack which is famously bad at keeping any secrets about Navy's passing attack.
So the viewing audience for Ohio State's game Saturday collectively approached the afternoon with its forehead all wrinkly, its wire-rimmed glasses at the end of its nose, a red pen in hand all ready to start grading who the Buckeyes are against who we've decided they're supposed to be.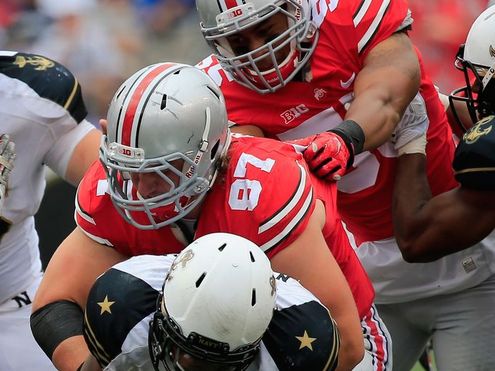 Apparently that is what a lot of us waited 236 long offseason days to finally do last weekend: Grade. 
The underbelly of sports media is paved with hot sports takes, bests or worsts with little in between and decidedly lame commentary - but around its screamy perimeter, floating in diluted beer on top of ominous warnings of four-hour erections is endless analysis. 
And sports analysts are contagious, especially in football where they consistently implore you to look for wonky things like footwork, pad position and arm strength (or strenth if you're Mel Kiper) then you end up looking for them while the game itself sort of passes you by.
If that's how you choose to consume college football, then great - but it's probably sucking some of the joy out of a wonderful game for you, especially if you've got a red pen cocked for a freshman abruptly starting his first game ever or a defensive line without its best edge rusher defending the triple option.
Lost in the analysis over Barrett settling down and having one of the more efficient games you'll ever see in a first start, the offensive line shuffling around to find the right mojo and those sound barrier-shredding ball carriers almost breaking off several highlight runs is that these Buckeyes, for such a youthful group, are extremely cool under pressure. This was a classic E+R=O game, and Urban Meyer knows it. He now coaches for it.
You've seen quite a few Buckeye teams get frustrated and allow their resentment to aid opponents over the years. This one was breaking in a new offensive line, backfield and, well, almost everyone - and it had just two field goals of scoring production after seven possessions and 41 minutes.
It was a road game for a lot of first-timers on a team staring at a potential three-game losing streak. Those new guys didn't respond with panic or visceral frustration; they countered those first 41 minutes by scoring touchdowns on each of their final three possessions with drives of 80, 80 and 70 yards. The Buckeyes chose how they would respond to trailing Navy in the second half and produced the desired outcome. 
In simpler terms, Ohio State blew Navy's doors off when it mattered most. By the time the 3rd quarter ended the Buckeye defense had gotten pretty good at tossing those cut-blocks aside and the result was the Midshipmen managing just 36 yards and a field goal in the 4th quarter compared to the Buckeyes' 150 and two touchdowns.
Ohio State blew Navy's doors off when it mattered most.
One unit figured it all out; the other got figured out. It was 20-14 when the final frame started and it wasn't close once it ended. You can easily solve the puzzle of what happened in that 4th quarter, and Navy should be thrilled there wasn't a 5th.
But sure, we could instead wrestle with Jalin Marshall's curiously low rushing yardage, Pat Elflein's footwork and that damn interception. When dealing with a team this young, understand the players are going to improve on the wonky stuff - but you're missing a whole lot of fun if you ignore paying attention to how they respond to what the game gives them. That's the best part of watching college football; you know, aside from the actual football.
Besides, your meticulous analysis deserves a more worthy and seasoned target than a freshman quarterback abruptly starting his first college game, and you should save it for the guys who truly deserve your red pen, wrinkly forehead and wire-rimmed glasses at the end of your nose.
That would be the refs.