Our first game week of the season is finally upon us. The off-season is so long, it's possible you've forgotten exactly what you're supposed to do this week.
Fear not, Internet user and/or Eleven Warriors aficionado. We're here to help.
Counting today, you've got four days of preparation between now and Saturday, when the Buckeyes kick off (or receive) against the Navy Midshipmen at noon. It's time to tear yourself away from the Every Simpsons Ever marathon on FXX (for now) and make sure you're ready. This is the first game and that sets the tone for the entire season.
Don't get it wrong. We get only a small number of college football Saturdays every year. Each one is precious.
Here's what you should be doing this week:
Today

It's a day for information gathering. Read 11W voraciously as each new article appears. On future Tuesdays, you'll find Ross's scheme review in the afternoon, which is can't-miss reading. Follow your Twitter feed to find out what the Big Ten coaches say on the weekly B1G teleconference. Immediately after, we'll distill the best parts here.
Wait anxiously for Ohio State to release its two-deep for the game and then pour over it with gusto. Find out who the new starters are and who gets an "OR" after their name. Learn the backup holder. You never know when that information will come in handy so you can impress your friends and family.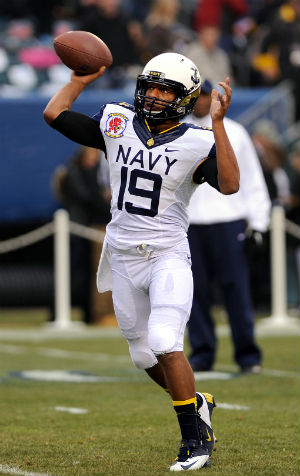 Search the web for information on Navy football. Learn about their starters and key players. Hit their official site and read a few bios. Repeat to yourself, "I am not terrified of Keenan Reynolds," until you convince yourself.
Tonight you'll lie awake and ruminate on whether Chris Ash will be a difference maker for the OSU defense. Also, you'll be terrified of Keenan Reynolds. Try to get some rest.
Wednesday

It's the middle of the week and it'll be a long day. Keep yourself busy. At work, pour yourself into as many projects as you can. It'll be hectic, but the day will pass by much more quickly. On your lunch break, consume the informative and entertaining articles posted throughout the morning by our own Patrick Maks and Tim Shoemaker.
And if you make it a late lunch, you can also devour Ramzy's column at 1:15.
Waste a few minutes of your company's time at 2:15 when Walt drops the weekly game poster on the site. Admire his handywork and print out a copy for your cubicle/office wall. Practice beaming for when people compliment you for hanging up his work.
Download the Eleven Dubcast at 3:05 p.m. so you can listen to Johnny and I break down this week's game on your drive home. Think of all the cool questions you're going to send to us for the "Ask Us Anything" segment by writing to elevendubcast@gmail.com.
Visit your grocery store of choice and stock up on meat for your weekend's grilling needs. Many stores lower their meat prices in the middle of the week, so Wednesdays are a good time to buy. If you're more adventurous and like to do theme meals for game days, visit your butcher and pick up some goat meat (Navy's mascot is a goat).
Don't pretend that last sentence is gross if you've ever intentionally eaten at McDonald's.
Make sure you pick up your game day beverages while you're out. No sense making two trips. #SaveThePlanet
Watch Abilene Christian at Georgia State on ESPNU at 7 p.m., not because you want to, but because it's college football. (Or, you know, because you want to.)
When you turn in for the evening, picture J.T. Barrett throwing flawless touchdown passes. Visualization is the key.
Thursday

Upgrade your cable/satellite service so you'll have CBS Sports Network for Saturday's game (if you don't already have it).* Many people will wait until Friday to do this because they haven't been burned often enough by their television provider's inefficiency and general lack of competence. Give yourself an extra day in case problems arise. Trust me.
*You will be canceling this upgrade on Sunday—Monday if your provider does not have customer service seven days a week. Please note this will take 10 times longer than adding it did.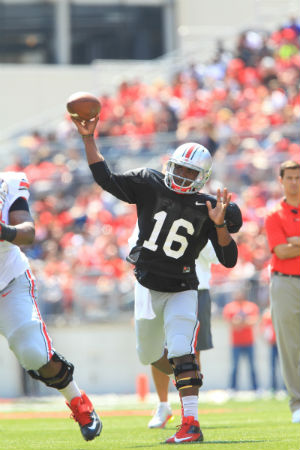 You're not going to get any work done Thursday or Friday, so make the best use of your time. Kyle Jones will drop an opponent film study on you at 10:10 a.m. This is important because it will prepare you for what's to come. It may also terrify you if you haven't blocked the 2013 defense out of your mind.
After lunch, D.J. will post the Urban Meyer radio show recap at 1:05. Vico's weekly TV Guide feature will land at 1:30. You'll spend the rest of the afternoon figuring out which games you're watching (and not watching) and which ones you'll be DVRing.
Eat dinner quickly after work so you can watch the start of the Texas A&M-South Carolina game on the SEC Network (assuming you have it). You'll feel icky for consuming that channel, but it's a pretty good matchup for an opening Thursday and it'll give you something to do for an hour before B1G teams start playing.
Minnesota hosts Eastern Illinois at 7 p.m. on BTN and you'll want to get an early look at Jerry Kill's team because the Buckeyes play in Minneapolis this season. Stay up late and watch conference noob Rutgers face Washington State.
Fall into bed exhausted and think of all the new players you'll see on the field this season. Remind yourself that no one in the nation knows who Corey Smith is—yet.
Friday

It's the last day before the Buckeyes start playing and your game preview and Bucknotes will drop at 8:35 for your morning consumption.
Before you leave for work, double check to make sure CBS Sports Network is on and functioning. Allow yourself an hour for a frustrated call with your cable/satellite provider just in case, and be prepared to repeat your account information to no less than three people who are ostensibly connected to the same computer network.
The weekly 11W Roundtable discussion will drop mid-morning and you'll want to identify which of our writers most aligns with your views for this week's game so you can give them a "Follow Friday" shout-out on Twitter.
You'll probably just sort of space out in the afternoon so perhaps you should just feign an illness and go home for a nap. The late game of the evening kicks off at 10:30 p.m., so you'll need your rest.
After viewing as many games as you can, go to bed and let the knowledge that Urban Meyer is in charge lull you into a deep and comforting sleep.
Saturday

If you're like me, you'll be up early because the excitement of the first Ohio State game of the season will prevent you from sleeping in. Starting at 6 a.m. you can read the morning Skull Session and vote in our daily poll. That will leave you approximately five hours and 50 minutes until kickoff.
Dress in your luckiest Ohio State garb. For some it's a t-shirt. For others, a jersey or hat. Whatever it is, wear it, but don't tell anyone it's your lucky OSU outfit or the luck won't work, because science.
Have you ever turned off a TV or computer and the next time you go to use it, it's broken? I have and it sucks. Don't risk it. Make sure your cable/satellite is working and leave it on the rest of the day.
Set your DVR to record the game because you never know what can happen. Maybe today's the day your kid decides to swallow a Lego block or your wife goes into labor. Life is unpredictable. Make sure you choose the longest recording option because sometimes weird things like lightning delays happen.
A lot of masochistic people choose to watch ESPN's College Gameday every football Saturday. I'm not one of those people. I'd be happy with never hearing from Desmond Howard again. If that's what it takes to get you through, by all means, do it. I like to flip around and catch a little of everything.
Stay plugged into Twitter to find out last minute number changes and who tweaked a hammy in warmups, plus things from all across college football.
Double check where your local alumni club chapter is watching the game in case a localized power outage hits your neighborhood. You can never over-prepare.
Get your grill going and char up all that delicious meat you bought on Wednesday. If you don't have a beverage in hand while grilling, you're doing it wrong.
Finally, sit down, enjoy the fruits of your labor and settle in for the start of the 2014 Ohio State season.