Your Buckeye football elders for 2014 are Rod Smith and Darryl Baldwin.
They'll name captains soon, but these guys - we already know who they are. They're the last two scholarship players connecting the past with the present.
Smith was showered with Eddie George comparisons immediately upon committing to Ohio State due to his size, running style and well, everything. The parallel accelerated when he started having trouble holding onto the ball. Just like Eddie, he also found himself in a both crowded and talented backfield, leading him to question his future in Columbus.
Of all the next-Eddie Georges, Rod Smith is the Eddie Georgiest. But Eddie only became Eddie during his final year in school. For Smith that's right now. So if the prophesy is going to be completed, we should be hearing about Rod Smith at at a clip that suggests his season of infinite glory is now upon us.
Of all the next-Eddie Georges, Rod Smith is the Eddie Georgiest.
However, the name that continues to surface in the backfield isn't his. It's Ezekiel Elliot's. Zeke wasn't halfway through ninth grade when the next Eddie was initiated.
Urban Meyer has also gushed over tailback Curtis Samuel recently. Samuel had never played in a high school football game when Smith rushed for 74 yards against Akron in Luke Fickell's debut. He still hasn't dressed for a college game.
If the sequel to Eddie George starring Rod Smith is ever going to happen, it will air at the expense of the younger guys everyone - including the guy in charge - is excited to see. 
Baldwin was an all-everything defensive end and multi-sport stud who chose Ohio State over offers from the rest of the Big Ten and Notre Dame. His prospectus from Allen Trieu told us he had all the tools to be a beautiful, disruptive beast:
Has ideal size. Great height and has a relatively nice build already. He can really move for a kid his size. He has good athleticism and feet. He does a good job of getting off the ball and gets around blockers.
Ohio State's defensive line in Baldwin's final year is the strength of the team as well as the deepest position on the roster, and the Cleveland Plain Dealer Defensive POY of 2010 has a great view of it every day in practice while he's playing along the offensive line - where he's been since 2012, albeit mostly on special teams.
Baldwin graduated with his class and is well on his way to a master's degree. He and the next Eddie are the only current Buckeyes who have experienced a Big Ten title.
They've also traveled to a bowl game and returned as victors. No one else on this year's team has done that either. Considering the success of the Tressel era, that's almost impossible to believe.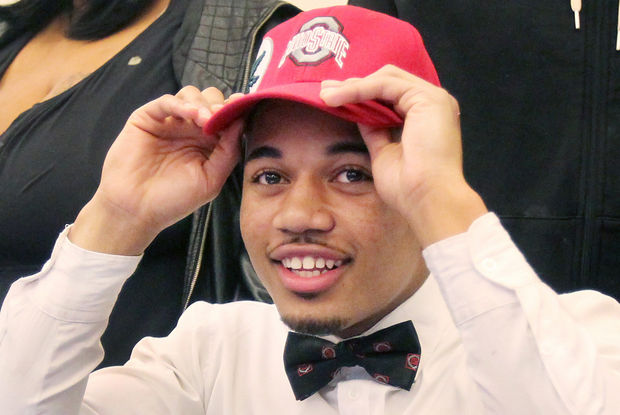 Four years ago while Smith and Baldwin were busy burning up their redshirts, Braxton Miller's class signed up to be Buckeyes a full month prior to Tatgate spilling her comically overblown secret. Braxton was expected to learn the college game for a season while Terrelle Pryor ran away with the Heisman and led the Buckeyes to the BCS title game. Welp.
The headliner of that class waited to announce his inclusion until signing day: Curtis Grant was the fourth in what was easily the most celebrated linebacker haul of the century for Ohio State, joining Ryan Shazier, Connor Crowell and Ejuan Price. He was the second-ranked prospect nationally of 2011, behind only Jadeveon Clowney. 
Grant was the last one in and he'll also be the last one out. Shazier is already earning millions with the Steelers, Crowell retired from football after multiple surgeries and Price never made it to campus. All that's left from that linebacker class is Grant, for whom nothing is guaranteed.
He's battling Raekwon McMillan, who won the high school Butkus Award last year. The Chef is expected to see the field quickly and has impressed everyone thus far, including Grant himself, who started for Ohio State in its most recent win while McMillan was on Thanksgiving break from high school.
Devin Smith and Evan Spencer started that game in Ann Arbor as well. Smith only caught six passes over Ohio State's final five games in 2013, including two catches for five total yards against Clemson. He is Ohio State's top returning receiver.
CURTIS GRANT WAS THE NATION'S 2ND-RANKED PROSPECT IN 2011, ONLY BEHIND EVENTUAL #1 NFL DRAFT PICK JADEVEON CLOWNEY.
While Smith was mostly quiet, Spencer managed to make noise - when he proclaimed last November the Buckeyes would wipe the floor with either Florida State or Alabama. He nabbed one pass for seven yards against Illinois and then didn't register a catch the rest of the season. He's hailed for his blocking prowess.
When you ask who the Buckeyes' top receiving threat will be this season, you don't get a consistent answer. Ohio State's quarterback, who has a fair bit of influence over that, believes it will be Michael Thomas. Urban has been very happy with freshman Johnnie Dixon. Dontre Wilson has been moved into a predominately pass-catching role and should spend less time being a backfield decoy.
They're young guys. At this point in the column you should see the trend.
Then there's Jalin Marshall, who is one of the most exciting guys on the roster. He and James Clark are both returning from injuries and will be difficult to keep on the sideline. Georgia Tech transfer Jeff Greene is a Michael Jenkins-type mismatch and an [throat-clearing noise] ideal target for a less-than-precision-accuracy quarterback.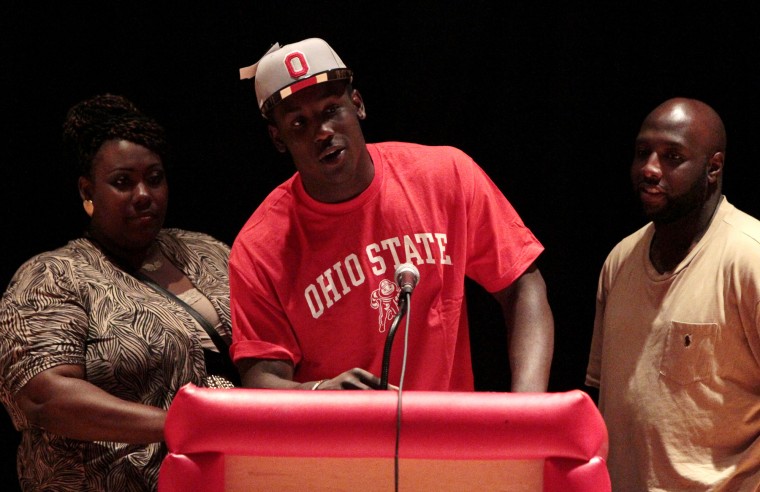 Along with all of those guys, freshman Parris Campbell is one of the fastest humans in the country, and we haven't even mentioned top juco transfer Corey Smith or Indiana's reigning Mr. Football Terry McLaurin. It's only been a few measly sentences but you've already kind of forgotten about Smith, Spencer and their combined single-digit reception total since October 2013.
We have never looked forward to unproven players in volumes like this - and Ohio State hasn't lost a regular-season game since 2011. This is what failure looks like in Columbus, and it's nothing the next Eddie George or any of his teammates want to experience again.
Those two senior receivers, Braxton, Grant, Doran Grant, Cardale Jones, Bryce Haynes, Ron Tanner, Nick Vannett, Joel Hale, Michael Bennett, Jeff Heuerman, Chase Farris, Chris Carter and Steve Miller are all that remains of the Buckeyes who originally signed up for Tresselball. Rod Smith and Baldwin are the only two who lived it. 
Still - these are not ordinary seniors. These are guys who chose to remain Buckeyes back when their televisions, radios and friends were telling them Ohio State football was radioactive and destined to be cratered. A lot of guys left. They stayed.
SMITH AND BALDWIN ARE THE ONLY CURRENT BUCKEYES WHO HAVE EXPERIENCED A CONFERENCE TITLE.
So of all the OSU football classes this century that have entered the season carrying a grudge, the 2014 seniors might be the grudgiest. They're too young to remember what never beating Michigan felt like but old enough to understand they might leave school without having won what had become a rite when they arrived.
This is it for the old guard, which is why it's okay to be hesitant to accept they'll concede what's theirs to guys who literally just showed up. Ohio State's 2014 seniors could have quit for much scarier reasons not too long ago. They've been through too much for the university to concede anything, let alone playing time to teenagers.
Besides, the 2014 versions of Rod Smith and a Darryl Baldwin are in camp right now, among that electric freshman class. They won't know who they are - and neither will we - for another five years. Someday very soon they'll be fighting for playing time against a kid whose first day of high school is later this month.
Hopefully by then they'll be playing for something bigger than breaking a conference title drought, because Ohio State is the last place that should continually be relying on the new players for a return to glory. There are two guys on the roster who understand this better than any of their teammates.
That's because they're the only ones who have seen how it's supposed to be, and if it's up to them - they'll be a vital part in getting it back.